How to Buy Art If You're Not Filthy Rich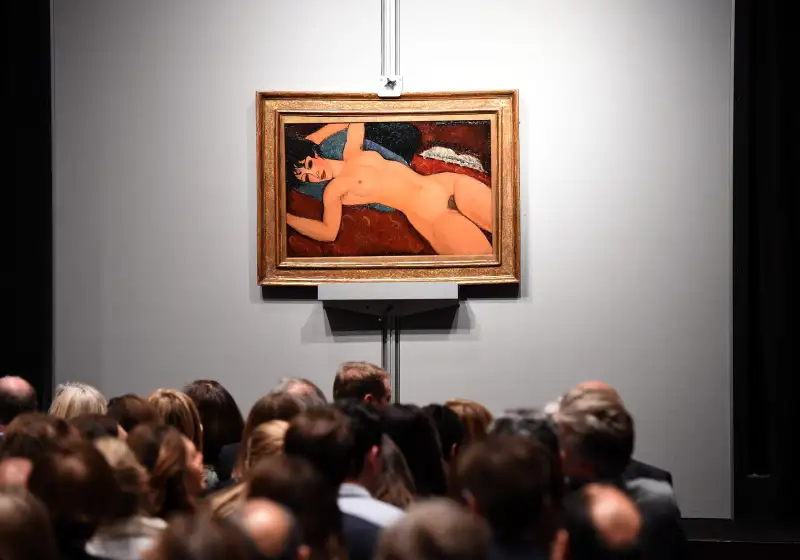 Timothy A. Claru—AFP/Getty Images
Earlier this month, a painting sold for a jaw-dropping $170.4 million, the second-highest price for a painting ever sold at auction and one of only 10 artworks that have cracked the $100 million mark.
Big sales may grab all the headlines, but fortunately for the rest of us, collecting art doesn't have to be a pursuit reserved for the 1%. A new crop of online marketplace-slash-galleries are making art of all kinds more accessible, so it's easier to learn about, look at, and buy pieces you love. Here are what art experts say are the most important points to consider before you buy.
Buy what you like. This is the cardinal rule. Yes, you can aim to purchase works that you hope will increase in value, but your focus should be on aesthetic rather than monetary appreciation. If you don't know what you like, start by looking around. "We recommend that even the casual collector takes a weekend afternoon and visits his or her local museum to see what resonates," says Thomas Galbraith, managing director of auctions at Paddle8.com.
Know the difference between originals and prints. An original is just that: there's only one. But some works, particularly photos, might be produced in multiples. "If you're talking about prints, you need to know the difference between a limited-edition print, where there will only be ten, let's say, and then that's it, and an open edition print, which can be printed forever," says Rebecca Wilson, chief curator and vice president of art advisory at SaatchiArt.com. With a print, she says, "the great value of it is you can have something really wonderful and it might only be $75 or $100, but you have to realize lots of other people will have it in their homes, too."
Learn how the medium affects price. What a work of art is made of affects purchase price as well as longevity, Galbraith says. "With a painting or most sculptures, you are buying a one-of-a-kind, unique object," he says, which generally means paying a premium. Drawings or photos are likely to be cheaper, but if you want to protect your investment, you may need to invest some additional money. "They are more sensitive to light and often need to be framed behind UV-blocking glass or hung away from direct sunlight," he explains.
Evaluate artists like a pro. Although determining the value of art is an inherently subjective task, there are certain tangible markers that guide experts in determining the value of an artist's work. "They range from which art school did they go to, did they go on and do an MFA after getting a bachelor's degree, and what happened to that artist when they graduated," Wilson says. "Have they done solo shows, do they have work in a gallery, what are their sales?" Those are all key questions, she says. "There are milestones in an artist's career which will then mean the prices will go up even more," Wilson adds. Some of these include getting a gallery show, having work bought by a known collector, or being invited to participate in a large-scale art event.
Know where to find up-and-comers. Obviously, works by younger and lesser-known artists will cost less, but you have to know where to look. Sites like Saatchi Art, Minted.com and Paddle8 help take the intimidation factor out of browsing artwork, but there are plenty of offline places you can discover emerging artists as well. "You could identify artists who are included in shows in cutting edge galleries, receiving grants and artists' residencies, developing a collector base, receiving publicity, and being included in museum shows," says Mariam Naficy, CEO of Minted.com.
Ask the right questions. "I think meeting dealers and other art community members can be very interesting," Naficy says. Take advantage of the opportunity to ask questions of curators and gallery staff. Even if you don't know much about the artist or their work, there are a few things you can ask in almost any situation, she says. "I think asking what was the intention behind this work, what differentiates this artist, and what are some hallmarks of their approach are things that can be asked," she suggests.
Read next: How a $170 Million Painting Scored Its Buyer Unlimited Frequent Flyer Miles