Meet the 28-Year-Old Former Bartender Who Will Likely Become the Youngest Congresswoman Ever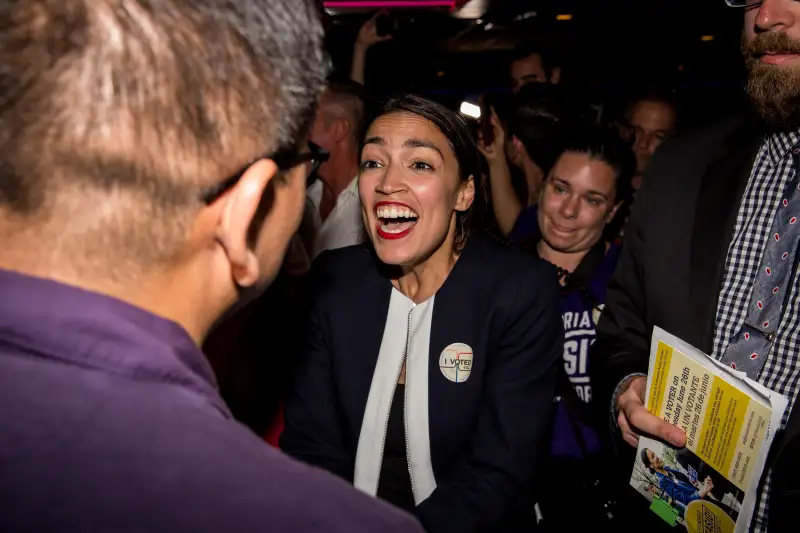 Scott Heins - Getty Images
All eyes are on Alexandria Ocasio-Cortez, the 28-year-old democratic socialist who unseated 10-term incumbent Democratic Rep. Joe Crowley of New York in a major primary upset in New York City Tuesday night.
Ocasio-Cortez's win was a surprise to the political establishment, given that Crowley was seen as a likely replacement for Nancy Pelosi as the top Democrat in the House of Representatives. But to those who were paying attention to New York City's outer boroughs, the young liberal Latina's victory was not so shocking.
New York's District 14, which encompasses working class neighborhoods in both the Bronx and Queens, has always been particularly progressive, but Ocasio-Cortez leans even farther left by today's Democratic party standards. Nonetheless, her stance on issues like immigration reform and the criminal justice system energized the local community.
"This is not an end, this is the beginning," she said to her supporters during a CNN interview on Tuesday. "You have given this country hope, you have given this country proof that when you knock on your neighbor's door, when you come to them with love, when you let them know that no matter your stance, you are there for them — that we can make change."
Here's what you need to know about Ocasio-Cortez, a former bartender who will likely become the youngest congresswoman ever.
Ocasio-Cortez's early life in the Bronx
Ocasio-Cortez grew up in a working class family in the Bronx. Her father ran his own small business and her Puerto Rican mother cleaned houses. Wanting to give their daughter more opportunities than Bronx public schools could offer, they sent her to a public school 40 minutes north of their home, according to her campaign website.
Leaving the Bronx every day to get a quality education was a wake up call for Ocasio-Cortez, who realized that "the zip code a child was born in determined much of their destiny," her website says.
She studied at Boston University, receiving degrees in economics and international relations, and said she is still paying off her student loans.
Ocasio-Cortez got her first taste of professional politics while working for the late Senator Ted Kennedy on immigration casework and foreign affairs.
She came back to the Bronx after graduating and pivoted to working as an educational director with the National Hispanic Institute, helping high schoolers "expand their skillsets in community leadership and social enterprise," according to her website.
She worked two jobs after her father died
Things changed for Ocasio-Cortez when her 48-year-old father died of cancer in the middle of the 2008 recession. She started working two jobs — one as a bartender — sometimes working 18-hour shifts to help her family make ends meet.
According to her website, after experiencing financial and healthcare struggles firsthand, Ocasio-Cortez realized how deeply policy decisions made at the highest levels of government impact everyday families living paycheck to paycheck.
Going from political outsider to the biggest upset of 2018
Ocasio-Cortez is a self-described democratic socialist who had previously volunteered on Vermont Senator Bernie Sander's presidential campaign and got his endorsement for her primary race.
In her campaign video, which has been viewed more than two million times, Ocasio-Cortez talks about being a political outsider who wants to create change.
"Women like me aren't supposed to run for office," she said in the viral video. "I wasn't born to a wealthy or powerful family."
Ocasio-Cortez was initially thought of as a long-shot candidate, and her grassroots campaign launched extensive outreach to New York's 14th district constituents. She championed expanding Medicare for everyone, tuition-free college, criminal justice reform and ending private prisons. She also supports immigration reform — specifically abolishing ICE, the U.S. Immigration and Customs Enforcement agency currently enforcing the Trump Administration's family separation and detainment policies at the U.S.-Mexico border. She recently visited an immigration detention center, posting photos of her experience on Twitter.
Ocasio-Cortez also supports a federal $15 minimum wage as well as paid child and sick leave. She advocates for housing as a human right and says on her campaign website that she is in favor of expanding the Low Income Housing Tax Credit, which provides tax incentives to encourage developers to build affordable housing. She added that she does not take money from luxury real estate developers to avoid conflicts of interest.
Her decisive victory
Ocasio-Cortez broke through the status quo in her progressive New York City district by becoming the first person of color and woman to challenge Crowley in 14 years.
With grassroots organizing and old-fashioned door knocking, she handily beat Crowley, a 56-year-old white man, with 57.5% of the vote. She positioned herself as a woman of the people, a person of color who lived and worked in the same neighborhood as the people she hoped to represent. She called out Crowley for his Washington-insider status and seemingly-cozy relationships with major real estate developers and Wall Street.
The majority of Ocasio-Cortez's campaign donations were less than $200 each, according to the nonprofit opensecrets.org, and she touted that she took no money from Corporate PACs.
Crowley also took flak for not showing up to debate Ocasio-Cortez earlier in the campaign, instead sending former City Councilwoman Annabel Palma in his place. Ocasio-Cortez didn't shy away from calling out Crowley on Twitter, saying he "sent a woman with a slight resemblance to me as his official surrogate to last night's debate."
Ocasio-Cortez is not the only young up-and-comer shaking up the Democratic party in New York City and across the country. She is part of a growing trend of millennials, many of whom are persons of color, stepping up as outsiders to challenge long-standing representatives in their districts, according to the Wall Street Journal.
What's next for Ocasio-Cortez?
While Ocasio-Cortez still has to beat Republican Anthony Pappas in November's general election to make it to Congress, it should be an easy victory.
Democrats outnumber Republicans seven-to-one in New York City. If she wins, she will be the youngest person ever elected to Congress.