These Are the Next 5 Industries That Amazon Could Take Over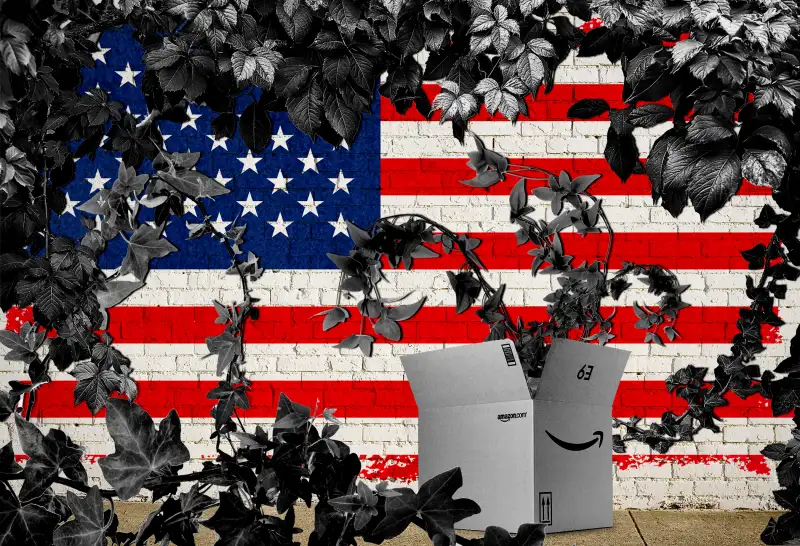 Photo illustration by Sarina Finkelstein for Money; Getty Images (7); (box) courtesy of Amazon
No one should doubt Amazon.com's power to disrupt new industries. While the onetime online bookstore has grown to dominate retail, it has also become a major player in businesses ranging from cloud computing to Hollywood -- and even has experimented seriously with drones.
It's no wonder that fear strikes investors and executives when they learn -- or even hear rumors -- that Amazon wants to compete in their industry. It's the business-world equivalent of seeing viking sails appear on the horizon.
Just last month, grocery store stocks plunged when news arrived that Amazon planned to acquire trendy, upscale grocer Whole Foods. Then Amazon struck again late last week, with home improvement stores taking the hit.
Here are five industries that have all suffered recently from what one stock analyst has dubbed, "the Amazon effect" -- the threat, real or perceived, that Amazon is on the verge of upending their business models.
Home Improvement Stores
Even as more and more retail moves online, big-box home improvement retailers Lowe's and Home Depot have continued to thrive. After all, chances are you want to see your kitchen tile in person before ordering hundreds of dollars' worth. And it's not always easy to know exactly what size of bathroom fixture you need until you're standing in front of a display model.
The upshot: Brick-and-mortar do-it-yourself stores have so far been able to keep customers coming in. But on Thursday, at least one lucrative segment of the business -- home appliances -- came under threat when also-ran Sears Holdings announced it had struck a deal for Amazon to sell the popular Kenmore-brand appliances. Appliances aren't a perfect fit for online commerce; installation can be a big job and requires expertise. But some investors headed for the exits anyway: Shares of Home Depot closed down 4% by end of day, while Lowe's fell 5.5%.
Grocery Stores
The news last month that Amazon planned to acquire Whole Foods for $13.7 billion might have rated as a blip. Sure, Whole Foods enjoys outsize cultural cachet among the arugula-munching set, but its overall market share in the grocery business is a measly 2%. But market watchers immediately began to speculate that Whole Foods' roughly 450 stores would be turned into killer distribution hubs, enabling Amazon to deliver fresh groceries and other goods to upscale neighborhoods -- or that the stores would become pickup points allowing customers to buy online, then have groceries put right in the trunks of their cars.
Either way Wall Street figured the consequences for other grocers would be dire: Kroger shares plunged more than 9% on the day the news emerged, while Target fell 5.1% and Wal-Mart dropped 4.7%.
Meal Kit Companies
When a young company has an IPO -- the first time it sells shares to the public -- it's supposed to be the belle of the ball. Investment bankers work hard to drum up hype, so starry-eyed investors will pay top dollar.
For meal kit company Blue Apron, however, rumors that Amazon might be preparing a competing service put a huge damper on the party. Blue Apron had originally planned to sell shares for $15 to $17 late last month, but ended up settling for $10 after Amazon's Whole Foods purchase gave investors jitters. Blue Apron took another big hit early last week when news broke that Amazon had filed for a patent, and may already be testing its own kits. Blue Apron shares closed Friday at $6.55, having lost roughly a third of their value.
Banks
So far, America's biggest banks have been largely immune to Silicon Valley disruption. That doesn't mean they haven't been looking over their shoulders, however. In February, a rumor that Amazon might buy Capital One prompted banking industry bible American Banker to (sort of) reassure readers, "No way that could happen … well, er, right, everybody?"
Such a deal might, indeed, prompt a veto from regulators. Yet Amazon is already enmeshed in the banking industry, and its ties are only poised to deepen. Amazon Marketplace -- the part of Amazon.com that lets consumers purchase goods from third-party merchants (when you use Amazon to buy an out-of-print book from a bookstore across the country, for instance) -- already allows shoppers to send payments directly to vendors in the U.S. and Europe, according to the FT. Amazon also offers loans to some of those small businesses; last month, for instance, it said loaned them $3 billion. No wonder Inc. recently warned that Amazon could swallow small business lending "like a python."
Real Estate Brokers
Sometimes, all it takes is a hint. Earlier this month, in the runup to Amazon's popular Prime Day sale, some shoppers noticed what appeared to be the beta version of a new "Hire a Realtor" service on Amazon's home page. Soon screen shots of the page were circulating on trade Web sites, while the stock price of would-be competitor Zillow tumbled 3.5%.
The industry breathed a sigh of relief when the dummy Web page disappeared a day later, as quietly as it had arrived, and the National Association of Realtors reassured members that Amazon does not have permission to use the trademarked word "realtor." Zillow stock also bounced back.
Yet trade publication The Real Deal predicted that Zillow "may soon meet its match."