Here's the Amazing Story of How Amazon Almost Swallowed Netflix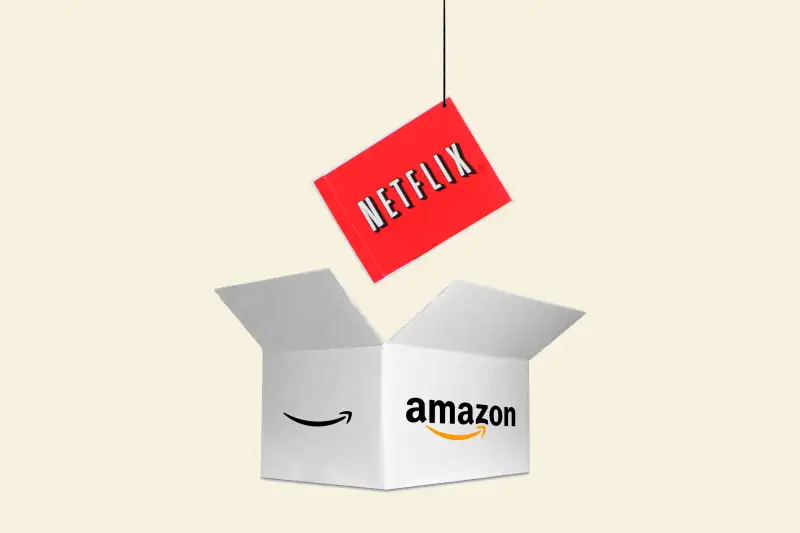 Illustration by Lixia Guo; Getty Images
It boggles the mind to consider, but the stranglehold Amazon has on e-commerce and digital media right now could be even stronger if things had gone slightly differently during the dotcom era. That's according to a new book that reveals how Netflix considered selling itself to Amazon in 1998 — for as little as $15 million.
In an excerpt from That Will Never Work: The Birth of Netflix and the Amazing Life of an Idea, Netflix co-founder Marc Randolph recalled how he and fellow co-founder Reed Hastings were invited by Amazon's CFO to a meeting in Seattle with Amazon founder and CEO Jeff Bezos.
Courtesy of Little, Brown and Company
The book excerpt, published in the Wall Street Journal, takes you inside Amazon's cluttered and somewhat ragtag headquarters of the late 1990s — think desks made out of doors tossed onto sawhorses — as seen through the eyes of Randolph and Hastings. After reminiscing about how Amazon (which had only gone public the year before) was fast outgrowing its scrappy startup days, Bezos and his CFO expressed interest in buying Netflix for, as Randolph estimated, "probably something between $14 million and $16 million."
For some context, Netflix raked in around $5 billion in revenue last quarter. It may seem like ancient history (and possibly confusing to Gen Zers who grew up in the post-hardware phase of digital media), but it's worth remembering that Netflix was launched as an online DVD store and rent-by-mail service.
Netflix was founded in 1997, so the startup was very new (and not remotely profitable) when executives met with Amazon in 1998. Netflix didn't start offering streaming content for another 10 years, and didn't break into original programming until 2013. At the time of its 2002 IPO, it had 600,000 U.S. members — a far cry from the 151 million paid subscribers it has around the world today.
The interest in Netflix, of course, was just one tiny part of Amazon's ambitious goal to dominate online selling and digital media.
In his 2013 book The Everything Store: Jeff Bezos and the Age of Amazon, author Brad Stone detailed the relentless, often ruthless strategizing Bezos and his team undertook in pursuit of becoming the 800-pound gorilla of e-commerce we know today.
Courtesy of Little, Brown and Company
It's unclear just how close Netflix was to actually selling itself to Amazon. But before their plane ride landed after their visit with Amazon, the Netflix team had basically decided, "We weren't ready to sell," Randolph writes. "We agreed that Reed would let Amazon down lightly—and politely. In the future, we'd be better off having Amazon as a friend, not an enemy."
If you want to read more about the fascinating early history of one of the companies that defined the streaming media era, check out That Will Never Work. You can buy the book, of course, on Amazon, when it officially goes on sale as of September 17.
We've included affiliate links into this article. Click here to learn what those are.