This $20 Amazon Skirt Is My Favorite Piece of Clothing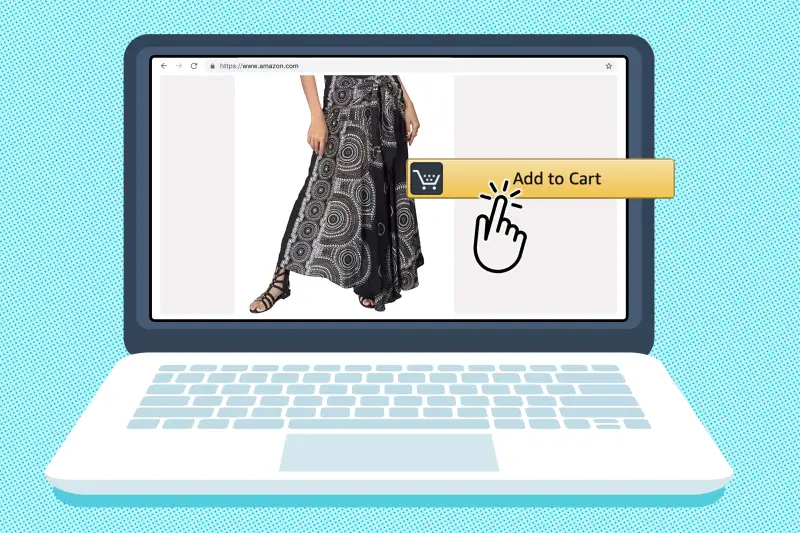 Photo illustration by Laura Geiser; Getty Images
Necessity might be the mother of invention, but sometimes necessity plus laziness can lead to a really great bargain find.
Last winter, I was taking a trip to someplace warm. I had nothing to wear. I live in a small condo, so my summer clothes hibernate in plastic bins inside a storage unit a few towns over. I was busy, the weather was lousy — and Amazon beckoned. I'll admit, it seemed easier and a lot more appealing to have something new show up on my doorstep with a few clicks than to schlep out to the storage unit and dig through bins in the freezing cold.
I know, I know — unnecessary spending and fast fashion and throwaway culture and Marie Kondo and all that. But my seasonal sluggishness overrode my wasteful-consumerism guilt and I went ahead and ordered this maxi skirt. I rationalized it, thinking because it's actually convertible to a dress as well as a skirt, I'd get lots of mileage out of it on my trip. Plus, it was cheap — less than $20 — cheap enough that I told myself I'd just donate it after getting back home so it wouldn't hang around in my closet taking up space.
But then, something funny happened after I got back from my trip. I started reaching for that skirt often. Lunch with my mother-in-law? It was perfect. Networking group meetup? On point. Al fresco date night? Hits the spot. (I wore it as a dress that time, dressed up with a beaded belt like this one.) Community gardening event followed by drinks with friends? Check and check — a feat that would be basically impossible for any other article of clothing to accomplish. It became my closet's breakout hit.
At a glance, it might not look like much: A maxi skirt with an asymmetrical hem, smocked elastic waist and a faux belt. You can pull it up so that the waist ties turn into halter straps and the oversized waistband becomes the top of a dress. Simple.
But its beauty is in that versatile simplicity. It's one-size-fits-all, effortlessly flattering thanks to all that elastic and pairs well with a shocking number of items already in my closet. (I went with a circular pattern in a black-white-brown color combo, but you can choose from more than a dozen hues and prints.) It's all cotton, I can chuck it in the washer and I don't need to iron it. Win all around!
I seriously wear this about once a week now. At this point, I can confidently say that I've gotten my $18 worth out of this skirt many times over. It might have seemed like a frivolous indulgence when I ordered it, but it's become a real wardrobe workhorse.
We've included affiliate links into this article. Click here to learn what those are.