Are you deluded about your college savings?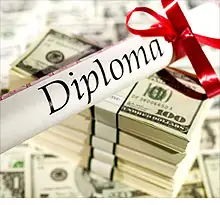 Saving to pay your kid's college bills is beginning to look like a nonstop stint on Survivor: Tocantins. Tuition costs continue to outpace inflation. And public colleges, once considered the affordable fall-back choice, are no longer a sure-fire option, thanks to shrinking government support, tighter budgets and soaring applications. Add in plummeting real estate prices, which have limited home equity loans, and the carnage in 529 college savings plans, and you would expect most parents to be throwing up their hands in despair right now.
Not even close. In the first major survey of college savers since the market plunge, which was conducted in February by OppenheimerFunds, eight out of ten parents say that sending their kids to college is still an achievable goal—more achieveable than affording a comfortable retirement (62%). A whopping 92% intend to send their child to a four-year college. Nearly 80% say they want to pay 50% or more of their kids college expenses, and one out of four aim to cover 100%.
This confidence is admirable—but it's also unrealistic, if not outright delusional, given how little families have actually saved. Nearly half (43%) have stashed away less than $5,000. Some 62% have saved less than $10,000, and nearly eight out of 10 have less than $20,000. (Parents of older kids are no more likely than those of younger children to have amassed larger amounts, the survey found.) That level of savings will barely put a dent in the average cost for four years of a public college ($60,000), much less private college ($140,000).
Despite the paltry dollars they have accumulated, parents intend to make up the gap somehow. Some 60% have continued to put away money in their college savings plans. Yet 60% also believe that scholarship money will pay a substantial portion of their kids' bills. (For a real-world take on scholarships, click here.) In a display of cognitive dissonance, eight out of 10 parents also say that it is likely they or their kids will end up borrowing—though half want to limit that debt to less than $10,000. (The average amount for graduates of four-year colleges is nearly $22,000.)
For the vast majority of families, belief in the value of a college education remains unshaken. Nine out of 10 parents agree college remains part of the American dream, and some 83% say the cost is worth it. Among the reasons: the ability to compete in the workforce (76%) and improved earnings power (64%). Some 77% of parents agreed that the election of President Barack Obama "proves that a good education makes anything possible."
All of which may be true. Still, you have to wonder: if tuition costs keep escalating and financial aid fails to keep up, in another 10 years will any middle-class family be able to save what they need to cover the costs of an Ivy-covered diploma, or even your flagship public university? Nearly one out of four parents surveyed believe that space travel will be more affordable than college by the time their youngest child graduates high school. Maybe they're not so delusional after all.