I'm 32 and I Write Horoscopes for a Living. Here's How I Spend My Money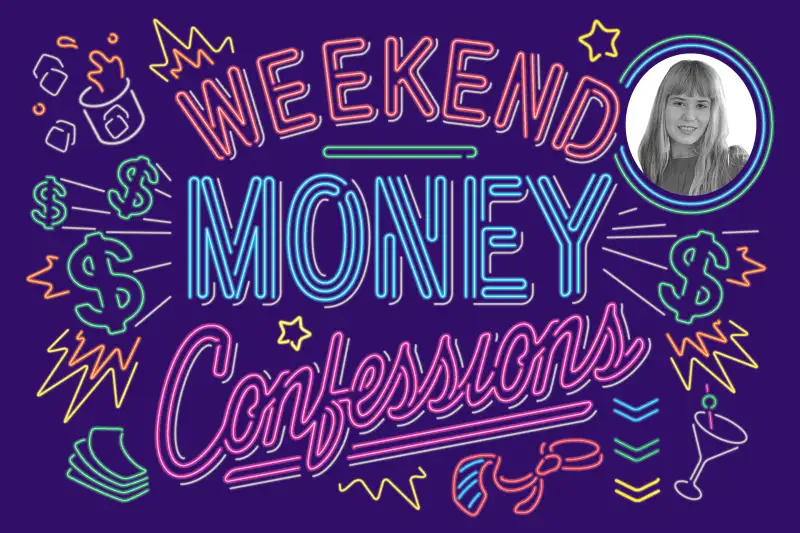 Illustration by Matthew Tapia; (photo) courtesy of Annabel Gat
Annabel Gat, the 32-year-old certified astrologer behind Broadly's popular daily horoscopes, is every bit as whimsical as you'd expect.
When she isn't writing (or podcasting) about astrology and the occult, Gat can usually be found reading by the Brooklyn waterfront, cooking with her boyfriend, or feeding the cat that lives behind their apartment building.
Here's every penny she spent on a recent weekend.
Friday:
Spanish olives: $4.96
Cheddar with truffles: $8.54
2 avocados: $4.50
2 lemons: $1.20
Carrot ginger soup: $3.99
Butternut squash soup: $3.49
Food For Life "7 Sprouted Grains" bread: $6.49
JĀSÖN "Powersmile" toothpaste : $5.49
Sofresh flossing toothbrush: $2.99
———————
Total with tax: $45.09
I used to spend so much money on takeout dinners or eating out with friends; one of the biggest shifts I've made around spending is to be smarter about grocery shopping and to cook more often at home. Lately, I've had huge cravings for carrot ginger soup and olives (but not together in the same meal, ew!).
Friday Total: $45.09
Saturday:
Pilates session with Rachel Goldstein - $100
I'm very interested in alignment, anatomy and movement. I'm not really a group class person, so I usually do pilates or other movement practices at home by myself. Once in a while, I'll treat myself to a one-on-one session with Rachel Goldstein in her Park Slope studio. We have a lot in common, and I always prefer to support women in my community when I can.
Saturday Total: $100
Sunday:
Geranium Face Toner: $42
Rosehip Face Serum: $42
Ginger Digestion Balm: $16
———————
Total with tax: $108.75
I love this skincare company so much! I could hang out in this shop smelling and sampling their testers all day.
Antidote Apothecary and Tea Bar
Tumeric Sparkle: $5.00
———————
Total with tax: $5.44
This is my favorite thing to drink during an afternoon stroll. I'm friends with the owner, Elizabeth, so she let me pay her via Venmo.
Venmo payment (courtesy of author)
I usually pick up a mind melt mushroom sandwich (so rich and delicious!) when I'm here, too, but I was craving Carrot Ginger soup, so…
Avocado: $2.25
2 Carrot Ginger Soups: $7.98
Eggs: $4.99
Black Olives: $5.19
———————
Total with Tax: $20.41
Sunday Total: $134.60
Weekend total: $279.69