This Best-Selling Author Wrote Down Everything She Bought in One Weekend — and How it Made Her Feel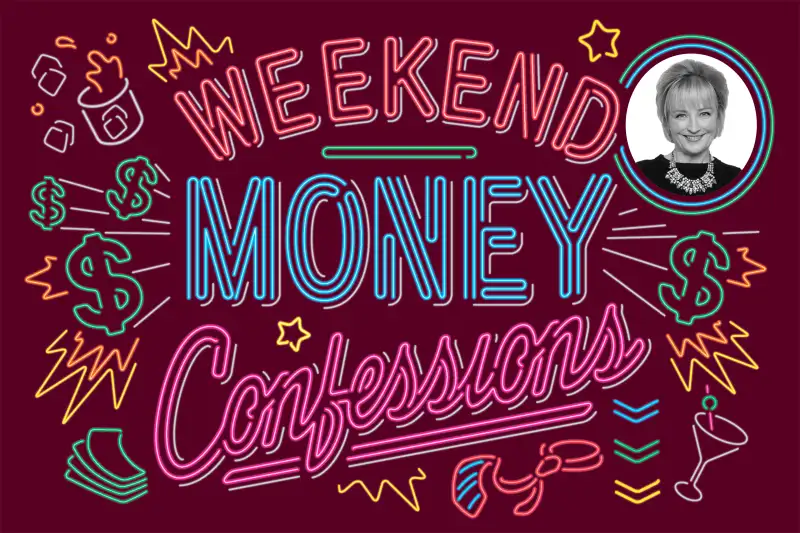 Illustration by Matthew Tapia; Photograph by Keith Major
Weekend Money Confessions is a new series about how real people spend when they're off the clock.
Want to submit your own? Email Kristen.Bahler@moneymail.com.
Nine years ago, Kate White bought and renovated a house in a small Uruguayan beach town with her husband Brad.
The New York-based writer was editor-in-chief of Cosmopolitan at the time, but she was already laying the groundwork for a "more entrepreneurial" life (with much warmer winters), she says.
These days, White visits her second home often, sometimes for months at a time, to work on the growing number of books she's penned since leaving the magazine world. Her most recent, The Gutsy Girl Handbook, hit stores in April.
There are challenges to living outside the U.S. -- aside from food and other necessities, White has to buy almost everything online. But having the freedom to hop down to South America whenever the mood strikes definitely has its perks, she says.
"I so loved Cosmo, but this is my real definition of orgasmic," she says.
Here's every penny White spent on a recent weekend in her Uruguay home.
Friday
[5:14 pm]
Amazon - $17.48
LC Foods Market low-carb bread
Yeah, pricey for a loaf but I've gained at least five pounds in my three months in Uruguay (so much pasta, papas fritas, empanadas, and everything Milanese), and I need this waiting for me upon my return. I cannot even look at another carb this spring.
[10:17 p.m.]
iTunes - $5.99
Rental: The Darkest Hour
We have access to Netflix, iTunes and Pay for View here, so it's great to be able to see new shows and movies in our little town.
Friday Total: $23.47
Saturday
[8:47 a.m.]
Amazon - $25.98
Kindle purchases: "The Flight Attendant," by Chris Bohjalian and "Sometimes I Lie" by Alice Feeney
I've had more time to read here than ever, and it's made me giddy. I write mysteries as well as career books so I read a ton in that genre.
[1:00 pm.]
Alto de la Bellana vineyard - $140
Harvest lunch, wine tasting, and tour for two
A splurge for lunch but it was a fabulous Uruguayan asado (barbecue) with friends and worth every penny. The view was drop-dead gorgeous.
Donyanedomam( Getty Images/iStockphoto) —
[6:00 p.m.]
Whois.com - $177.84
Renewing my kids URLs.
Years ago I read that a great gift for a newborn was securing his or her name as a URL. My kids were already in lower school, but I jumped on it. The notice came in that it was time to renew once again. I did for nine years this time, hoping that by then (they'll be in their late 30s) they can afford to renew their own!
Saturday Total: $343.82
Sunday
[10:30 a.m.]

Local organic fair - $6.70
Tomatoes, zapallito (kind of like zucchini) and lettuce.
The most common lettuce here is mantecosa, so delicious. Kind of like Bibb. People rarely make a dressing. They just salt the leaves and toss with extra virgin olive oil and balsamic. Such a simpler way to do it.
[12:02 p.m.]
Skype - $25
Renewal charge

I have no clue how they make money but I'd be lost without them here. Helps us stay in touch with our kids and everyone else. I even Skype with my yoga instructor once a week.
[2:32 p.m.]
Merrell.com - $90
Encore Q 2 Breeze (my go-to casual shoe with jeans)
[2:39 p.m.]
Amazon - $22
Elizabeth Arden 8 hour protectant cream
I've been ordering a lot of my basics that I need when I return and can't replenish here. When I ran Cosmo, a makeup artist showed me this product. Brilliant for chapped lips, dry skin, burns, you name it.
[9:47 p.m.]
iTunes - $5.99
Rental: The Darkest Hour AGAIN
Confession. We fell asleep the first time we tried to watch. Not the fault of the movie. Dinner is eaten so late in Uruguay (anywhere from 9:30 to 11:30 pm) that it's hard to make it through a show afterwards. Loved the film this time!
Sunday Total: $149.69
Courtesy of Kate White -- The view from the author's deck in the evening
Weekend total: $516.19