4 Ways to Head off Expensive Home Disasters This Winter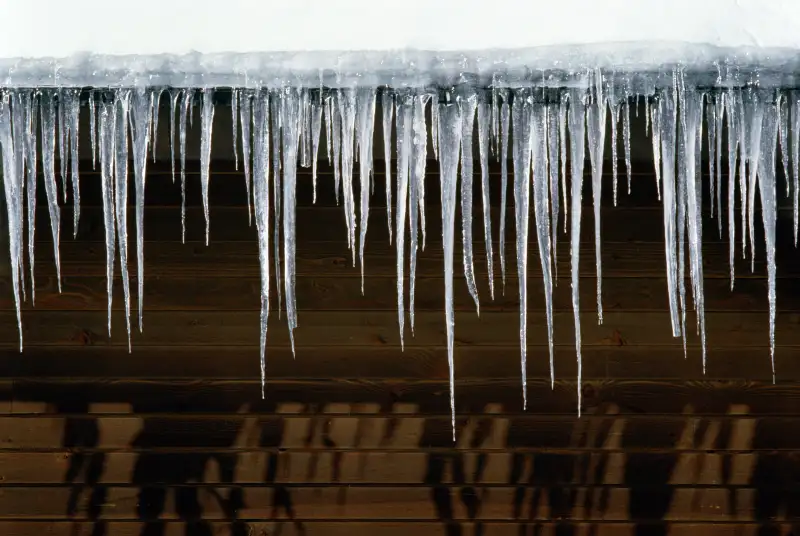 Richard Price—Getty Images
The winter months may have you lounging by a cozy fire and enjoying some downtime, but if you live in a region of inclement weather, you know that winter can truly test the structure of your home. Between wind, snow, and indoor wear and tear, winter can be an expensive season for our homes. But the cost of keeping problems at bay is usually a lot less than the cost of repairs when something goes wrong.
Here are 4 smart moves you can make to protect your home:
1. Keep your roof free of heavy snow and ice

Snow and ice buildup can be a serious (and seriously expensive) problem. At worst, too much heavy snow on the roof can actually make the roof collapse. According to DisasterSafety.org, two feet of new snow on top of two feet of old snow can weigh as much as 60 pounds per square foot, too heavy for a typical roof.
Excess ice formation is also an issue. Ice builds up on the roof when escaping heat from the attic melts snow on the rooftop. This water collects on the edges of the roof and gutter system, then freezes overnight. The cycle of melting and freezing creates a blockage of ice, called an ice dam, that prevents water from flowing off the roof. (You can see this problem in the form of icicles hanging from the eaves.) Instead, water backs up and gets pushed under the shingles, soaking the underlayment and potentially causing water damage in the rooms below. In some cases, the weight of the ice can also cause the gutter system to collapse.
If ice build-up is a regular occurrence on your roof, there are several things you can do. First, consider using an extendable roof rake to clear snow from the roof while safely standing on the ground. Second, consider installing heat tape along the edge of the eaves to help melt ice before it becomes an issue. Third, if you have significant ice dams, hire a professional to remove the ice off sooner rather than later. A pro will know how to safely climb the roof and have the right tools and equipment to melt the ice quickly without further damaging your roof.
Cost of a roof rake = $40 – $50
Cost of ice dam prevention using heat tape = $420 – $1,250 (national average cost)
Cost of new roof if snow and ice buildup cause roof to collapse = $20,142 (national average cost according to Remodeling Magazine)
2. Wrap pipes, inside and out
If the words "frozen pipes" strike fear into your heart, they should. A pipe that freezes, cracks, then bursts can release hundreds of gallons of water per second and create a very, very expensive home repair. Wrapping your pipes with inexpensive foam insulation is a very easy DIY project, and should be done before temperatures begin to drop. Surprisingly, it's the homes located in regions that experience rare or occasional polar conditions that could most benefit, as those homes aren't necessarily built with freezing temperatures in mind. Outside the house, the sprinklers and faucets should be drained and insulated against the cold at the end of fall or early winter. Inside the home, you'll want to insulate or wrap exposed pipes that may be exposed to freezing temperatures, such as those in attic, garage or basement. One trick: Leave a tap on a slow drip overnight to prevent freezing.
Cost of foam pipe insulators = $1 (for 6-foot length of polyethylene pipe wrap)
Cost of water damage clean up if your pipes burst = $15,000 (average insurance claim)
3. Tune up the furnace and change the filters
During the winter, you rely upon the functionality of your furnace or heating system. If your furnace breaks you'll feel both the literal chill of being cold as well as the frosty bite of expensive replacement costs.
Regularly maintaining the heating system is the best way to keep the machinery working properly when you need it most. Maintenance should be done once a year by a licensed professional who knows how to check the system (including the thermostat) and make necessary repairs. Maintenance technicians are also trained to spot issues with the electrical system and potential hazards like carbon monoxide.
Check with your service company about how often to replace the filters on your appliance; you may need to replace them as often as four times a year. The filters help keep out dust, pollen, pet hair, or debris that can restrict the air flow into the heating mechanism and cause damage.
Cost of furnace servicing = $270 (on average)
Cost of furnace replacement if furnace breaks = $3,800 (on average but can be much more than this)
4. Clean out dryer vent system
According to the USFA, fires that ignite in the dryer resulted in five deaths, 100 injuries and $35 million in property damage over a period of just three years. The majority of those fires could have been prevented if the dryer vent system had simply been cleaned. The winter months are especially popular for dryer fires, which could be because of the more lint-producing clothing being washed and dried or because homeowners aren't drying their clothes outside, as they may do in the summer months.
It's smart to clean out the lint trap after every load. At least once a year, you should detach the long vent tube that leads from the dryer to the exterior of the home and thoroughly clean it. You'll want to remove excess lint as well as errant socks or other debris. Even birds have been known to make their nests inside the vent tube and can create flammable blockages. Dryer fires are easy to prevent and you can clean the vent tube yourself or hire a ventilation expert to do this for a nominal fee.
Average cost to professionally clean the dryer vent = $128
Average loss of a dryer-related house fire = $9,610 (plus 1.8 fatalities, 30.5 injuries)
Seattle-based Porch.com is a home services platform that helps homeowners maintain their home and get projects done by connecting them with quality home improvement professionals. Porch is available nationwide online, through the Porch App and serves as the exclusive in-store resource to over 1,700 Lowe's home improvement stores across the U.S.