How the Guys Behind a Hot Mushroom Startup Cultivate Success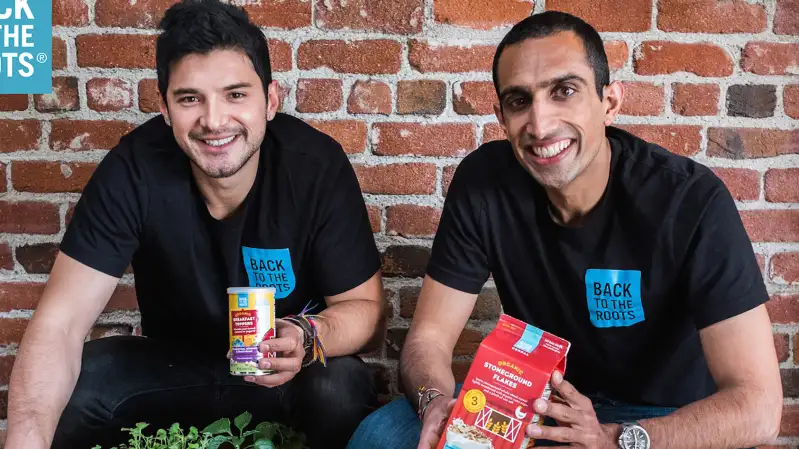 Nikhil Arora and Alejandro Velez are co-founders of Back to the Roots, an Oakland, Calif.-based startup whose flagship products include a Mushroom Farm, a kit for growing oyster mushrooms, and the Water Garden, an aquaponic fish tank for growing vegetables and herbs.
The business started in 2009 as a dorm-room project for Arora and Velez at UC Berkeley, where the two began growing mushrooms from used coffee grounds. Following encouragement from Alice Waters (of Chez Panisse fame) and a grant from Berkeley, they turned their project into a real business, launching with a family-friendly do-it-yourself mushroom kit. Since then, they've made both the Forbes and Inc. "30 Under 30" lists; won multiple awards for design and innovation; launched multiple new products (including organic cereals and breakfast toppers and a Garden-in-a-Can kit for growing herbs); and have products in stores nationwide, including Home Depot, Nordstrom, and Urban Outfitters.
Revenue was $4.6 million in 2014, and they recently raised $2 million in seed funding. Investors in the round, which was led by Fund Good Jobs, include the president of Annie's Inc., the CEOs of Clif Bar and Jamba Juice, and TOMS Shoes' Blake Mycoskie—a clear vote of confidence in Back to the Roots' mission to reinvent the food industry. Below, Arora and Velez share some of their best advice for starting and growing a product-based company.
What's the best piece of advice you ever received and why?
One of our mentors told us, "The key to success is simple—good health and good partnerships." We both swear by that. No. 1 is health —without that, nothing else matters; you cannot lead effectively, and you cannot make good decisions.
Read Next: How to Never Work a Day in Your Life
Good partnerships is No. 2. They say it takes a village to raise a child, and that's true for a company too. You can't do it in a silo. We've learned that we have to find people who are better than us at certain things, and rather than re-creating something, partner with them. For instance, we ended up moving our mushroom farming production -- which for two years was our baby and our company's entire existence -- to another farm, run by the first guys who started growing shiitake mushrooms in North America. As a result, our quality, ability to scale and yield now are infinitely better than before.
Partners are also who you work with each day -- for us, that's each other and our team.
What was your biggest mistake to date, and what did it teach you?
Not investing in our products enough early on was our biggest mistake. At first, our first mushroom kit was a big, basketball-sized, clear bag of fungus with a label on it from FedEx. We've since learned that you can be scrappy everywhere else in a company, but not with your products. That's all you have; that's the foundation you stand on each day. In a product-based business, we spend all this time demoing, making sales, marketing and traveling to get people to try the product, and all of that goes to waste if the product quality isn't top notch. Now, product development and product design is a cornerstone focus of the company.
What one piece of advice would you pass on to aspiring entrepreneurs?
Make sure you're having fun. This has to be something you truly wake up looking forward to tackle each day. We feel blessed that we're still having as much fun as we did on day 1.
Read Next: This Habit Will Make You a Better Leader
The power of storytelling and enjoying the small wins is crucial for achieving this. In the chase of the "dream," sometimes it's easy to overlook the small wins, but that's what keeps you happy. That one happy customer phone call, slight increase in sell-through, or packaging taking one less iteration to finalize that you thought, etc. -- that's where the happiness comes from, because the "dream" keeps on moving further out. Whenever days are tough, telling stories of past funny times or even hard times reminds you how far you've actually come.
Nikhil Arora and Alejandro Velez are members of Young Entrepreneur Council (YEC), an invite-only organization comprised of the world's most promising young entrepreneurs, which has partnered with Money.com to help produce this series.