Stop Making These 5 Shopping Mistakes And You Won't Overspend!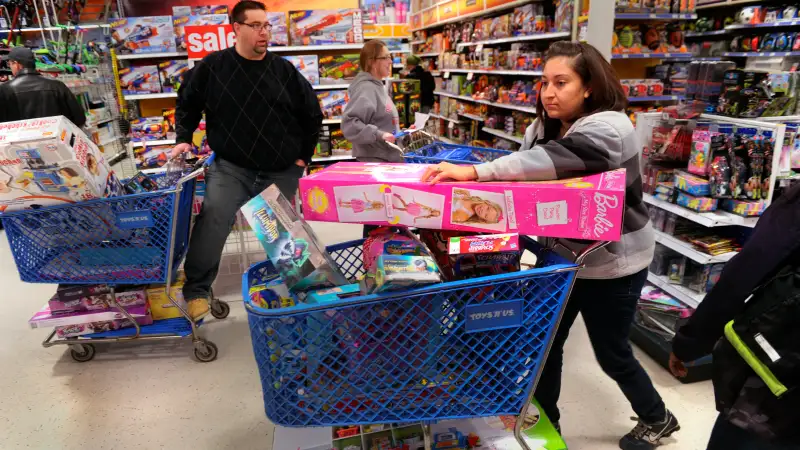 Karl Gehring—The Denver Post via Getty Images
The biggest shopping season of the year is upon us. We shop more, and when we do, we're overwhelmed with products and price promotions in today's hyper-competitive retail environment. In effect, everyone is shopping with at least a touch of "bargain brain." That's the term I use to describe the confusing, pressure-filled state of mind of the average shopper during the holiday period. And it's this mentality, combined with some classic sales strategies practiced by retailers, that makes it more likely for shoppers to wind up making some regretful shopping decisions, including but not limited to choosing the wrong gift or buying at the wrong price.
As a consumer psychologist, I interview lots of shoppers, and this year, with few exceptions, they said that if it wasn't on sale, they weren't buying it. We've come to expect discounting, and won't buy until they appear. Promotional sales are ubiquitous, and shoppers understand that the "regular" price of many products has been inflated to leave room for markdowns. Therefore, as you've likely already seen, it's a deal-a-minute holiday out there.
We're flooded with news of "unmissable," "unbelievable," and "never before" rapid-fire sales from all directions: advertising, catalogs, emails, texts, through social media feeds and all other sources of digital communication. With each bit of information coming our way, we're constantly pushed to reevaluate what to buy, and when to buy it. Considering all of the decisions that must be made, it's no wonder we make some less-than-great ones during the holidays. And so bargain-brained errors are common around this time of year, especially those that fall into these five categories:
Fear of Missing Out
Because sales are short-lived and hot holiday gifts are often available in limited supply, shoppers are well aware that if they don't bite, the item could soon return to full price or disappear entirely. That's why sales cause FOMO (fear of missing out) fever, and it's this mix of fear and excitement that can muddle thinking. Add in the emotional pressure and competitive fuel of crowds and it's understandable why so many end up making regrettable purchasing decisions at this time of year.
To keep your cool, it helps to understand that the vast majority of holiday sales are carefully planned long in advance of the season. With few exceptions, retailers have ample supplies of what they expect to be top sellers. Many of the seemingly great doorbuster deals that appear in limited supply on Black Friday are not only cheaply priced but cheap quality as well. So overall, in all likelihood you'll be able to find the best gifts in stock somewhere during the course of the holidays, and you shouldn't sweat missing out on a few chintzy Black Friday deals.
Actually, one approach to the pressure of the season is simple resignation: Enter the holiday shopping season full assuming that at least once and perhaps multiple times you'll miss the lowest price or see something later that would have made a better gift. Frankly, it's not a bad strategy. It preserves time and saves energy that might be better used for enjoying the holidays. If you're not scared about the possibility of paying a little more than is necessary, or of purchasing some gifts that are decent but not necessarily great, then you never experience FOMO—nor do you make the bad decisions spurred on by this common emotion.
Valuing Price Over Value
Even in the face of a jaw-dropping bargain, it's essential to stay focused on how much you really want the item rather than on the discount. During frenzied moments, people can easily lose focus on what they're buying and end up with gifts in search of a recipient rather than a thoughtfully chosen gift for someone on your list. Jenny, a busy working mother, for example, told me she has a "gift drawer" stuffed with cashmere scarfs. "I got them online during a flash sale a couple of years ago and I'm still working though that stash," she recalled. "It's almost embarrassing because I honestly can't remember who I've given one to in previous years."
Also keep in mind that when we're emotionally charged while shopping, we're also more prone to impulse purchases. Whether online or in store, tempting add-on items (especially those stocking stuffers and knickknacks that can hammer your holiday budget) will be especially prevalent this year. The solution is to breathe deeply and take an extra moment to consider what you're really buying.
Getting Confused by Deals
Another problem with the swift and steady stream of promotions we'll be wading through this year is managing the complexity of offerings. Neil, an engineer by profession who is used to tackling complexity, says that even he's often confused by the way sales, coupons, and promotions piled on top of each other. "I have a coupon for $50 off if I spend $200 so that's a 25% discount, but what if I find something for $150 for my wife?" he said. "Then I'd probably end up spending more to get the discount which blows the discount. Or I can wait for Black Friday but maybe what I want won't be included in the sale." Stay calm, use your phone's calculator, and never ever spend in order to save.
Too Much Bargain Hunting
In my research I've found that consumers who are heavily bargain-focused actually spend more total money shopping than others. Why? They spend more time shopping, which means they see and therefore often want and buy more merchandise. Also, because their focus is on how much they're saving, they more easily lose track of what they're spending.
Speaking of which, a classic silly bargain-brain move is to mentally consider the money you've "saved" off list prices as "earned" money—and this found money often gets spent pretty easily. Consider what Angie said in a recent interview: "I got these pants I needed on sale, so I treated myself to the matching top. It was full price, but that's okay because I saved all that money getting the pants on sale." Get the irony? In no universe is spending money actually saving money. But it can feel like that. Beyond that, remember that in our discount-crazed world, original prices are usually wildly inflated, so sales "save" far less money than you think.
Ignoring the Fine Print
Yet another potential pitfall to bargains is that they often come with strings attached. For gifts, the most problematic of these issues is a no-return policy, a short return window, or returns that only qualify for merchandise credit. Take is from Carly, an avid online shopper, that unless you've seen and considered the product before, losing the ability to return merchandise can be costly. "I spent half my Christmas budget on clearance blow-out merchandise" last year, she said. "While a few of the items were perfect and I got them for a steal, at least half were ungiftable and totally wrong. I'm stuck with them so it's not really a bargain in the end."
If you find yourself succumbing to "bargain brain," do your best to remain mentally calm. Try to focus on the value and cost of a product rather than simply the reduced price of a tempting sale "opportunity." Above all, stay loyal to your gift list and budget.
MORE: How Do I Set a Budget I Can Stick To?
Hey Impulse Spenders, Here's a Solution to Your Bad Habit
_____________________________________________________
Kit Yarrow, Ph.D., is a consumer psychologist who is obsessed with all things related to how, when and why we shop and buy. She conducts research through her professorship at Golden Gate University and shares her findings in speeches, consulting work, and her books, Decoding the New Consumer Mind and Gen BuY.
Read next: 7 Black Friday Haggling Secrets You Need to Know