These Stores Are Your Best Bet for Designer-Quality Furniture — at a Fraction of the Price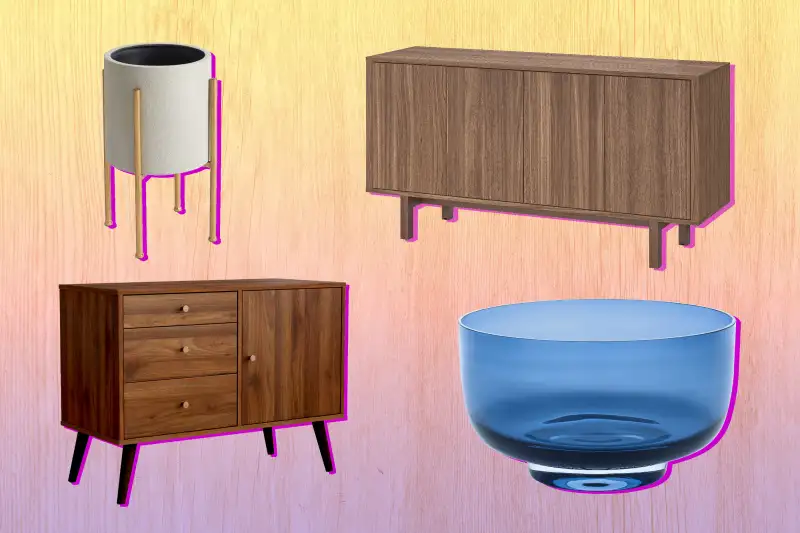 Courtesy of Wayfair, IKEA, Cost Plus World Market
If you're decorating a new home or just dreaming of a spring refresh, it's easy to get caught in the loop of browsing high-end furniture retailer websites.
Restoration Hardware, Room & Board, and Design Within Reach—among many others—sell beautiful, sometimes iconic statement pieces that, for the most part, are built to last.
They also tend to be absurdly expensive.
If you're looking to decorate on a slightly more modest budget, but want to find items that are well-designed and won't instantly fall apart, there are more choices than ever.
Here are four physical and online stores that provide clever designer-level pieces at a significantly lower price point than competitors. (Bonus: Most are having major Memorial Day sales through the weekend, ranging from 50% to 70% off.)
Wayfair
Modern furniture stores like West Elm have a passionate following for a reason: They bring style by the truckload. But if you're not ready to drop the money they require, it's worth snooping around at some of the retailers owned by e-commerce giant Wayfair, which is changing the way people revamp their decor.
In addition to its flagship website, the company owns the modern-leaning AllModern and the more traditional Birch Lane, among others. Just be careful to studiously read customer reviews, since Wayfair carries products from different suppliers. Still, you might end up with a credenza like this adorable mid-century-inspired server (currently on sale for $160) that costs way less than it looks.
Rugs USA
Rugs are a serious income suck. They add so much dimensionality to a space, but all that luxurious fabric rarely comes cheap, especially when buying from the well-known names. Even if you have your eyes set on one truly special rug from a high-end brand, it's worth first checking out if you can find a similar option at Rugs USA.
Employ some patience: The sheer volume of merchandise is kind of mind-numbing, and you will come across some sincerely hideous patterns. But you'll also find sharp knockoffs of on-trend styles, like a texturally interesting jute rug starting at a ridiculously low $15 and a Moroccan-inspired shag rug starting at $70.
Cost Plus World Market
Somehow World Market (the brand has all but dropped "Cost Plus" from marketing) always seems to get overlooked. Perhaps that's because the chain of specialty retailers apparently specializes in, well, everything from beer and wine to area rugs. Sure, some of the merchandising decisions can be confusing, but World Market delivers some fine, even sophisticated furniture knockoffs at extremely affordable prices if you know where to look.
Case in point: If a $195 Room & Board planter with walnut stand is looking a little exorbitant for an object whose sole purpose is to hold a plant, consider World Market's markedly similar planter with a chic, gleaming brass stand for $34.99.
And you can finally use those Bed Bath & Beyond coupons that are always in your mailbox, since the retail behemoth owns World Market.
Ikea Stockholm collection
There's nothing wrong with Ikea. The mega-retailer of assemble-it-yourself, Scandinavian-inspired furniture can't be beat if price is your main consideration. But there tends to be a slight anonymity across its products. Since they produce so much, it's hard for anything to really stand out.
For a cut above, check out its limited, well-curated Stockholm collection, which contains elevated comfy pieces with plenty of easygoing personality.
The sideboard with walnut veneer ($449) makes for a warm, streamlined home bar, and a hand-blown blue glass bowl ($20) is a perfect coffee table accompaniment that looks like it costs several times more.