The Best Gift I Ever Bought Myself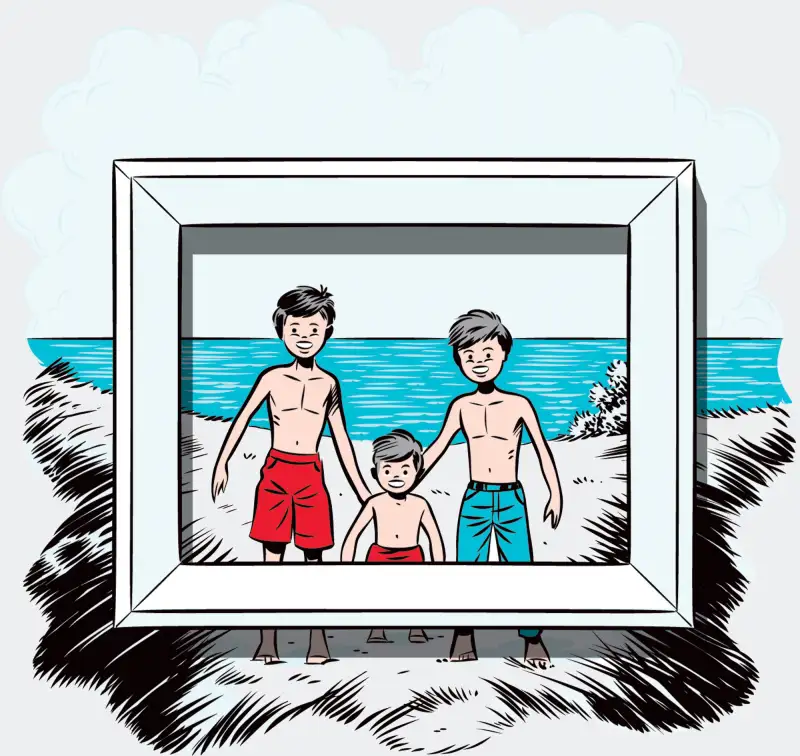 When my three boys were young, our summer vacation consisted of driving the nine hours from New York to my parents' place in Maine, where I grew up. While we loved those visits, the truth is we couldn't afford to go anywhere else. My husband, David, and I had finally scrounged up enough to buy our first home and were counting every penny. We'd even made an agreement: We wouldn't spend more than $100 without consulting each other.
On one of those holidays, I took the boys—then 6, 5, and 2—to the local library, where a silent auction was underway. I was transfixed by one item, a portrait of two children. Shot nearby, on the rocky coast, the photo was naturalistic but also otherworldly, capturing the essence of the young subjects and the rugged beauty of my home state. Up for bid: a session with the photographer.
Impulsively, I scribbled my name on the sign-up sheet, half sure that my offer of (gulp) $500 would be topped.
It wasn't. And though I felt bad about violating my agreement with David, I was happy my bid won.
The morning of the shoot, we bundled the kids into the car and drove a few miles to a favorite beach. The photographer, already standing in the parking lot with a Leica around her neck, started snapping pictures the minute they clambered out of their car seats. She coaxed the boys forward, persuading them to gather around a rock pool and follow the journey of a skittering crab.
When the contact sheet arrived, I knew it had been worth the splurge. In the photos each boy's personality shone through with startling clarity: the intensity of Hayden, the energy of Will, the curiosity of Eli.
Over the following years, David and I have taken many snapshots of our family. Our photos reflect moments in time; what the photographer managed to capture that day is timeless. More than a dozen years later, the portrait is a touchstone for me, a key to understanding who my children are. The photograph is a piece of art and a piece of our family history, worth every spontaneously promised penny.
Christina Baker Kline, author of No. 1 New York Times bestselling novel Orphan Train, lives outside New York City and in Maine.
More Money Well Spent:
The Computer That Changed My Life
How One Family Discovered a Vacation in a Box
Do you have a purchase you consider Money Well Spent? Email us about it and what it means to you at wellspent@moneymail.com.