30 Last-Minute Gifts Under $100 for Everyone on Your List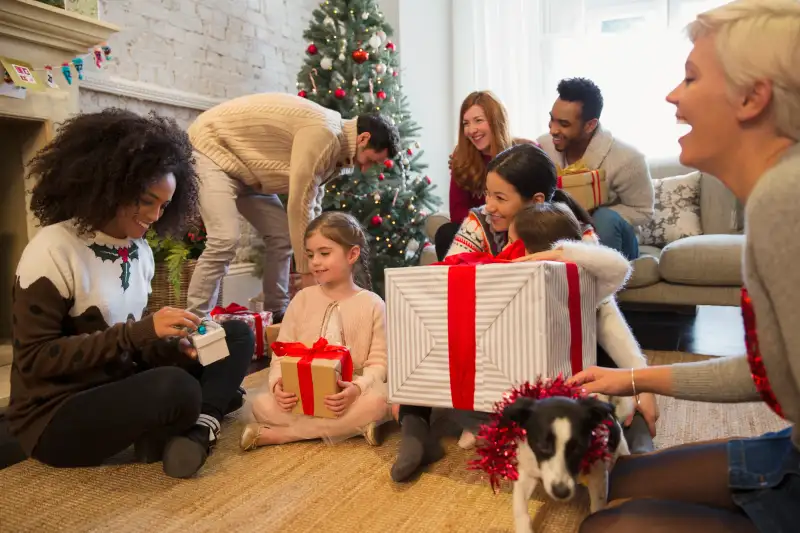 Still not done with your holiday shopping? Not to worry: We've rounded up the best of the best last-minute Christmas gifts that don't scream, "I procrastinated waaaay too long."
No generic bottles of booze or weird-smelling candles here. Here are 30 last-minute Christmas gifts for mom, for dad, for your BFFs and for the people you don't want to spend a lot of money on — in other words, literally everybody. Make online orders asap in order to maximize the possibility of fast free shipping that will arrive in time for gift exchanges on Christmas morning.
Last-Minute Christmas Gifts For $25 or Less
Because some mornings, they're going to wish they could just skip the cuppa and go straight to happy hour. These beans are aged in wine barrels so they pick up the flavor, but the only buzz they deliver is from the caffeine.
Courtesy of Uncommon Goods
These hipster-chic shades come in four varieties, and are versatile enough to make a great gift for a guy or gal who loves the retro look. Pick classic black or shake it up with tortoise frames and a trio of colored metallic lens options.
These are brilliant, particularly if the intended recipient has a long flight home after the holidays. Choose from a kit to make classic drinks like an old-fashioned, gin and tonic, Moscow mule and more.
I got one of these as a gift, and being able to add a pocket to any outfit has been a game-changer: It's marketed to runners, but it's great for anybody who needs their hands free and a place to stash keys, phone, cards or other essentials — in other words: parents, commuters, basically everybody.
This is the perfect gift for the naturally curious. Each day highlights a different place, marvel, eccentricity or other oddity drawn from the popular book of the same name.
Last-Minute Christmas Gifts For Friends
This grown-up version of all the holiday treats we loved as kids covers all the bases, from chocolate chews to raspberry thumbprint cookies to candy canes. If you're lucky, the recipient will break it out the next time he or she has the crew over for book club or poker night.
Even if you're long past the age when you traded a skateboard in for a keyboard, classic Vans slip-ons let your pal reclaim those carefree years without trying too hard. We especially love the fuzzy iteration of the women's version — equal parts cool and cozy. (Guys get their own version of warm and fuzzy with a Snoopy checkerboard print — kind of a no-brainer if one of your holiday traditions involves A Charlie Brown Christmas.)
If your wisecracking pal already has Cards Against Humanity, the "party game for horrible people," and all of the expansion packs, this is the next logical choice. (There's also a NSFW version, if that's the way your crew rolls.)
You know you have that one friend who just can't sit still. Give them something to do with their hands that's a little more adult than a fidget spinner and more likely to be in their pocket than one of those kinetic desk toys. This pen has eight different distractions for twitchy fingers.
Well, here's something they don't already own: A cute faux-fur llama throw pillow all decked out in a colorful blanket with tassels and pom-poms (because why not?). Reviewers are calling it "adorable," "soft and cute" and "very snuggly," and who are we to argue with Internet reviewers?
Courtesy of Urban Outfitters
Last-Minute Christmas Gifts For Him
For the guy whose five-alarm chili is the stuff of legend, this gift basket of artisanal goodies imbued with spicy sriracha is the perfect gift. They get tender sriracha bacon jerky, sriracha cheddar corn snacks, peach sriracha jam and two takes on the spicy sauce itself.
100% cashmere at 25% off? Believe it: This warm scarf — originally $99.50 — with a subtle fringe comes in two shades of blue as well as a heathered gray, and at 70 inches long, is big enough to wrap around even the most burly necks. (If your intended recipient favors an edgier look, dark gray and black versions of the same scarf are at this link for the same price.)
Talk about facetime: Score this luxe shaving kit for 25% off the normal price of $120 and give him some serious shaving cream, pre-shave oil and aftershave balm, plus a shaving brush. Choose one formulated with lavender essential oil or an unscented version.
There's nothing macho about shivering. This hardy merino wool blanket is as warm as they come, and is available in an array of classic striped and plaid patterns that will work as well for tailgating as they will for curling up on the sofa in front of the fire.
I have this book and I've successfully mixed up some tasty concoctions following the directions and sometimes-unexpected ingredients. (Pink peppercorns? Oversized brined capers? Just roll with it.) Make it a well-rounded gift by combining this book with a set of bar tools, like this swanky four-piece copper version.
Last-Minute Christmas Gifts For Her
Here's a perfect Christmas present for that girlfriend who always manages to make you laugh and see the bright side of things. Two blush wines — one from New York and one from California — and one sparkling hard cider jazzed up with hibiscus and pomegranate are paired with four throw-em-in-a-bag-and-go stemless plastic wine glasses.
We can't even. These adorable studs, which are available in sterling silver, yellow or rose gold-plated, come from an indie designer based in New York City. If your holiday season traditions include curling up in the living room with paper boxes full of takeout Chinese food, you almost can't not get these.
In olive green and heather gray — and adorned with a pizza-slice-as-Christmas-tree, these are the perfect festive holiday PJs for the gal whose style skews more indie downtown boutique than mass-market store. Want to go over the top? Pair these with the fortune cookie studs (above) and you have the perfect paean to lazy-day Christmas vacation lounging.
The bold metallic hues and their grounding matte counterparts make this new, limited-edition eyeshadow palette surprisingly wearable for a wide variety of skin tones. Online reviewers praise these eyeshadows for their vibrant colors, intense pigmentation, and smooth blendability.
Believe it or not, for just 12 bucks you can snag the highest-rated women's scarf in stock on Amazon right now. The millennial pink and cream-colored version is guaranteed to go with just about everything she owns, and at this price, you can afford to pick her up a stocking stuffer (maybe one of our $25-and-under picks?) too.
Last-Minute Christmas Gifts For Mom
Salt lamps are said to purify the air and provide other health benefits, but their typical shape — natural hunks of salt crystal — can look decidedly... crunchy. If her style skews more haute than hippie, this sleek pyramid salt lamp is the perfect marriage of form and function.
She's interested in practicing mindfulness, but she's also a free spirit who loves using her empty-nest years to explore. This book is full of advice and insights to help her achieve mindfulness whether she's on a beach chair, balcony or wherever else her adventures take her.
Woven in Bali using native grasses that grow in the region's volcanic soil, this unique bag has a cheery butterfly pattern and is lined with traditional Indonesian batik-print fabric, with a drawstring pull at the top to keep all of her stuff secure. (Psst — go over the top for her by gifting her this — and sticking the mindful travel book, above, inside.)
Courtesy of Uncommon Goods
Her recipes are institutions, but sometimes even the classics need a fresh take. This Martha Stewart cookbook earned kudos from the New York Times for its inventive incorporation of healthier ingredients — from flaxseed to quinoa flour — in creations ranging from fluffy pancakes to ethereally light cakes.
She always complains she doesn't have any pictures of you, so this teeny version of everybody's favorite throwback camera will let her snap away to her heart's content and post pics on the fridge — just like when you were a kid. (Psst — don't forget to throw in a few film cartridges, too.)
Last-Minute Christmas Gifts For Dad
How else is he going to listen to his favorite Moody Blues album without getting off the couch? This portable turntable combines a classic look — choose from five colors, including "vintage teal" — with modern technology, and includes an auxiliary port for listening to digital music, as well.
The two best things (OK, or maybe the two only things) at his favorite watering hole, together at last. This artisan trio of kettle-cooked nuts includes cashews with Irish stout, peanuts with Jamaican lager and almonds with bourbon. Granted, that's a step or two up from the bar nuts he's used to, but we're guessing he won't complain.
Courtesy of Uncommon Goods
Thanks to a 40%-off discount, these fuzz-lined slippers come in at well under a Benjamin. Available in a trio of goes-with-everything shades, these rubber-soled kicks look so good your mom won't even yell at him to take them off when guests show up.
Who needs AirPods? Or even hair? This brilliant knit cap incorporates a wireless Bluetooth speaker and microphone so he can get his jam on (or take a call) while walking the dog or going for a jog — or taking zillions of Christmas lights off the house and shrubbery come January.
Even a grillmaster needs some inspiration from time to time. Choose between two trios of these rubs: Southern (Memphis, Carolina and New Orleans styles) or Western (Texas, Kansas City and California). Your 4th of July burgers are never going to be the same again.
We've included affiliate links into this article. Click here to learn what those are.