10 Cool Valentine's Day Gifts for Him — All for Under $50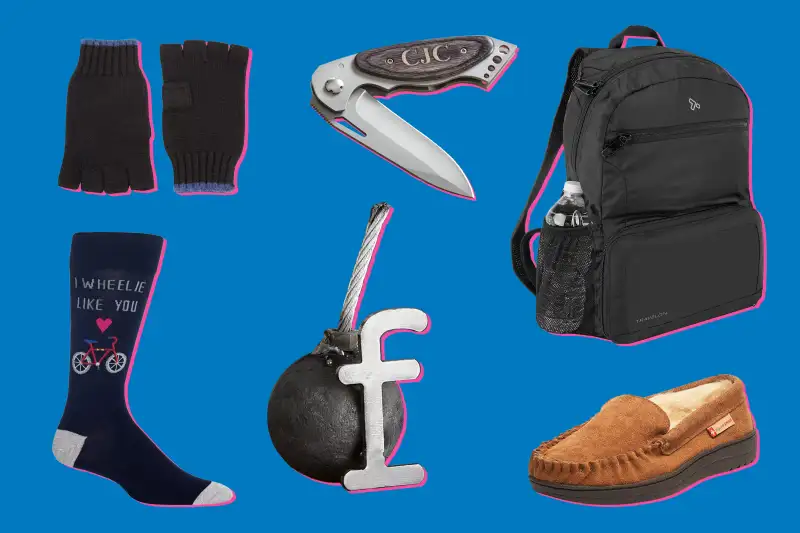 It can be tough to find good men's Valentine's Day gifts. Everything in the typical list of Valentine gift ideas is too pink, too heart-shaped or too cutesy — or too expensive.
To help you find great Valentine's gifts for him, we combed the internet for useful, funny, romantic, sweet, and interesting gifts for men that will show the guy in your life that you really get his unique personality — all for less than $50. While shopping, you might also want to splurge on Valentine gift to share with the people you love, like these awesome chocolate-covered Oreos (seriously, where have these things been our whole life?).
Valentine's gifts for men don't need to be covered with hearts to be warm and fuzzy: Give the gift of toasty toes with these super-affordable real suede-and-shearling slippers that have almost 2,500 reviews on Amazon.
This little pocket knife just might be as handy as he is, and the wood trim adds an appealingly rustic touch. Bonus: It's one of the most inexpensive customizable Valentine's Day gifts for men we found.
Jewelry for the guy who doesn't wear jewelry? We've got you covered with this unique adjustable bracelet in black leather with an understated screw-head trim.
Courtesy of Uncommon Goods
OK, so this isn't a "typical" Valentine's Day gift, but it's a pretty safe bet that there are plenty of guys out there who would get a kick out of this tongue-in-cheek desk accessory.
Feeling loved means feeling secure, and Valentine's Day gifts for him like this one deliver: This anti-theft backpack will give him peace of mind that his laptop and other stuff will stay safely stowed on his travels.
Courtesy of Lord and Taylor
These socks are perfect for a guy who doesn't take Valentine's Day (or himself) too seriously — or one who's a sucker for dad jokes and groan-worthy puns.
Let him know you get a "charge" out of being with him with this Qi-certified wireless charger that's compatible with most newer Samsung Galaxy and Apple mobile devices.
Courtesy of Hook and Albert
Because nothing says "I love you in spite of your propensity to lose things" like a zippered pouch so he can keep his keys, earbuds and other essentials corralled.
Courtesy of Saks Fifth Avenue
Not only are these a terrific compromise between keeping your hands warm and still being able to text or make change with ease, but these luxurious gloves are a deal at 50% off their regular price.
Courtesy of Uncommon Goods
If you're looking for great Valentine's Day gift ideas for men (or any hockey lover), check out this four-piece set of barbecue utensils with handles made from repurposed hockey sticks — a real hat trick of a present for a grill-happy NHL fan.