Act Quickly if You Want a Chance at Tickets for Bruce Springsteen's Broadway Shows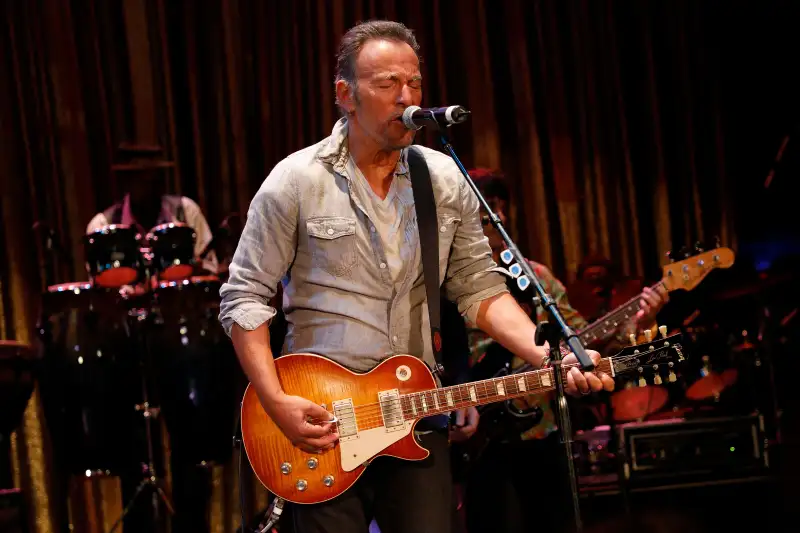 Bruce Springsteen sells out arenas left and right. But this fall, the Boss has his sights set on a decidedly more intimate venue: New York City's Walter Kerr Theatre on Broadway. The theater holds just under 1,000 people, and Springsteen will use it as his home base for an eight-week run of shows beginning October 3.
Although the performances will run five nights a week, the entire series' worth of tickets on Broadway will add up to less than half the capacity of Met Life Stadium across the river in Springsteen's native New Jersey.
To manage what will surely be off-the-charts-high demand and discourage scalping, Ticketmaster is using a program called Verified Fan. It involves jumping through a few more hoops, and there's a pre-sale cutoff. Tickets officially go on sale starting at 10 a.m. ET on Wednesday, August 30, but to have a chance of buying seats you have to register with Verified Fan no later than 10 p.m. ET on Sunday, August 27.
Here's how it works: Set up a Ticketmaster account (or log in if you already have one), and register with Verified Fan to get a unique code via text. The texts will arrive two to four hours before tickets go on sale, and you will need to enter the code to buy up to two tickets — yes, there's a two-ticket maximum per code — for $75 to $850 each.
Now, here's the rub: Ticketmaster warns, "Registering does not guarantee you will be verified," and "due to demand the ability to purchase tickets is not guaranteed."
Countless Springsteen fans will surely come away from Ticketmaster empty-handed. So here are a few Boss-related suggestions for how to occupy yourself instead of obsessively checking your phone to see if you're one of the lucky ones to get an access code.
Springsteen's music has always been about storytelling as much as about the tunes, and his autobiography, titled (of course) Born to Run came out last year ($23 hardcover, $13 Kindle — the paperback version, also $13, will be released September 5.) Springsteen is expected to read portions of the autobiography during each night's show on Broadway.
Courtesy of Simon and Schuster
The album Chapter and Verse ($14 MP3, $17 vinyl), billed as the "audio companion" to the book, contains 18 songs — including five previously unreleased ones, so it might be worth picking up even if you literally own every Springsteen album that's ever been released.
As is typical for a rock star who's been cranking out tunes for more than four decades, there are a few greatest hits collections out there. If you just want to hear the songs you already know all the words to, the 1995 Greatest Hits album ($11 MP3, $6 CD) delivers the goods with 18 tracks. Bear mind that some fans grouse that the album is weighed down with the kind of filler that doesn't exactly make you want to grab a hairbrush and sing along in front of the bathroom mirror.
Although not a greatest hits roundup, 1998's four-album set Tracks ($30 MP3, $24 CD) is a deep dive into the musical and lyrical experiments that would eventually grow into some of Springsteen's most recognizable hits.
The Essential Bruce Springsteen ($15 MP3, $11 CD) has more to recommend it, as it includes a broader range of Springsteen's biggest hits and includes some of the better cuts from Tracks, too.
Finally, the triple-album box set Live: 1975-85 ($31 CD) is worth a shout-out. It obviously predates many of Springsteen's later hits, but it's a comprehensive roundup of his early great tracks up through the "Born in the U.S.A." tour, and the energy of the live performances are infectious.
We've included affiliate links into this article. Click here to learn what those are.