Trump's Budget Eliminates These 19 Federal Agencies. Here's What They Do — and Cost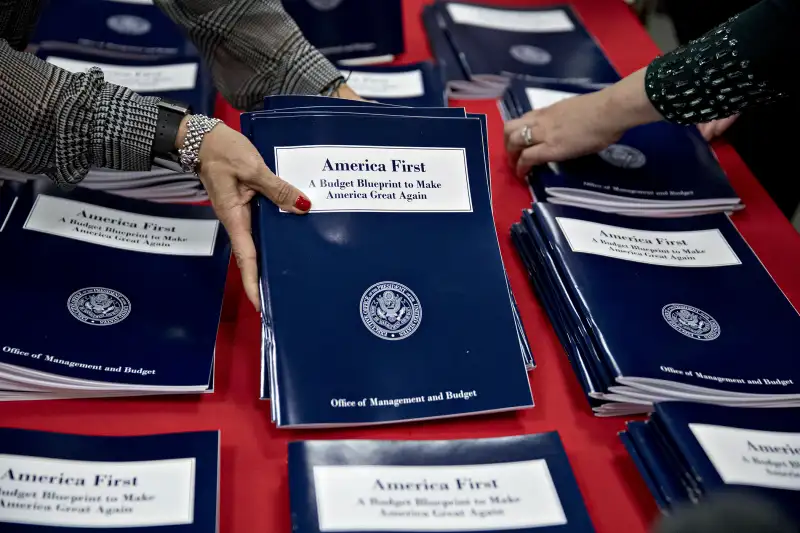 Andrew Harrer—Bloomberg via Getty Images
White House chief strategist Steve Bannon sat in front of a rapt audience at the Conservative Political Action Conference last month and announced that one aim of the Trump administration is the "deconstruction of the administrative state."
And so it begins.
President Trump released his budget proposal on Thursday, and his desired funding changes are dramatic. Three federal departments — Veterans Affairs, Homeland Security and Defense — would see greater funding. All other departments, from Treasury to Housing and Urban Development to Justice, are in line for significant cuts.
Meanwhile, 19 agencies and programs in total — some obscure, others well-known — will be eliminated altogether under Trump's plan.
The resulting savings to the American people?
The total for eliminating these agencies comes to $3.1 billion per year, a drop in the bucket in an $18 trillion economy. Per American, that's $9.43 per year (a fair gauge, since politicians generally talk about the national debt as a burden passed down to future generations). The cuts, then, seem more about financing increased defense spending and eliminating programs favored by Democrats than reducing the federal debt.
Here's a rundown of the 19 programs the Trump administration wants to raze, what they cost each American, and what purpose the agencies currently serve.
African Development Foundation
This independent agency awards grants of up to $250,000 to help alleviate poverty, hunger, and infrastructure needs throughout Africa. There are currently more than 500 ongoing projects, helping more than 1.5 million people in nearly 30 countries across the continent. In Malawi, one of the poorest countries on earth, one $240,000 grant to the Chitsanzo Milk Bulking Group in the Dedza district is training 197 famers on cow-raising and milk-production techniques, and how to better sell their products.
Appalachian Regional Commission
The Appalachian region, which comprises areas of 12 states from northern Mississippi to southern New York, remains one of the most blighted areas in the nation. Congress created ARC in 1965 to stimulate economic demand, and a recent study found that between 1970 to 2012, counties that received ARC investment saw more jobs and higher income growth than those that didn't. ARC recently awarded $26 million to offer training and education to more than 7,000 workers who've seen their prospects dim thanks to a declining coal industry.
Chemical Safety Board
The U.S. Chemical Safety and Hazard Investigation Board (CSB) investigates whenever there's a significant chemical spill, and works to inoculate people and the environment from future damaging incidents. For instance, CSB officials recently announced that they were sending three investigators to a Packaging Corporation of America plant in DeRidder, Louisiana where an explosion killed three people, and injured several more.
Corporation for National and Community Service
Home of AmeriCorps, the CNCS supports nearly 90,000 members who engage in community service work throughout the country. What kind of work do they do? "Last year, AmeriCorps members and Senior Corps volunteers helped 280,000 families and individuals file their taxes and recover millions in tax refunds and tax credits," per CNCS.
Corporation for Public Broadcasting
As Money laid out in January, Republicans have long been known to want to kill government funding for Big Bird. But the CPB is more than Sesame Street. For instance, the CPB is backing a program through Wisconsin Public Television called "Veterans Coming Home" -- which includes a series depicting what some of the 2.5 million veterans endure as they reenter society, but also funds services such as job fairs for returning vets.
Delta Regional Authority
The DRA's mission is to improve the economic lives of 10 million people who live in the 252 counties and parishes in eight states from Louisiana to Missouri and Kentucky. The 17-year-old agency has helped to create or save around 17,000 jobs, according to its website. DRA, working with the Economic Development Administration, invested $235,000 that will support 115 jobs along the Arkansas and Louisana border. The money will be used to improve U.S. 65 and Interstate 20, along with ports on the Mississippi River.
Denali Commission
The Denali Commission, created in 1998, supports economic and infrastructure projects throughout Alaska. The much-maligned agency saw its funding shrink after its own inspector general outlined problems. But in 2015, as the Washington Post reported, President Obama "unveiled a series of steps to fight climate change that put the Denali Commission front and center in a new role. The agency will coordinate 'short – and long-term solutions' to mitigate the impact in 31 communities, a White House statement said."
Institute of Museum and Library Services
The IMLS's goal, essentially, is to help people learn by supporting the more than 120,000 libraries and 35,000 museums in the country. The agency provides grants to state library agencies, Museums for America, and the National Museum of African American History and Culture, which President Trump recently visited.
Inter-American Foundation
This agency helps fund programs in Latin America and the Caribbean in an effort to help those citizens improve their lives. For instance in 2005, IAF awarded a three-year grant to help a youth program in Venezuela train 200 young entrepreneurs and aloe farmers to help them become more employable. "Training centered on jobs in baking, ironworking, computers, tourism, and integrated management of aloe production. Other areas of training focused on self-esteem, leadership, health issues, and small business management," according to the IAF. The group, FUNCAMET ultimately reached nearly 250 people, three-in-five of them women, and 87% of whom went on to continue their education.
U.S. Trade and Development Agency
Trump made his political name with an antagonistic stance on free trade. It stands to reason, then, his administration wants to kill the USTDA, which helps U.S. business sell goods to developing and mid-market economies across the world. The agency estimated that it helped foster nearly $12 billion in new U.S. exports in 2015 and supported nearly 66,000 jobs.
Legal Services Corporation
As Money laid out in January, the LSC helps poor Americans afford legal services, currently funding "134 independent legal aid organizations with more than 800 offices" in the U.S. For instance, the Atlanta Legal Aid Society -- which served nearly 33,000 people in 2015, including about 15,000 children -- received $3.8 million last year, supporting 109 positions. Two-thirds of clients served were African-Americans.
National Endowment for the Arts
As Money laid out in January, the NEA supports art, and those who make it, across the country. Eliminating funding would kill hundreds of programs, like Art 365, which grants five Oklahoma artists $12,000 to support their work. Past grantees photographed "remote portions of our National Parks and wilderness areas," and used aerial photography to look at churchgoing demographics in Oklahoma.
National Endowment for the Humanities
As Money laid out in January, the NEH offers research funding to institutions like museums, colleges, and libraries. The agency has backed 16 Pulitzer Prize winners and Ken Burns' The Civil War series, among other notable endeavors. One recent grantee is Michael Bernath, an associate professor at the University of Miami, who received $6,000 for his project "In a Land of Strangers: Northern Teachers in the Old South and the Emergence of American Sectional Identity, 1790-1865."
Neighborhood Reinvestment Corporation
Created by Congress, this nonprofit works with more than 240 community development corporations across the country to help low-income people find, and live in, affordable housing. NeighborWorks Provo, for instance, had 20 volunteers repaint, de-wasp and repair the rafters of one local resident who recently lost her husband.
Northern Border Regional Commission
FY 2017 Budget: $5 million
Cost Per American: $0.02
This federal-state partnership provides economic development support to four states (Maine, New York, Vermont and New Hampshire) with an annual budget smaller than what most New York Knicks earn in a year. The NBRC recently granted $250,000 to Vermont so it could improve the Northeast Kingdom International Airport wastewater capabilities, along with expanding the runway. The upgrades are expected to produce 94 new jobs.
Overseas Private Investment Corporation
This agency has actually returned $1.6 billion to the Treasury since 2010. As Money laid out in January, using both loans and loan guarantees, OPIC works to help businesses with annual revenues below $400 million invest in "large scale" operations, such as airports and water systems. "Over the past five years, 71 percent of OPIC projects were in partnership with U.S. small businesses, accounting for over $600 million annually in U.S. exports," according to the State Department. One recent OPIC effort, for instance, provided an $87 million, 17-year loan, to a U.S. company, Al Tamweel Al Saree, to extend loans to micro and small-sized Iraqi businesses.
U.S. Institute of Peace
Part of the State Department, USIP's mission is to make the world less violent. The agency works around the globe, and recently has been bringing together government officials, civic leaders, and academics in Nigeria to come to an agreement on how to reduce violence in the nation's north by terrorists like Boko Haram.
U.S. Interagency Council on Homelessness
There are more than 500,000 homeless people in the United States, according to a recent Housing and Urban Development report, and a quarter of them children. The USICH works to prevent this by, among other things, working with localities to expand available rental assistance.
Woodrow Wilson International Center for Scholars
A so-called "living memorial" to the 28th President, the WWIC is a research hub for scholars to study and debate the big global issues facing the country today. The Center also hosts events and forums to engage the public.