I Spent 8 Months Traveling the World on $50 a Day. Here's How You Could Do It Too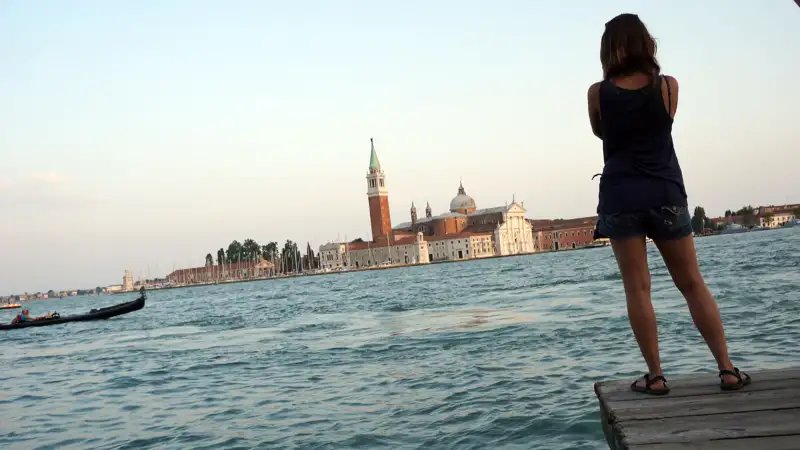 Inside the largest department store in the world, where light from tastefully enclosed fixtures reflects off marble floors, steel pillars, and signs for Hermes and Louis Vuitton, sits Spa Land. The sleek Korean jimjilbang—home to outdoor rock bathing pools, private massages, and more than a dozen sauna rooms with themes like the charcoal room or the pyramid room—doesn't seem like it should be on a budget traveler's itinerary.
But if you go late in the evening for the discounted entry, stay in a hostel, and eat egg buns from a street cart for breakfast (which you really should do anyway) it absolutely can be.
I spent eight months circumnavigating the globe on a highly ambitious budget of $50 a day, determined not to let my financial constraints get in the way of experiencing places the way they should be. I'd been dreaming of long-term travel for years, and the stars and my savings account finally aligned to make it possible in spring of 2016, when my partner graduated from business school with a job offer starting nine months down the road. I had gotten caught up in a round of company-wide layoffs a few months prior and used those weeks and unemployment checks to start building the freelance career that would help sustain me on the road. Three weeks after graduation, we hopped a plane to Lisbon (chosen primarily because the tickets were on sale), wending our way along the Mediterranean, into the Balkans, and through Japan, South Korea, Singapore, Australia, and New Zealand until we ran out of money and adult responsibilities demanded our return.
Here's some of what I learned along the way.
Pack Correctly
Covering 18 countries and their accompanying climates is a challenge for any wardrobe, especially one that you're carrying in a 40-liter backpack. We did what some backpackers refer to as "chasing the summer," trying to stick to warmer climes as much as possible to maximize the wearability of the five shirts in our bags and avoid carrying heavy outerwear.
Baggage fees, especially when they catch you right at check-in, could have cost us an entire day of budget in 10 minutes, so we had to balance weight limits with my overpacking tendencies and reluctance to waste half a day tracking down a deodorant that I could actually use.
Some things may be cheaper at your destination, but shopping during a trip for necessities wastes valuable time and may force you into paying more than you want if you need it right at that moment. And you never know what may turn out to be unexpectedly expensive. My travel partner planned to stock up on new SD cards in Japan or South Korea, reasoning that since so many tech companies are based there they would be cheaper. They turned out to be triple the US price.
Know the Numbers
One exhausted morning in Thailand after 18 hours in transit, I ended up pulling roughly $1,000 from the airport ATM rather than $100. Not a terribly comfortable situation when you've read a million guidebook warnings about pickpockets (even if they never ended up being an issue) and only plan to spend $50 a day. I ended up stuffing bills into every spare corner of my backpack and didn't have to go to the ATM for a month. Takeaway lesson? Jetlagged impulse math is bad math. Know your local currency conversion beforehand, so when you step off the plane and up to the ATM (you did get a debit card without international transaction fees, right?) you get the amount of money you actually want.
We used the app Splitwise to both keep track of what we were spending and minimize the "well I paid for the hotel so you pay for dinner and breakfast to even it out" tedium. If you want to get extra technological rather than just estimating, try a currency converter app like XE Currency to avoid any credit card bill shock when you see the total in your home currency.
Stay Longer
We averaged about three to four nights per city on our trip, which if I had to do it over again, I'd stay even longer. If you have the time to move slowly, take it. After all, the best way to avoid baggage and travel expenses is not to get on a plane in the first place. Transit is expensive, even if you take the budget bus. When we were in Thailand, one ferry ticket between islands cost more than three nights of lodging. On our eight-month trip, we devoted a whole separate budget category to transit expenses, because otherwise we wouldn't have been able to eat with the leftover daily balance any time we got on the train or bus.
Sure, it's hard to fight the impulse to see as much as you possibly can, but focusing on fewer cities will both save money and help you enjoy each stop more. The less time you have in a city, the less time you have to wait for specials, free admission days, or find more interesting stops than the tourist top five. We missed Austria's wine regions in favor of staying in Vienna for a week, but got to catch free events like an outdoor movie screening in the Museumsquartier and catch up on some of our sleep.
Cut Out Booze
So you just met your new best friend in the entire world/future soulmate/the most attractive human you've ever seen in your hostel bar and you need to go with them to the club right this second. One or two drinks? Probably within your daily spending limits, especially if you get in on those happy hour specials. Five rounds for all your new friends, 3 a.m. pancakes, taxi fare, and replacing your lost cell phone? Not as budget-friendly.
Before our trip, we spent probably two or three nights out on the town per week. We minimized that to two or three per month on the road. We tried to set them up as special occasions devoted to both experiencing a place and drinking, like a cellar sampling walk along the river in Porto or night out in Tokyo's Golden Gai. And drink something home-grown for the sake of both your budget and your palate; a mediocre Napa cabernet is going to be triple the price of a very good rioja in Barcelona. Don't go for an imported Jack Daniels when you could try shochu or Japanese whiskey instead.
Plan Your Extravagance in Advance
The Great Barrier Reef isn't going to be around forever; hell, it's barely around now. But getting to the good parts, which get further away by the day, isn't cheap. I had wanted to see the reef for years, so we added a stop in Cairns to our Aussie itinerary and shelled out for the really nice boat — the one that took you to the farther ends of the reef that are less damaged. As an added bonus, it was a bigger boat, which helped a bit with my propensity toward seasickness. Rather than snorkeling over the bleached remnants closer to shore, we got to see the living reef in action, teeming with colorful fish and even some sea turtles.
This wasn't a spur-of-the-moment break in my months of self-control to prove to myself that I too could have nice things, but something picked out well in advance. Whether it's the deluxe reef yacht or twelve courses of a three-Michelin-star meal, if you've planned your extravagance in advance, you'll have that anticipation to carry you through your peanut butter sandwiches and enough research time to make sure you're getting the best deal. After all, willpower is a finite resource.
Your Hotel Probably Doesn't Matter
Assuming you're not lodging in the lap of luxury, your hotel room really doesn't matter that much. You're hardly ever there. Shared bathrooms? Probably fine if the place has good cleanliness reviews. Not directly in the city center? You're out walking and exploring anyway, and that means nearby food is going to be cheaper. The vast majority of our lodgings during our trip were found by going on Booking.com or HostelWorld, sorting by price within our mapped area, and choosing the cheapest option that met our fairly low standards. I'm deeply and intensely phobic of cockroaches and bedbugs, so any reviews that mentioned those were right out. But a lack of staff friendliness or insufficient amenities? Meh. I've got all that shampoo in my backpack already.
Private rooms in hostels, too, sometimes come with better perks than a similarly priced hotel would. We spent one of our best afternoons in Bulgaria on a food walking tour that we wouldn't have otherwise known about. All you need is a relative degree of cleanliness and a safe place to sleep. Why spend all your money on a place you don't spend any time?
All Things in Balance
I don't really care about having nice breakfasts, walking long distances, or climbing up very high towers to see cities from above. I do care about non-stressful airport transfers, clean bathrooms, and pastries. So I eat granola bars in the morning, don't pay for cabs, and skipped climbing the Duomo in exchange for after-dinner (or mid-afternoon, or sometimes even breakfast, let's be real) cannoli and the ability to spend more on a plane ticket with a better flight plan.