You'll Get the Cheapest Airfare If You Travel During This Month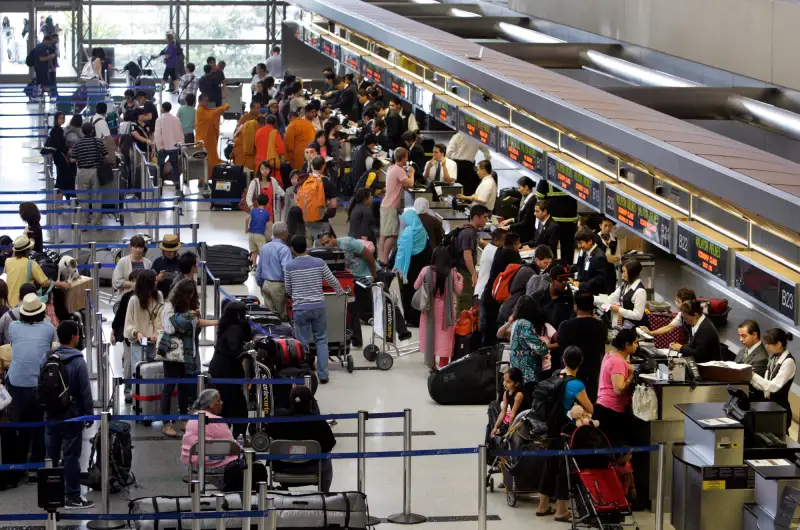 Lawrence K. Ho—LA Times/Getty Images
If your New Year's resolutions are likely to include "travel more," you're in luck: Airfare prediction site Hopper says airline ticket prices will fall to an average of just over $200, compared to nearly $250 last June, thanks to lower post-holiday demand and low fuel costs.
Airfare prices generally hit their peak for the year in summertime, although this year's peak was lower than usual because gas prices have been dropping over the past couple of years. Likewise, January is usually the cheapest time of year for air travel, and Hopper predicts next year will be no exception, when the price of a round-trip ticket for travel in the U.S. will fall to just $211. (That's the same as this past January, Hopper said, which is also the lowest monthly ticket average it's tracked.)
Hopper noted in a blog post on its site that although the cost of jet fuel did tick up by 11% in October, prices are still less than half of what they were in early 2014, and cheaper fuel means cheaper airline tickets. Jet fuel is actually cheaper than it's been since 2009, Hopper said, but the frustrating part is that airlines aren't passing along all of those savings to travelers.
This month, the price of a domestic round-trip ticket averages $220, although Hopper noted that this doesn't include the demand-driven spike in prices around Thanksgiving week. Next month, the site predicts they'll fall to an average of $214 before hitting their low point at the beginning of 2017.
But if you're thinking of going away for spring break, you might want to start budgeting now: After that January low, Hopper predicts three months of steady price increases that will raise the average round-trip ticket price to $233 by April.