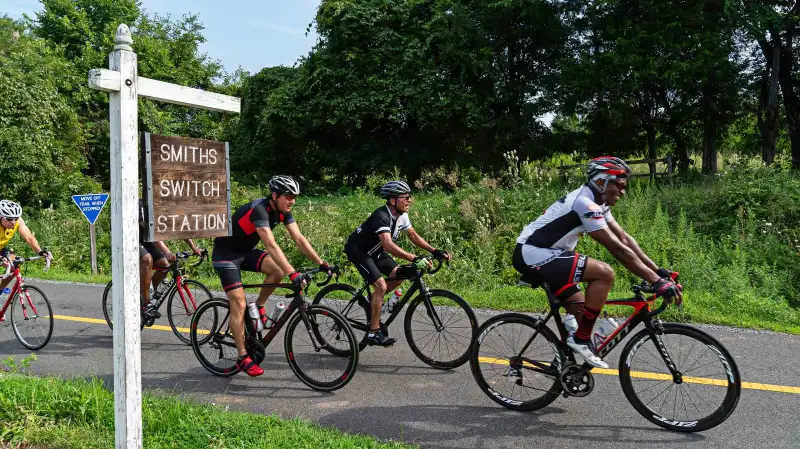 Photograph by Scott Suchman for Money
When 33-year-old Stefanie Dove moved to Ashburn from New York City three years ago, the transition was something of a shock. A former resident of Harlem and Brooklyn's hipper quadrants, she was used to the constant chaos of city living and arrived, she says, "by myself, not knowing a soul."
On her second day in town, she learned of a young professionals group and went to a meeting — introducing herself to the people who would become her closest friends. "You can never get bored here," she says. "It's typically not what can we do, but what should we do? There are always festivals and fairs — music festivals, seafood festivals."
She also bought herself a car — her first — and set about exploring the area's breweries and wineries. (In particular she's a fan of Parallel, a wine and whisky bar with regular live music.)
Dove moved to Ashburn — a largely suburban area that is an integral part of the Dulles Tech Corridor — for a job in nutrition services for Loudoun County schools. That such a department exists in this nationally lauded district speaks to how much the community values local fare and farmers, and seeks to teach students how food gets from farm to table.
It also hints at the richness of Ashburn's school offerings. "The education is great," says longtime Ashburn resident Tony Stafford, the father of a 13-year-old boy and the owner of Ford's Fish Shack. He moved to the area 21 years ago to open up his own neighborhood restaurant; he's now got three outposts, and knows regulars by name.
Stafford also raves about the care the rapidly developing county has taken to grow smartly and with engagement from residents. "Envision Loudoun," an 18-month project aimed at producing a community-based comprehensive growth plan, invited public input about what residents want to see in town in two decades. Among the suggestions: more sidewalks, bike paths, and parks — in short, more ways to enhance the community.
When construction of the Metro's Silver Line extension is completed — currently on track for 2020 — it will make its final stop in Ashburn, enabling residents who work in D.C. to avoid the region's notorious rush-hour traffic jams. Developers, meanwhile, are putting finishing touches on Loudoun Station, a pedestrian-friendly four-block mixed-use site near the depot that includes luxury apartments, restaurants, movie theaters, a farmer's market and other enticements for residents who want easy access in and out of town.
The train's arrival has already impacted the local economy; earlier this year the General Services Administration announced a plan to move 3,700 U.S. Customs and Border Protection employees to offices nearby, on the campus that once housed MCI/Worldcom. Other tech remains strong in Ashburn. Raytheon, Orbital ATK and Amazon Web Services are all among major employers.
Yet while the job opportunities provide the magnet, it's the community energy that excites so many Ashburn residents. "When I go to the grocery store or a farmers market or a restaurant on a Friday night, chances are I'll run into someone I know," Dove says. "It's close-knit and you get what you give. If you're putting yourself out there, you'll be welcomed." — Sara Ivry