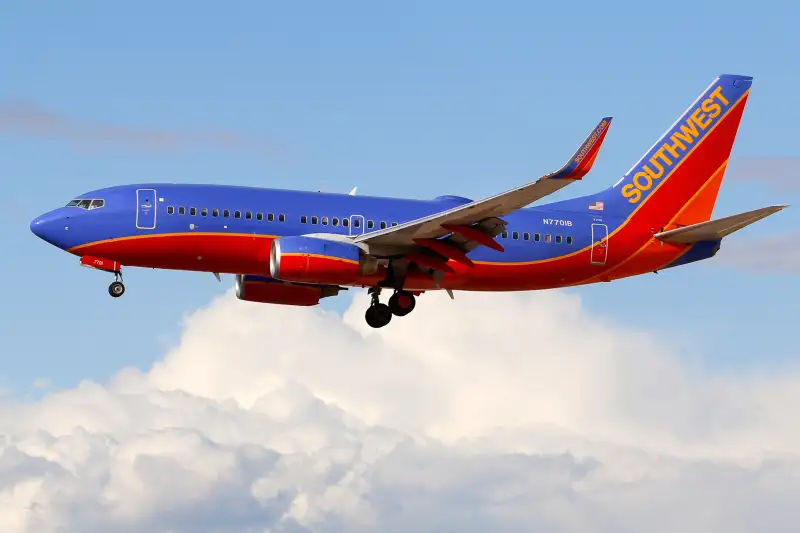 Money started with the 11 largest domestic airlines and 27 largest international airlines based on market share, biggest fleets, and most passengers. We then ranked the airlines based on average fares, average wait time, baggage and change fees, and customer-satisfaction ratings (for reservations, check-in, boarding, aircraft, flight crews, in-flight services, food and drink, entertainment, seat comfort, service, amenities, fees, and overall value).
---
Domestic Platinum
Southwest
The best thing about no-frills Southwest Airlines is that the low price (just $256 on average, according to Hopper) includes so much. Want to check two bags? They're free. Need to change your reservation at the last minute? No problem. You won't be able to choose your seat ahead of time, but many fliers are happy to trade that small reassurance for a fee-free flight—customers rank Southwest No. 1 in value for cost and fees, according to J.D. Power. "You don't feel like you're getting slapped around," says Clampet of Skift. Plus, Southwest's footprint has become competitive with the major legacy carriers, so you can fly it almost anywhere.
---
Domestic Gold
Alaska Airlines
Alaska Airlines doesn't fly only to Alaska. This regional airline has started to compete with big carriers on popular cross-country routes like L.A. to New York City as well as offering flights in and out of the Pacific Northwest. Alaska also offers some of the best fares in the industry: The average flight costs just $199, according to Hopper. Then there's the service. Alaska has attracted a loyal following with its perks, like regional beer served onboard, says Travelzoo's Saglie. And Alaska will get you where you need to be—it has one of the highest on-time arrival rates in the industry.
---
International Platinum
Singapore Airlines
When you're taking an 18-hour flight to Asia, you want to hunker down with some good movies and tasty food. Customers give Singapore some of the highest ratings for amenities like food, drink, entertainment, and seat comfort, according to Skytrax. "Singapore Airlines is known for being among the very best in terms of service," Saglie says. "Flying that route on another airline, even if you're saving on the ticket, you tend not to get the quality of experience." And at $703 per average fare, Singapore is still less expensive than half of international airlines, according to Hopper.
–––––
tip: Treat yourself
Check out first class. Prices for premium seats have dropped 20% to 30% in the past few years, Saglie says. Short flights feature some of the best first-class deals, since frequent fliers usually don't cash in miles for briefer trips.