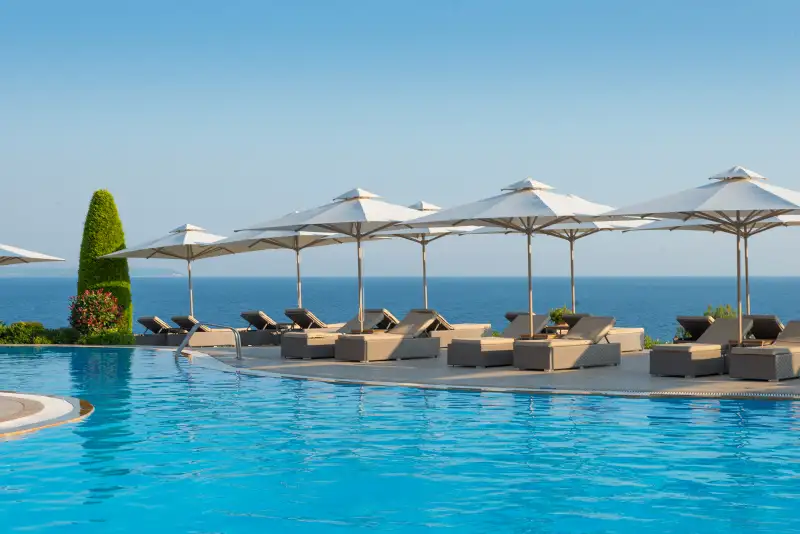 No one likes to worry on vacation, and at an all-inclusive resort you need to think about only one bill. Money started with TripAdvisor's list of the Top 25 All-Inclusive Resorts in the World, then picked the winners using price data and guest ratings of amenities, room cleanliness and comfort, hotel staff, location, perceived value, and overall satisfaction from TripAdvisor, Orbitz, and Kayak.
---
Platinum
Ikos Oceania
It's no wonder that 100% of Orbitz reviewers recommended this Greek resort. Located on a private, fir-lined stretch of the Aegean Sea, the Ikos Oceania is home to three pools, a spa, free tennis, mountain biking, windsurfing, canoeing, snorkeling, yoga, and what Ikos calls the gastronomy. "One way all-inclusives are starting to distinguish themselves is by the chefs they've got on site," says Gabe Saglie of deal site Travelzoo. Ikos Oceania boasts two with Michelin stars among its four restaurants. The average bill is $304 per person a night, according to TripAdvisor, and if you book five or more nights directly with Ikos Resorts, it will give you free transfers to and from Thessaloniki International Airport, a $150 value.
---
Gold
Beloved Playa Mujeres
If you want to stay closer to home, head to Beloved Playa Mujeres, nestled on Mexico's Caribbean coast. Beloved Playa Mujeres is just a short drive from Cancún's nightlife and Riviera Maya's archeological sites but still offers the appeal of a secluded getaway. While pricier—$528 per person a night, according to TripAdvisor—that includes unlimited premium alcohol, four restaurants, 24-hour room service, three pools, sailing, snorkeling, kayaking, outdoor Jacuzzis, and more.
–––––
tip: Avoid construction zones
See a suspiciously low price near the end of the high season? Proceed with caution. Resorts often set aside three to six weeks of construction for upgrades and renovations, says Saglie of Travelzoo, and offer discounts to compensate for the trouble.