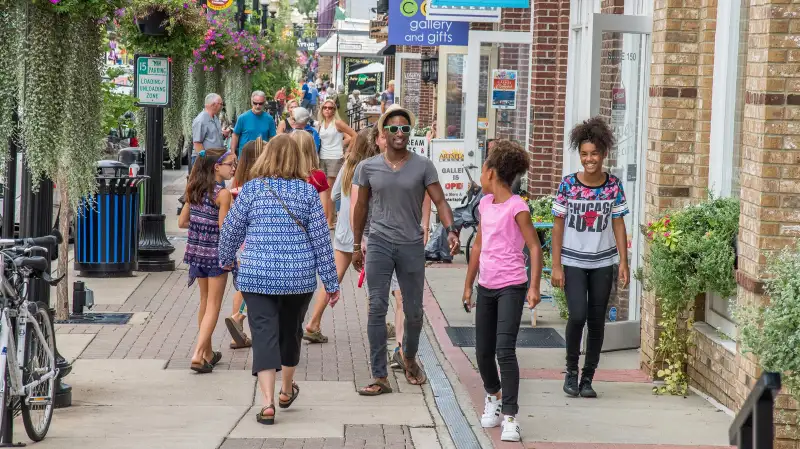 Courtesy of the City of Carmel
When Adam Aasen talks about Carmel, he has to mention the Monon Greenway.
For him, the cycling path that cuts through the heart of the city is more than a good place to walk his shiba inu. It's where Aasen and his parents dreamed up Donatello's, the popular Italian restaurant they opened in Carmel's Arts and Design District in 2010. It's where he and a fellow animal lover, Nicole, walked and talked after meeting for a casual brunch date — their first of many. It's a stone's throw from the site of Carmel Fest, the Independence Day celebration where Aasen proposed in 2016; and it's just steps from the concert venue where the pair married a year later.
"We wanted to have the wedding at The Palladium because it's kind of a symbol of Carmel," Aasen says. "It was special for us because we used to walk past it all the time."
An Indianapolis native, Aasen has only lived in Carmel for seven years. But, with the city's good schools, safe streets and thriving community, the expectant father says he has found a home for life.
"We're looking forward to raising our kid here," Aasen says, citing the city's family-friendly gallery walks, scavenger hunts and holiday celebrations. "It would take something huge to get me to move from Carmel."
Aasen is far from the only person settling down in the suburb. Carmel has more than tripled in population since 1990.
Melissa Butrum, a Carmel resident originally from Terre Haute, Ind., says the former bedroom community has grown into a city of its own. "Every corner you turn, there is a new building coming up," says Butrum. "It's still growing every day."
Butrum, who moved to the city five years ago, says kids are welcome almost everywhere — but there are still some places where city residents can get time away from the young ones. Carmel has several breweries, a thriving restaurant scene — Butrum's favorite is Divvy, a 21+ tapas spot — and late-night street fairs held during the warmer months.
"It used to be, if you lived in Carmel, you always had to drive down to Indianapolis to find something to do," Aasem says. "Now there are a lot of things to do, and a lot of it is free." —Shaina Mishkin