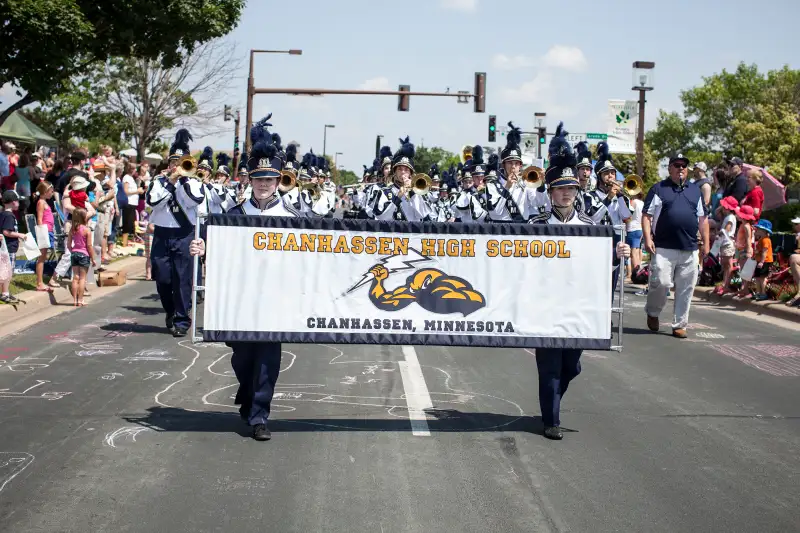 | | |
| --- | --- |
| AT A GLANCE | |
| Population | 24,671 |
| Median Income | $103,524 |
| Job Growth | 9.5% |
| Median Home Price | $283,438 |
| Property Tax | $4,666 |
Though it's less than 30 minutes from Minneapolis, small-town vibes define this Minnesota burb. Win or lose, locals fill the stands at Chanhassen High School games, and you'd be hard pressed to find a bigger fan than the mayor, who also moonlights as the game-time announcer.
Drive into "Chan" and you'll immediately notice the wide swaths of open space that distinguish it from denser nearby towns. Twelve lakes, five beaches, and 90 miles of trails are highlights, as is the 1,200-acre Minnesota Landscape Arboretum.
A host of smaller green spaces helps the town reach its goal of having a park within a half-mile of every front door.
Homes are affordable for the area, and there are plenty of good jobs nearby. Engineering technology company Emerson is adding to its Chanhassen workforce, and several Fortune 500 members, including General Mills and UnitedHealth Group, have headquarters in other western suburbs.
While there's plenty to do in town—Chanhassen Dinner Theatres is a local institution—proximity to the big city is key for many. Among them: J.J. Slygh, 40, and his wife, Lana, 34, who moved in three years ago. They can spend the day with the kids at T-ball and the playground, J.J. says, "but we're still close enough to go downtown for dinner." -- Veronica Crews