3 Ways to Get More College Merit Aid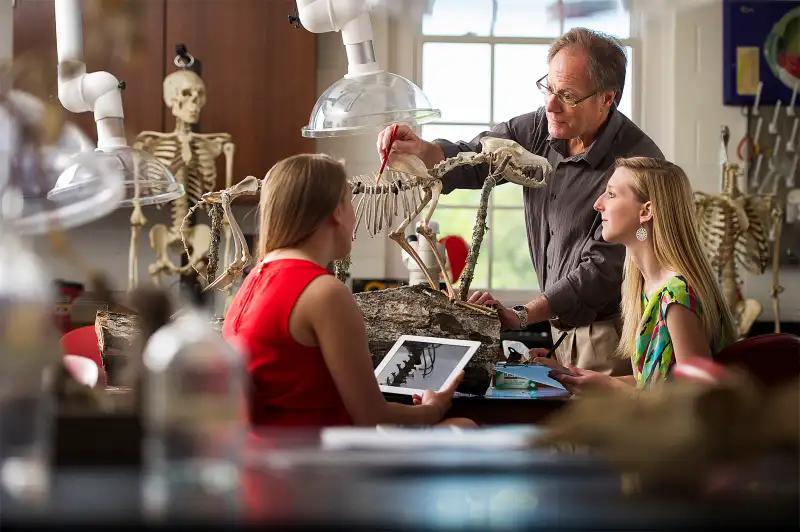 STEPHEN ALLEN, COURTESY OF PRESBYTERIAN COLLEGE
Maybe your kids aren't exactly Einsteins, but they can do math well enough to figure out that even upper-middle-class families can't easily afford the $100,000 average sticker price for a degree from a public college, let alone $200,000 for a private school. And you know that's a pretty tough equation too.
One way to help close the gap between your savings and any need-based aid your student is likely to get: Set your sights on merit aid awarded by colleges based on grades, test scores, or other accomplishments. Nabbing a merit award is getting easier, says Frank Palmasani, author of Right College, Right Price, as more schools use scholarships as a marketing tool to attract quality students. Indeed, the percentage of undergraduates getting merit aid has more than tripled in the past 20 years, the government reports, and it's not just "A" students who qualify. Palmasani, a counselor at Providence Catholic High School in New Lenox, Ill., says, "Never anticipate that your child's test scores and GPA are too low to be considered for merit aid."
The stakes can be substantial. An analysis of the merit aid budgets of the 665 colleges in Money's Best Colleges rankings—schools that meet basic criteria for value and educational quality—found that last year about 17% of students got scholarships at private colleges. The average award: $12,500. And at the most generous schools, at least a third of students get merit grants, typically covering at least half of tuition.
The downside of the uptick in merit awards is that they often take dollars away from grants based on financial need. Recently net college prices for low- and moderate-income households have been rising faster than for more affluent ones. That makes it imperative for families of all income levels to seek out every merit dollar available.
These strategies should help.
Go Where the Money Is
The most selective schools are the least likely to be liberal with merit money. At colleges in the Money rankings that accept 20% or less of applicants, only 7% of students receive merit aid. At schools where at least a third of students get merit scholarships, the average acceptance rate is 61%. The best odds are at lesser-known private schools such as Furman University in South Carolina, which accepts about two-thirds of applicants. It awards almost half the students merit scholarships.
Don't assume a high acceptance rate means the school has lower-quality students: The typical undergrad at Millsaps, which accepts 47% of applicants and is ranked No. 1 for merit aid on our list, had SAT scores of about 1140; at No. 2, Hendrix, which accepts 80%, the typical freshman scored 1200. The SAT national average: 1010.
Look Beyond Home
Public universities generally don't hand out a lot of merit awards; only 9% of students at the state schools we ranked received scholarships, averaging $4,500. A few exceptions include public schools in Alabama, North Dakota, and South Carolina, and many non-flagships in other states, which are making a concerted effort to woo out-of-state students. The University of South Carolina, for example, last year offered scholarships worth about $8,500 a year to out-of-state students with A-minus grades and SAT scores averaging 1245. Among the public schools in our rankings, Truman State in Missouri and the New College of Florida also offer at least 25% of their students merit aid. Call the admissions office—not the financial aid office—at public schools to find out whether they offer merit awards to out-of-state students.
Play a Little Hard to Get
Encourage your child to apply to several schools where his grades and test scores put him in the top quarter of the applicant pool. Then he should designate his favorites by putting them at the top of school lists requested on FAFSA (the Free Application for Federal Student Aid), the SAT or ACT forms, and college-search sites. Schools tend to offer the most aid to prospects who would improve their student profile and have several college options. But some don't bother making offers to students they believe, realistically, probably won't choose their institution.
At Beloit, in Wisconsin, where about a quarter of students get merit aid, the best offers go to applicants with the highest grades and test scores who have also indicated the school is one of their top picks, says Beloit president Scott Bierman. "We have a decent sense of what other schools offer families" and want to make offers that compete favorably, he says. "But if we're not in your top three, we know you're not really a serious candidate."
Related: See our list of the Top 20 private colleges that offer the most merit aid.
More Rankings from Money's Best Colleges:
The 25 Most Affordable Colleges
The 25 Colleges That Add the Most Value
The 25 Best Colleges That You Can Actually Get Into