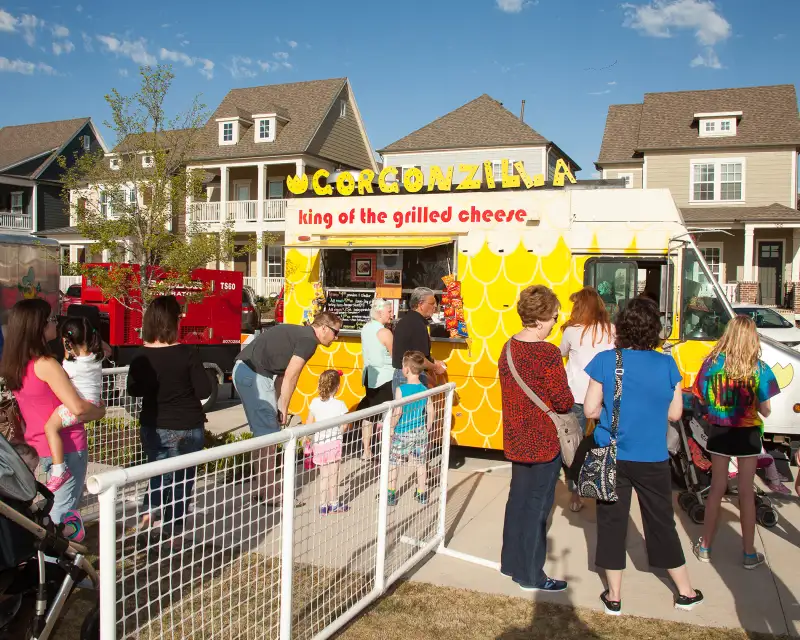 Courtesy of the City of Coppell
| | |
| --- | --- |
| AT A GLANCE | |
| Population | 40,861 |
| Median Income | $109,127 |
| Job Growth | 12.2% |
| Median Home Price | $327,943 |
| Property Tax | $7,605 |
Coppell has made a virtue of concrete. The ring of freeways that surrounds the town also shields it from Dallas's sprawl, which means Coppell has been able to carve out a unique identity—no mean feat here—and close-knit community. Ice cream socials, outdoor concerts, and block parties fuel the small-town pride, as does Coppell High School, an academic standout whose sports teams and marching band routinely make the finals of state championships.
Last year a downtown revitalization project brought much-needed walkability—and a boost up our list, from No. 32 in 2013. Construction is still underway, but a town square, complete with a pavilion, playground, and splash pad, buzzes with activity, especially during the Saturday farmers' market. Houses and eateries line the perimeter, with two more restaurants on the way. New buildings in Prairie style match the original 1900-era architecture.
Those freeways also give residents easy access to the airport (a 10-minute drive) and the big cities of Dallas and Fort Worth. Still, Coppell has its own job base: The headquarters of the Container Store and AAA Texas are here, as well as an Amazon fulfillment center.
Vieven Moore, 48, a New York transplant who's been a resident for 14 years, sums up what makes the place special: "Coppell has the benefits of Southern hospitality with a cosmopolitan flair." -- Veronica Crews
Find homes for sale in Coppell