Fulton River District in Chicago, Illinois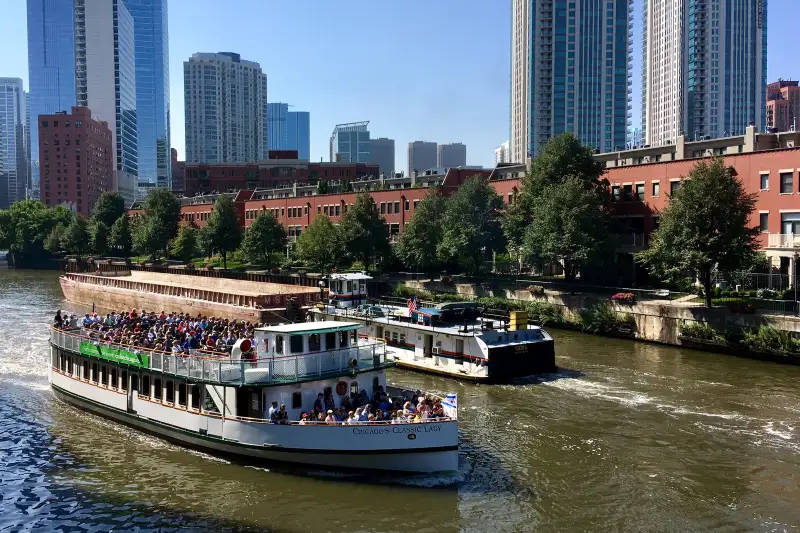 Steve Hamann/Shutterstock
Located just northwest of the Chicago Loop, the Fulton River District (FRD) has seen a decades-long transition from a warehouse and factory hub to a bustling retail-residential neighborhood.
It's still home to the Blommer Chocolate Company, whose daily activities fill the air with a rich chocolate-y scent. But most of the box-like infrastructure has since been converted into low- and high-rise apartment buildings, condominiums, restaurants, bars, and storefronts.
Because of its industrious history and proximity to more well-known neighborhoods like River North, FRD has managed to stay relatively under the radar. Home prices were about $355,579 as of 2018, but one-bedroom apartments or studios with garage parking can be found in the low $200,000 range. And for the 39% of residents who are renters, rent is still relatively low, especially considering the neighborhood's easy access to Chicago. For $3 a ride (or a $105 monthly pass), the Blue Line will get you to The Loop in under five minutes. That means residents can easily reap the benefits of Chicago job growth and pay: the median income in Fulton River District was roughly $133,322 in 2018.
Of course, there's still plenty to do without crossing the river. The neighborhood is home to 80 bars and restaurants with still more on the way. New apartment buildings are constantly being developed and with Google's plan to expand on its new headquarters just west of FRD, it appears the scene here has really only just begun. — Prachi Bhardwaj