4 Tips for Negotiating a Better Financial Aid Package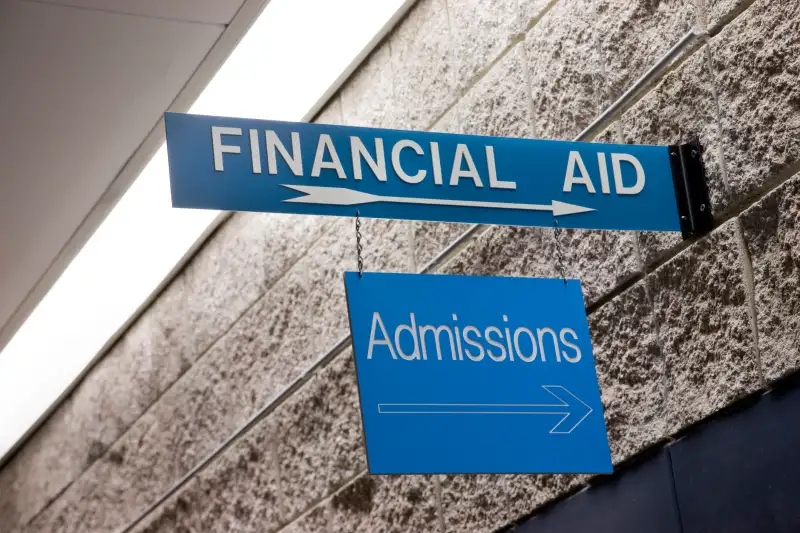 Let's face it: College can come with some serious sticker shock.
Oftentimes, the strength of a financial aid package or scholarship offer can very well make or break a student's decision to attend a particular school.
But before ruling out a college because of its high price tag, have you considered actually asking for more money?
It worked for Virginia resident Kate McCauley. After learning from a friend that she could appeal her financial aid package, McCauley was able to secure an additional $5,000 a year in adjusted loans and grants for her son David, now a junior at Fordham University in New York.
"I always knew whatever package I was looking at—unless it was a full ride—I was going to talk to somebody about it," she recalls. "Fordham was offering a nice package as it was, so we knew they were pretty serious about him."
Read More: College Countdown: A 6-Month Money Road Map for You and Your High School Senior
In the appeal, McCauley told Fordham the school was her son's number-one choice and mentioned that her job situation was about to change. For added measure, she also asked an uncle who had attended Fordham to write a letter on her son's behalf, although they aren't sure if that actually played a role in the appeal's success.
"In the end, he's going to owe around $20,000 [in loans after graduation] for a top-100 private school," she says. "To me, it doesn't get much better than that."
According to the College Board, more than $126 billion in grants, work-study funds, loans and tax benefits were awarded by the federal government last year to help undergraduate students pay for college. And about two-thirds of full-time students pay for college with the help of financial aid in the form of grants and scholarships.

NEWSLETTER: COLLEGE_PLANNERSign up for COLLEGE_PLANNER and more View Sample
While financial aid packages are generally determined by the information that's filed on your child's FAFSA (Free Application for Federal Student Aid) as well as other information within your student's application, there could be more wiggle room than you think—though you'd have to act fast to appeal between the time you receive an award letter and the May 1st College Decision Day deadline. Here's what financial aid pros recommend you do to help strengthen your case.
1. Don't Storm the Financial Aid Office
You may think showing up on the doorstep of the your financial aid office right away to make an in-person appeal will help your child's cause—but in most cases, it won't.
"Usually the person you're talking to initially has no power to change your offer—certainly not on the spot like that," says Shannon Vasconcelos, a college finance expert at College Coach. Instead, she says, "they may try to shut you down to get you off the phone or out of the office because they can't do anything for you at that moment."
So first, take the time to study up on your school's appeals process so you know what materials to gather to make your case. Appeals usually fall under one of two categories: 1) need-based aid, which bases your appeal on special financial circumstances that may not already be reflected in the FAFSA; and 2) merit-based scholarship negotiations.
Many institutions have protocol in place to review need-based financial aid appeals, so it's best to check the school's website for specific instructions. If there aren't any, call the school to inquire about procedures. Most schools will ask families to fill out a form and attach a cover letter with documentation.
For need-based aid appeals, direct your letter to the financial aid office, recommends Vasconcelos. For merit scholarship negotiations, direct your letter to the enrollment or admissions office. If you're appealing both, send copies of your letter to both offices.
"Lay out your argument in writing and let that letter or email get to the right person," advises Vasconcelos, who is also a former senior financial aid officer at Boston University and Tufts University.
Then, after a week, follow up with a phone call or make an appointment for an in-person visit to make sure the college received your request. The school will typically try to review and respond to your appeal before the May 1st enrollment deposit deadline.
Read More: 9 Things You Probably Didn't Know About … Financial Aid for College
2. For More Need-Based Aid, Be Specific—and Have Back Up
It's difficult for a financial aid office to help you if your appeal is too broad. So when writing your cover letter, instead of simply saying you don't make enough money to reasonably cover tuition, give a detailed explanation and include facts, dates and figures that pertain to your financial situation. You'll also need to provide documentation for any claims of hardship—things like receipts, medical bills, official termination letters and so on.
"Unreimbursed medical and dental expenses, catastrophic loss, job losses, death of a [spouse]—if you look at the majority of federal need-based financial aid appeals, they're going to hit one of those areas," explains Chris Hanlon, director of financial aid at Albright College. "We encourage families to be as thorough as possible so we can dig in where we need to. And in the areas where we know we can't help, we can move away from that and spend more time where it's important."
Scholarships.com COO Kevin Ladd has some experience navigating the need-based appeals process. He's a volunteer with Chicago Scholars, a program that provides mentoring to first-generation college students from under-resourced communities. In 2014, he helped one mentee secure an additional grant from Claremont McKenna College, where the total cost of attendance can be upwards of $60,000.
"She was an exemplary student," Ladd explains. "But she hadn't gotten nearly as much aid as she thought she would. They offered her about half [the cost of attendance in aid], which is still a lot of money for her and her parents."
Calculator: How much should I be saving for college?
After a call to the school's financial aid office, he advised his mentee to craft an appeal detailing the financial hardships her family was facing—the possibility that her mom might be losing her job, the fact that her parents would soon have to pay for her sister's college education too and other factors.
To Ladd's surprise, the college found an extra $13,000 per year in grant money.
"I didn't know the appeals process could have that level of success," he says. "So if you can make your case and there is enough money to go around, then you do have a chance at getting additional grants for college."
Read More: College Tab Realities: How Not to Let Hidden Costs Turn You Into the Bank of Mom and Dad
3. For Larger Merit Awards, Use Your Leverage
Let's say you don't have special financial circumstances—but another similarly ranked school just offered you more in merit scholarships or grants. You can still go back to your number-one choice and ask for more money using your better award offers as leverage, says Vasconcelos.
You'll want to attach the award letters you received from the other schools to the appeals request as documentation. In the appeal, ask the school if they can match the other offers, adds Tommy Blair, financial aid director at Roanoke College.
"Show the college the cost they are up against: Here are my awards, here's what it's going to cost me to attend college X, Y and Z. I want to be at your school. Can you close the gap?" he advises.
And if your student's academic record has greatly improved since application season, emphasize that too. Provide documentation such as transcripts or test scores, Hanlon instructs. For instance, if your teen took five Advanced Placement courses this year as opposed to three last year—and is doing well—highlight that info.
"A lot of those things can move the student up in the peer competition rank," Hanlon says. And the change in academic credentials could translate to more scholarship dollars.
One note: Many Ivy League institutions do not offer merit scholarships, so this approach won't work on them. However, some may match more favorable need-based financial aid offers from other Ivies. Cornell is one of them.
Remember, says Vasconcelos, "even though Ivy League schools have students throwing themselves at them to get in, they are also competing among themselves to attract the best students."
Read More: 4 College Savings Mistakes Even Savvy Parents Make
4. Don't Ask for the Moon
Make it known to the school that just a little bit more aid will make a big difference in your enrollment decision, Vasconcelos recommends. In other words, don't expect to go from getting zero scholarship dollars to a full ride.
Thank the school for the package they've put together and tell them you're ready and willing to take on your responsibility, based on what you have in savings and what you can take on in loans. But be very specific about how much you can cover realistically and how much you are short.
"Most of the time we're talking about relatively small moves in an offer—$2,000 or $3,000, maybe," says Vasconcelos. "If the college thinks you're asking for the world, they're probably going to say no. They simply don't have the money to fully fund every student they've accepted. But if you make it clear that a relatively small amount will make a big difference, that's when I've seen appeals and negotiations be most successful."