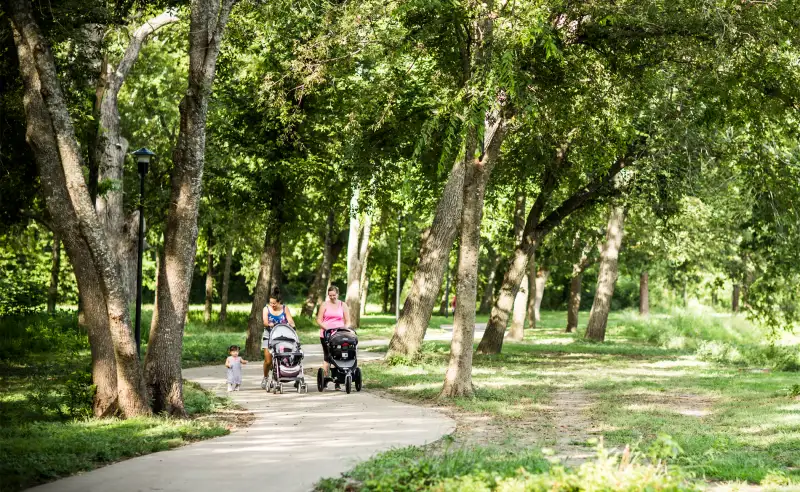 When Alex and Kristen Lanio, 52 and 43, decided to relocate their chocolate-making company from Newport, R.I., to the Dallas–Fort Worth area in 2011, they had plenty of business-friendly, affordable towns to choose from. Once they walked through downtown ­McKinney, with its brick buildings and cobblestone streets, they knew they'd found the place. "Around here, everyone says hello and stops to chat," says Alex. "It's a truly hometown feeling."
Underlying McKinney's homey Southern charm is a thoroughly modern city. The area is a hotbed for growth-industry jobs. Ray­theon recently brought a 3,600-employee division to town, and companies in green energy, aviation, and medical services have also moved to the region. Next up: a Sheraton hotel and conference center opening in February. Other Fortune 500 companies are a 15- to 45-minute commute away.
Career and college prep are big in McKinney's schools. AP courses start in middle school, and high schoolers can get internships in a range of industries. Technology is central; grade schoolers get lessons on wired smartboards, and starting in January, every high school freshman will be issued a MacBook Air laptop.
The historic downtown houses a mix of art galleries, boutiques, and farm-to-table restaurants, as well as basics like a butcher, shoe repair, and farm-supplies stores. Mark Strange, 41, who relocated from California two years ago for his job at Fossil, an accessories manufacturer, says that living downtown was a no-brainer for him, his wife, Patrizia Montanari, and their two young children. "It's a mix of European, East Coast, and West Coast here," adds Mon­tan­ari, 36, a photographer. "You get culture and more country charm for less money than what you'd find in Dallas."
Housing options range from restored Victorians to Texas-style mansions. With three-bedrooms averaging in the low $200,000s, the price is still right, though the market is heating up. For Americo and Silvana Galdos, 37 and 34, who moved back to McKinney last year after a stint in Mississippi, that meant getting outbid a few times before they clinched the deal. They ultimately landed a great house, right across from a park, where they and their three kids walk the dog or go for bike rides. "There's so much nature around us," says Americo, a manager for a car manufacturer, "it's easy to forget you're in a city."
Want to live large in our #1 Best Place? This Italian villa, complete with a wine cellar and a swim-up poolside bar, is the most expensive home on the market in McKinney: