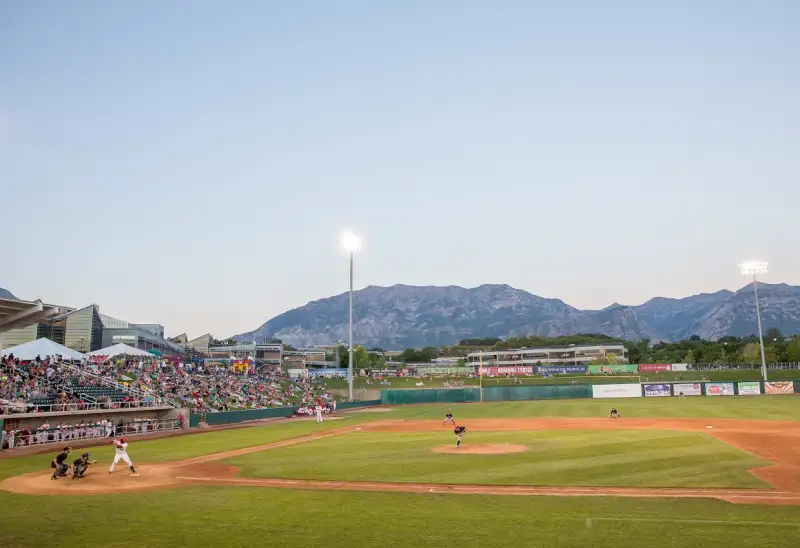 Courtesy of The City of Orem
Located 45 miles south of Salt Lake City, Orem is safe, affordable, and friendly, making it the quintessential family town. Crime rates are low, and the average commute time—often to neighboring Provo—is a breezy 16 minutes. Home prices remain relatively modest (the median sale price is $282,173), while property taxes average $1,392 a year.
The city has invested in amenities catering to children: A brand-new water playground opened this summer, with waterfalls designed to resemble nearby Mount Timpanogos and Bridal Veil Falls. Last year, the city debuted its All-Together Playground, the first playground in Utah County that features accommodations for special-needs children, including ramps, rides for wheelchair-bound kids, and a soft foam floor that's safe for all. The community is also committed to creating future leaders, offering programs like "CoderDojo," a weekly coding club for kids at the public library.
Because it sits between Utah Lake to the west and the regal Wasatch Mountains to the east, there's no shortage of scenic views or outdoor activities. The 17-mile Murdock Canal Trail connects Orem with a number of cities to the north, while the 44-acre Mount Timpanogos Park is a beautiful site for hiking and picnics. It's also home to the world's largest storytelling festival, which takes place every year the weekend after Labor Day. —Ismat Sarah Mangla