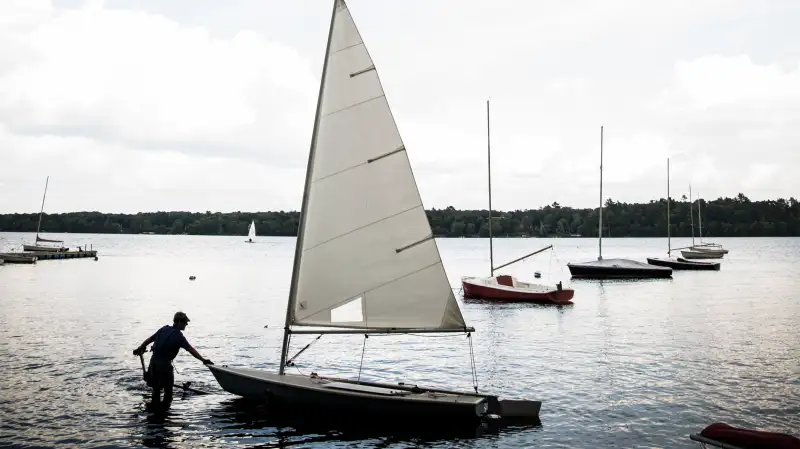 Top 50 rank: 1
Population: 17,944
This New England town is surrounded by a wealth of good jobs in Boston, Providence, and the Route 128 tech corridor. That helped insulate Sharon from the worst of the recession and ignited its rapid recovery.
A half-hour train ride from Boston or Providence, this one-time summer resort has the natural beauty of a more remote place. Forty percent remains open space, and the town jewel, Lake Massapoag, offers a place for residents to swim, picnic, and enjoy concerts on Memorial Beach.
Sharon's schools are a big draw for families. So is its diversity. The town has seven synagogues, nine churches, and one of New England's largest Islamic mosques. Nearly 30% of students in public school are nonwhite, and 18% speak a language other than English at home.
--Donna Rosato
Sharon, MA
| | | |
| --- | --- | --- |
| Median family income (per year) | | $139,850 |
| Job growth % (2010-2012) | | 5.31% |
| Median home price (2012) | | $375,000 |
| Reading test scores (% above/below average) | | 34.9% |
| Math test scores (% above/below average) | | 40.0% |
| Personal crime incidents (per 1,000) | | 0 |
| Property crime incidents (per 1,000) | | 8 |
Financials

Median family income (per year)
$139,850
Family purchasing power (annual, cost-of-living adjusted)
$99,276
Sales tax (state)
6.25%
State income tax rate (highest bracket)
5.25%I
State income tax rate (lowest bracket)
5.25%I
Average auto insurance premiums
N.A.
Job growth % (2010-2012)
5.31%
Financials
Housing

Median home price (2012)
$375,000
Average property taxes (2012)
$8,103
Housing
Education

Colleges, universities and
professional schools (within 30 miles)
80
Reading test scores (% above/below state average)
34.9%
Test scores math (% above/below average)
40.0%
% students attending public/private schools (within town limits)
92.1/7.9
Education
Quality of life

Air quality index* (% of days AQI ranked as good)
91.6%
Personal crime incidents (per 1,000)
0
Property crime incidents (per 1,000)
8
Median commute time (in minutes)
33.3
% population with commute 45 mins. or longer
36.3%
% population walk or bike to work
1.0%
Quality of life
Leisure and culture

Movie theaters (within 15 miles)
27
Restaurants (within 15 miles)
2,432
Bars (within 15 miles)
183
Public golf courses (within 30 miles)
260
Libraries (within 15 miles)
73
Museums (accredited by AAM; within 30 miles)
40
Ski resorts (within 100 miles)
N.A.
Arts funding ($ per person of state funds spent on arts)
1.2
Leisure and culture
Weather

Annual rainfall (inches)
42.53
% clear days in the area
55%
High temp in July ° F
82.8°
Low temp in Jan ° F
17.7°
Weather
Meet the neighbors

Median age
42.9
Completed at least some college (% of residents)
82.8%
Married %
66.2%
Divorced %
2.9%
Racial diversity index (100 is national average; higher numbers indicate greater diversity)
72.1
Meet the neighbors