Should You Go to College in Canada?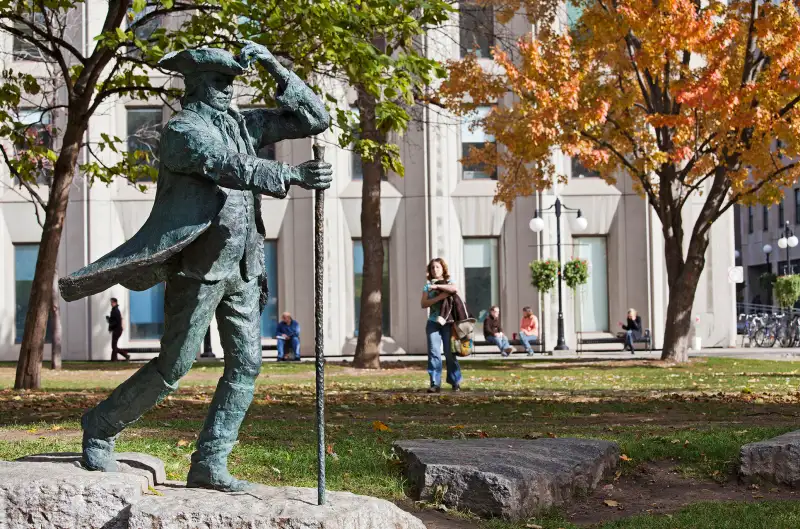 RENAULT Philippe—Getty Images
It's a foreign country but just a 90-minute flight from New York or Boston. The natives speak English–and French. Their brand-new prime minister is 43 and even has a tattoo.
For some students in the U.S., heading north to college in Canada is a choice that makes both financial and intellectual sense. That's especially true if you hold Canadian citizenship, which can qualify you for less-expensive, domestic tuition rates.
In 2013, more than 8,000 U.S. students enrolled in Canadian schools, according to Universities Canada, a nonprofit that gathers such statistics.
Applicants to Canadian schools often have some connection to the country, notes Stephanie Shyu, a founder of AdmitSee, a database of successful college application files uploaded by the students themselves. But for other students, the "foreignness" of Canada is part of its appeal.
Melanie Lajeunesse attended McGill University in Montreal. "I think any time that you step outside your comfort zone you'll learn something and grow," she says. "And while Canada does have some similarities, in a lot of ways it is very different and living there for a while can give you a new perspective on the U.S." Now 27, Lajeunesse works in advertising in Delray Beach, Fla.
McGill consistently wins the greatest share of U.S. students, with 2,217 of them in 2012, the most recent year for which data are available. For many, the chance to live in Montreal, a vibrant, bilingual city big enough to enjoy but small enough to manage easily with public transit, makes McGill a natural choice.
"McGill is an amazing school academically," says Lajeunesse. "They didn't just teach us with books but made us get out in the world and do stuff, and I am forever grateful for that. Most of the other students were extremely intelligent." Plus, because she was born in Quebec, Lajeunesse paid only $1,700 a year for her tuition.

Matthew Reid, an analyst at Sabal Financial Group in Newport Beach, Calif., attended the Desautels Faculty of Management at McGill from 2009 to 2013. He also cites lower costs as a factor in his decision. The Canadian dollar is now worth only about 70 cents U.S., and tuition costs are generally much lower to begin with. The University of Toronto costs $19,754 to $25,584 a year in U.S. dollars, for example.
"The top Canadian institutions of higher learning consistently rank among the best in the world and have fantastic global reputations," says Reid. "There is very little difference between the world-class academics at U.S. schools and those in Canada."
Americans who choose college in Canada may also have a more international peer-group experience than they'd find at home. "When I was at McGill, 55% of 25,000 undergraduates were international students and 45% were Canadian," Reid says. "I made friends with people from distant places like the Seychelles and Oman. My roommate hailed from Kenya."
"I wanted to try living somewhere more politically and socially liberal after growing up in Tennessee," says Catherine Payzant, 21, a Canadian citizen by birth who lives in Knoxville. She chose to attend Dalhousie University in Halifax, Nova Scotia, a school with only 120 or so American students. "It came down to the opportunity to live somewhere far away from home, pay the same fees, and get to know some family I had grown up living far away from."

NEWSLETTER: COLLEGE_PLANNERSign up for COLLEGE_PLANNER and more View Sample
"I wish more Americans considered applying internationally to Canada," says Paula Tsvayg, a 2015 McGill graduate who now works in public relations in New York. "The price difference is tremendous for an internationally renowned academic institution."
Tsvayg noticed some other differences, as well. "There's much more of a culture of independence," she says. "All McGill students had to move out after their first year, so we all had to sign leases and get our own apartments. Beside dealing with landlords, the international students also had to juggle their own phone bills and banking, skills my friends who attended university in the States are now tackling for the first time."
Some differences won't be to everyone's liking, of course. Both Montreal and Toronto are known for long, cold, snowy winters. Most Canadian schools are large and in urban centers, with few of the smaller, liberal-arts-style colleges prevalent in the U.S. (There are notable exceptions, however, such as Bishop's University in Quebec, with 2,400 students.) Collegiate sports aren't as big as in the U.S. Nor is Greek life. On the other hand, the drinking age is 18.
But as Tsvayg sees it, "There's nothing quite like the emotional separation of being in a different country to kick your adulthood skills into high gear. It was an incredibly rewarding experience to take a step outside the comfort zone that is America and immerse yourself in a new culture."