6 Smart Ways to Save on College Tours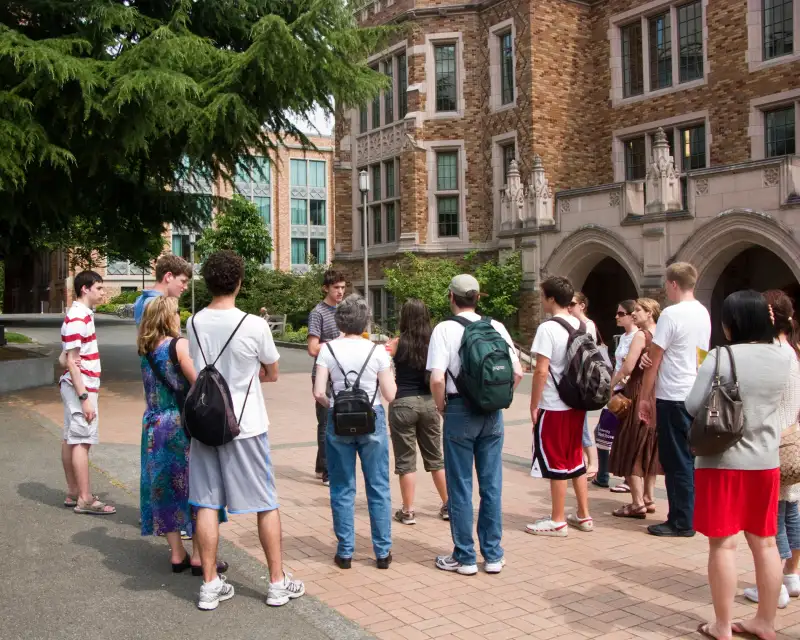 If you have a son or daughter who's headed for college, chances are you'll be touring at least a few campuses to help your kid decide where to apply—or, later on, which school's offer to accept.
Fortunately, if you plan ahead, you shouldn't have to dip too deeply into your college savings to pay the bill. Here are some simple money savers:
1. Go with a group. Probably the easiest and most economical way to check out an assortment of colleges is to join a group tour.
Companies that run them include College Visits (which offers a five-day tour of eight colleges in the Midwest for $1,250, for example, or an eight-day tour of 21 colleges in the Northeast for $2,135) and Campus Visit Experts (which has a variety of five- and six-day tours across the U.S.). These group tours typically cover transportation, hotel rooms, and most meals.
Also check with your child's high school; many schools organize their own group tours for students who want to visit colleges within driving distance.
2. Fill 'er up frugally. If you prefer a DIY driving tour, you're likely to rack up a lot of miles. So, if you haven't already, now's the time to download a free GPS-based app, such as GasBuddy, Waze, or Gas Guru, to find the best gas prices wherever your travels take you. Brian Martin, director of public relations for AAA, notes that his organization has its own app (free even for non-AAA members) that's updated seven times a day with the latest gas prices.

3. Ask about subsidies. Many colleges offer fly-in programs to subsidize the expenses of prospective students who demonstrate financial need, usually including a night or weekend in the dorms. Some colleges pick up the entire tab, while others pay a portion of it. Bryant University in Smithfield, R.I., reimburses half the cost of prospective students' airfare (up to $150), and kicks in the other half (up to $300 total) if the student later enrolls.
College Greenlight maintains a directory of colleges with various types of fly-in programs, including descriptions of the programs and deadlines for applying. Even if a college won't pick up the tab to fly your son or daughter in, it may at least provide free or discounted dining hall meals and sometimes a night in a dorm with a student host.
4. Check local lodging deals. Some colleges have relationships with nearby hotels, offering discounts for prospective students on college visits or families who are in town to visit current students. Check with the school's admissions office for details, or look for hotel listings on its website (usually under a "campus visit" heading).

NEWSLETTER: COLLEGE_PLANNERSign up for COLLEGE_PLANNER and more View Sample
If you're planning to stay at a hotel that doesn't offer those discounts, see if it at least has discounted AAA or AARP rates if you're a member. Another option is to skip hotels entirely and go for the discounted accommodations offered by such websites as Airbnb.
5. Time your trip. Martin recommends checking the college's calendar (as well as the city or town's special events listings) so you can avoid the busiest dates, such as homecoming weekend or the day of a big football or basketball game, when hotel rates are often jacked up.
6. Request a fee waiver. Ask the admissions office if it waives application fees for students who take an official campus tour. Some do. It won't save you much (perhaps $40 or so), but if you'll be facing college bills soon, every little bit helps.
Katy Koontz is a 2015 Folio: Magazine Eddie Award finalist for travel writing, and the parent of a college senior.