What Really Goes on in a College Admissions Office?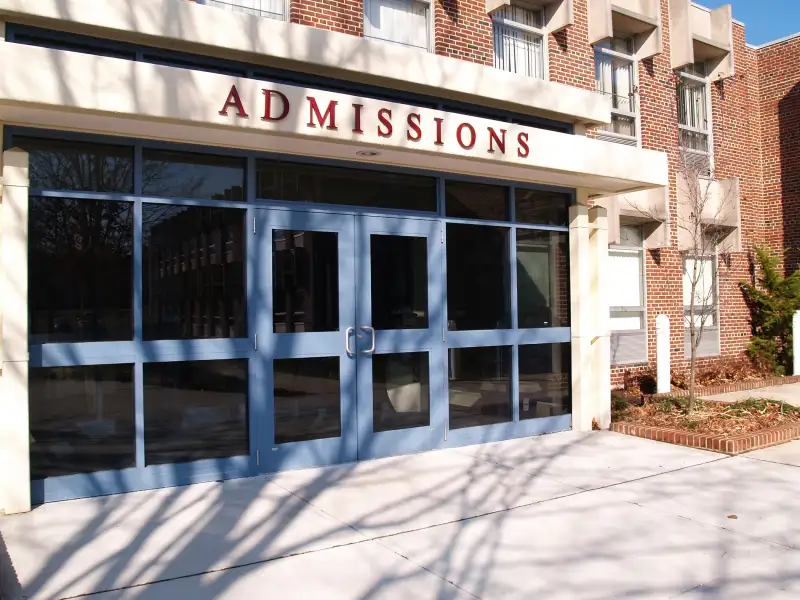 Cynthia Farmer—Shutterstock
An early 1980s American Tourister television commercial showed a happy couple checking in at an airline counter. A clean-cut airline employee puts their luggage gingerly on a conveyor belt…only to have it grabbed and thrown around by a large gorilla behind the scenes.
In addition to the obvious "our luggage is strong" message, there is the in-your-face contrast between how passengers expect their belongings to be treated and the reality.
If you have ever been to a college admissions presentation and heard phrases such as: "Each application gets a holistic review," "Share, don't tell," and " You should apply," you may envision the dedicated airline professional from the TV ad calmly shepherding your luggage/student's application on its way. But perhaps you should be thinking instead about the gorilla.
Having been an admissions officer myself and now working with a consortium of former admissions officers, I can assure you that they are not gorillas. But there may be a big difference between how you think your student's application will be evaluated and what will actually happen behind the scenes.
How applications are read
The image: A bespectacled director of admissions, graying at the temples, sits in a leather chair at his impressive desk in his walnut-paneled office. He leisurely reads your student's application. He laughs, cries, and then immediately stamps ADMIT on the folder.
The reality: A harried admissions officer sits in her car, sipping coffee, balancing her laptop precariously on the center console. She rushes to read applications between appointments. Your son or daughter's material probably gets seven minutes of her time—tops.
What you can do: Make sure academic and extracurricular activities are displayed in an easy-to-understand manner. If your student changes schools, has a noticeable drop in GPA, or stops participating in extracurricular activities…if there is any gray area anywhere on the application, use the extra information section to explain it so there is no lingering question to be filled in by the admissions officer's imagination.

The importance of activities
The image: Essays are everything to admissions officers. So you don't need to spend a lot of time on the activities section of the application.
The reality: The activities section can be just as important in its way as the essays. [Editor's note: In a future article, Stephanie Klein Wassink will discuss some common college essay mistakes.]
What you can do: Whether the student has participated in many activities or just a few, take the time to think about how best to present them. Have your student describe not only what position he or she held, but also what he or she did in each activity and the milestones reached. Fit that description into the limited number of words/characters that the application allows. (Think of filling the space on the activity page as posting a long Tweet.) For example:
Instead of: Photography Club President, 11, 12
Consider: Elected President of Photo Club (11, 12). Grew membership from 3 to 27. Founded online photography journal. Created monthly exhibit opportunities in schools, libraries, coffee shops, and malls.
Or…
Instead of: Debate Team, 10, 11, 12
Consider: Qualified for state finals as 3rd of 200 debaters. Reviewed junior members' debate performances. Recruited fellow students and mentored team members.
When majors make a difference
The image: It doesn't really matter what major you pick, but pick one if you're asked to.
The reality: Some colleges and universities require applicants to indicate their majors when they apply, and whether your student chooses engineering or English, admissions officers will evaluate his or her file differently based on that choice. The engineering student, for example, is typically expected to take the Math II and Physics SAT Subject Tests and show particularly strong grades in his or her quantitative courses.
What you can do: Admissions officers are looking for proof of students' intellectual curiosity with respect to their stated majors. So, to continue with our engineering example, they want to know how students have gotten to know engineering through work, volunteering, clubs, and other venues. Engineering applicants may have additional essays to write where they can highlight their interest in the subject. Recommendations should be from teachers who can speak to the student's interest in engineering. While engineering students may have more hoops to jump through, no matter what major your student declares, admissions officers will look for proof of the student's interest in that field.

NEWSLETTER: COLLEGE_PLANNERSign up for COLLEGE_PLANNER and more View Sample
Yes, the admissions process is grueling and complicated and perhaps even confusing, but you can navigate it successfully if you…
Recognize the difference between the image and the reality.
Make the admissions officer's job easy.
Help your student clearly represent himself or herself.
Finally, pack plenty of patience. Your luggage is strong. You and your student can get through this process.
Stephanie Klein Wassink is founder and CEO of Winning Applications College Consulting and AdmissionsCheckup.com, an internet startup in which former admissions officers check students' college applications before the students submit them.