Unequal Gender Ratios at Colleges Are Driving Hookup Culture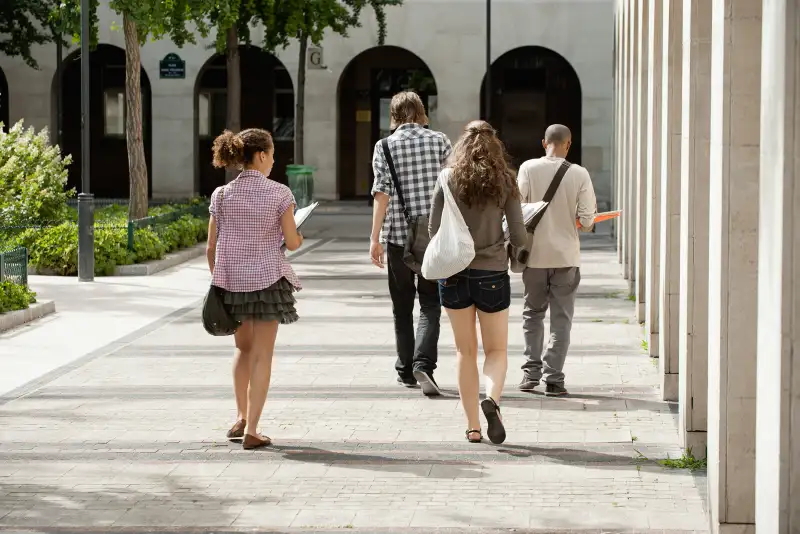 Odilon Dimier—Getty Images
When it comes to choosing a college, today's teenagers consider much more than just academics. Some applicants want to know how good the campus Wi-Fi system is, whether the fitness center offers spin classes or even if the cafeteria has an organic salad bar.
Let me suggest that college-bound high schoolers add one more item to their collegiate checklist: the gender ratio. If applicants and their parents want to know whether the dating scene at a particular college is geared more towards wild hookups or traditional relationships, the best barometer will always be the ratio of women to men on campus.
And, no, it's not the mostly male colleges where the hookup culture reigns supreme.
How do I know this? Because the way today's heterosexual college students describe sex and dating at their own schools matches up with the scholarly research on gender ratios and how they affect behavior. As I explain in my book "DATE-ONOMICS: How Dating Became a Lopsided Numbers Game," when men are in oversupply, the dating culture emphasizes courtship and monogamy. But when women are in oversupply—as they are today at most U.S. colleges and universities—men play the field and women are more likely to be treated as sex objects.
In 2013, the gender ratio among that year's college graduates was 57:43, women to men. That's four women for every three men. With girls continuing to outpace boys in school and young women continuing to attend college in ever-greater numbers, the U.S. Department of Education now expects the ratio to approach three women for every two men by 2023.

NEWSLETTER: COLLEGE_PLANNERSign up for COLLEGE_PLANNER and more View Sample
According to Brunhild Kring, associate director of counseling and wellness services at 61%-female New York University, this gender imbalance on college campuses discourages traditional dating and promotes casual sex. "In the last two decades, the gender ratio among college students has dramatically shifted," Kring wrote in a 2012 article published by GROUP, the journal of the Eastern Group Pyschotherapy Society. "Women outnumber men by a ratio of 60:40, and a new sexual paradigm has emerged… [D]ating in the traditional sense of the word had been replaced by 'hooking up' as the predominant sexual interaction on campus."
Kring shared the story of a young woman who'd lost hope of finding a college boyfriend and wound up losing her virginity in a drunken threesome with two male classmates. The next day, she showed up in Kring's office. "She felt awkward," Kring wrote, "and wanted help in keeping her sexual encounter private from other students."
Women at disproportionately female schools talk openly about their frustrations. "Everyone's self-esteem takes a hit," a young woman at 75%-female Sarah Lawrence College told me. One reason: Sarah Lawrence men have little interest in exclusive relationships. "Why would they? It's like they have their own free harem," she grumbled. "One of my friends was dumped by a guy after they'd been hooking up for less than a week. When he broke up with her, the guy actually used the word 'market'—like the 'market' for him was just too good."
A male Sarah Lawrence student offered a similar assessment of life there—though he wasn't bemoaning the school's hookup culture but celebrating it. The young man told me he had had sex with more than 20 of his female classmates. "There isn't really a culture of monogamy or even dating here," he offered. "Sometimes it feels like you can have anyone you want."
If you think colleges like Sarah Lawrence or NYU are outliers, think again. In the appendix of DATE-ONOMICS, I include a table that ranks 35 major public and private colleges by their gender ratios and pairs that data with students' own descriptions of dating at their schools. The descriptions came from Niche.com, a college review site penned by students. At 62%-female Boston University, "Freshman year is a sexual explosion… There are girls to go around, and around again," according to Niche. At 63%-female James Madison University, the "deficiency of guys creates a scene that tends to embrace random hookups."
Even at Baylor University—a Baptist university steeped in Christian values—Baylor's ratio of three women for every two men has a huge impact on college dating. According to Niche, "The same girls that run in the social hookup circles on Friday night are taking you to church with them on Sunday. The guys practice the requisite Christian business principles, but blow through the Baylor babes that are in endless supply."
Use this search tool to find the perfect college fit–including male/female ratio–for you and your student.
Of course, for some young men and women, casual sex is part of college life's appeal, and for them a 60%-female school might be a good fit. The problem, based on research and interviews I conducted for DATE-ONOMICS, is that few applicants appreciate the extent to which gender ratios shape the dating cultures at their chosen schools. This lack of transparency can be especially problematic for women because, according to a Journal of Sex Research study authored by five Loyola Marymount psychologists, college women are twice as likely as college men to experience distress after hookups.
Which colleges might today's more monogamy-minded young men and young women want to consider? If dating is important to them—and I acknowledge that it's completely unimportant for some—they should take a look schools with sizeable math and science departments because those schools attract more men. Just as sex-ratio research predicts, it is the colleges with male-heavy gender ratios where dating is more traditional.
Here's what Niche.com had to say Georgia Tech, which is 66% male: "Tech is a fairly monogamous campus [and] people like to be in a relationship." At 59%-male California Institute of Technology, "Students tend not to date but have relationships… Breakups are rare, and many couples get married after CalTech." At 50:50 Tufts University, "Halfway through sophomore year, people begin to pair off and generally stay paired off through junior and senior year."
Even at schools that are majority female, the dating scene is tamer when the gender gap is smaller. For example, at 53%-female University of Miami—a notorious party school—"random hookups are common in the beginning," according to Niche, "but after a few months or a year, relationships take over."
Obviously, few young people go to college to find a spouse these days. However, when Facebook investigated how many of its users did in fact meet their spouses in colleges, the analysis revealed something interesting. The men most likely to have met their wives in college were not those who attended schools that were majority female, but rather those that were majority male—which actually makes sense. Had they attended 60%-female colleges, settling down would have been the furthest thing from these men's minds.
Dating isn't the only reason high school seniors should consider gender ratios when selecting a college. Given the epidemic of campus rape, teenage girls and their parents are justifiably concerned about safety, just as teenage boys and their parents are worried about false accusations. What does any of that have to do with gender ratios? Well, there have been multiple studies showing a correlation between gender ratios and rates of sexual assault. As counterintuitive as it may sound, elevated rates of sexual assault are a predictable feature of communities with oversupplies of women, according to studies by sociologists Nigel Barber and Robert O'Brien.
The opposite is true of communities with oversupplies of men. Columbia University economics professor Lena Edlund investigated the impact of lopsided sex ratios in China, where young men now outnumber women by 20% due to sex selection, abortion, female infanticide, and other outgrowths of China's old "One Child" policy. Edlund and her co-authors discovered that although overall crime rates went up in China as the gender ratio skewed more male—not surprising given that men are more prone to criminality—there was a precipitous decline in rape. It seems that men treat women better, and protect them more, when women are in shorter supply.
Find the best college by male/female ratio using this search tool.
Can I prove beyond all doubt that Edlund's and Barber's findings also apply to college campuses—i.e. that rape is less common at schools that are at least half male? No, because the available data on campus rape tends to reveal as much about how forthright colleges are in handling sexual assaults—and how comfortable women feel reporting them—as it does about the actual frequency of assaults on a particular campus.
That said, I was intrigued by a recent Washington Post story on the topic. The article ranked 27 top colleges by their sexual assault rates, and I couldn't help but notice which college had the lowest rate.
It was CalTech, a school that is 59% male.
Jon Birger is a freelance writer, a contributor to Fortune magazine and the author of DATE-ONOMICS: How Dating Became a Lopsided Numbers Game.
Read next: 25 Best Colleges Where Men Outnumber Women