How Colleges Are Reimagining Campus Involvement for the Pandemic Era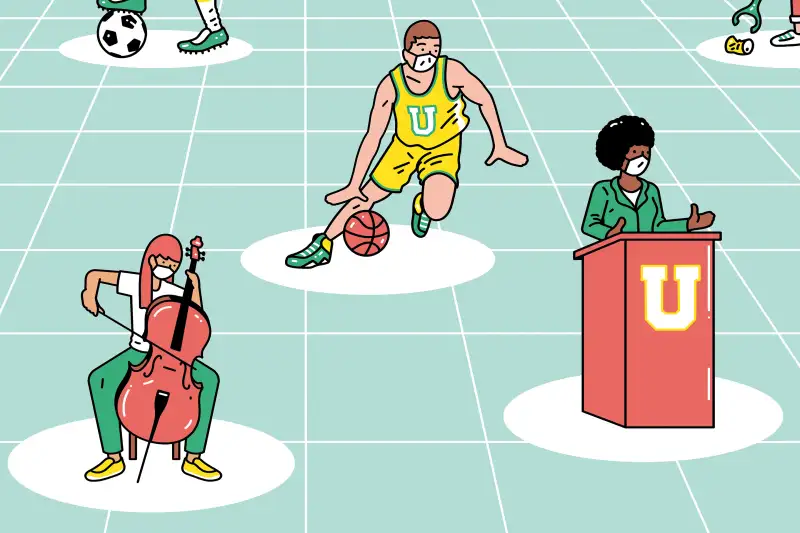 Sarah Wiener was at water polo practice when she heard that her college, Tufts University, would be shutting down for the rest of the semester. It was mid-March, and she remembers that she and her fellow students thought the coronavirus "was going to be an issue [on campus] the way fossil fuel divestment is an issue."
That's to say, something to be aware of, but not necessarily something they would have to think about every day.
In a way, she ended up being half right: Students may have initially thought the pandemic would only shut down their schools for a couple of weeks, but it has turned into an ongoing crisis that has forced us all to rethink many aspects of our lives.
College students, who are now beginning their fall semesters, are hardly immune to that. And Wiener's experience will sound familiar to most undergrads this year, who have struggled with the sudden loss of not only their in-person classes, but also the many activities that are a fundamental part of the college experience: weekly club meetings that allow likeminded students to find each other, and large-scale events meant to foster school spirit, like athletic competitions and charity drives. With most of these going virtual, frustrated students — and their parents — are now asking why they're paying full tuition for an experience that seems so diminished.
They're not wrong to be concerned. The non-academic parts of college may have once seemed like an afterthought, but students are increasingly coming to appreciate just what it means to have a well-rounded college experience. A number of independent studies over the past decade have found that an enriched student life can translate to more happy and successful academic careers, better focus in the classroom, and stronger leadership skills. A 2015 study out of California State University, Sacramento even found that "students achieved much higher rates of retention and graduation and maintained better GPAs," when they were active in student clubs and advisory groups.
So for many students, paying full tuition for a college community that is only half there isn't just a momentary disappointment; it may affect their academic performance and future career prospects. What can students do to take full advantage of their extracurriculars, when most or all of them are online now? How are colleges helping to nurture that sense of student life now that students can't even get together?
Rick Gatteau, vice president of student affairs at Stony Brook University, quickly realized it wasn't just about reaching out to students who might be staying home this semester. Re-envisioning extracurriculars for the COVID era could also be an opportunity to inspire those who may not have had the chance or inclination to connect on campus, even before the pandemic. Stony Brook has always had a significant commuter population, for example, but now more students than ever are staying home for a completely virtual semester.
"What was once this in-person piece of the puzzle, we now have to think about more creatively," he said. Part of that, he explained, is translating what he calls "big outdoor hoopla" events into online versions that still resonate. Stony Brook's annual event in which students can connect with clubs and organizations has morphed into the Virtual Involvement Fair, for which each club is invited to submit a promotional video, and students can watch them before entering chatrooms to meet current members.
Many other schools have followed suit. Florida State University's Virtual FSU allows students to access counseling and schedule telehealth appointments, but also connect with fraternities and sororities and get tips on what to do in Tallahassee. California Institute of the Arts has gone virtual with its Thursday Nights tradition, turning a coffeehouse-like showcase for visual and performing arts into an adaptable online portal for student work.
Personally, Gatteau sees several silver linings to this brave new virtual world: Students who might have been too shy to step up to a table full of people at a club event may now feel free to engage and ask questions from the semi-anonymity of a screen. Commuting students who may not have wanted to hang around campus after a morning or early afternoon class to wait for an evening club meeting will now be able to tune in from home.
READ MORE: THE 739 BEST COLLEGES IN AMERICA, RANKED BY VALUE
The urgency of the pandemic has even given Gatteau and his colleagues the chance to test out new technologies. The university implemented several tools before the pandemic to monitor student levels of engagement, he explained, and now the student affairs office can see through an app who attends a virtual event and who doesn't.
"My goal is to look at who didn't participate in the involvement fair and then do more personal outreach," he says.
His emphasis on student extracurriculars doesn't just stem from a conviction that involved students are happier students; it's also based on memories of his own college experience. "Once I got elected to student government, life was grand," he says. "Everyone wants a sense of belonging."
Now a rising senior, Wiener may agree: She was elected student body president at Tufts in April. While she may not have the same in-person experience as Gatteau this year, the past few months have certainly been busy for her.
"Every question we've taken for granted thus far in higher education now has an uncertain answer," she said, citing a long list of her duties that include Zoom meetings with administrators on evolving student needs, reimagining the budget for student organizations, and figuring out just who should have decision-making powers in future emergencies.
When Wiener and her student association colleagues conducted a student survey this year, they had a higher rate of participation than ever, showing just how much students want to have a hand in shaping their own college experience, even when it's virtual. The survey found that a sense of community is one of the most important aspects of student life, Weiner says. "When people feel like they don't have community outlets, that affects their mental health and their ability to achieve academically."
But how can students get motivated to participate in the first place when the stakes may feel low in the face of…literally everything else going on? The answer may be in seeing extracurriculars as a crucial part of college, just as important as a GPA, as well as a crucial experience students can draw on after college, increasing their confidence for job interviews and building leadership skills they can take into an office setting.
"We want you to make friends, make connections, find a passion," Gatteau emphasized, "but it's also about resume building. At the end of the day a future employer will say 'what else?' And we want you to start that from day one."
More from Money
Money's 2020-2021 Best Colleges Rankings
Colleges Are Flooded With Requests for More Financial Aid. Here's How You Can Make the Strongest Case
How Applying to College Will Be Different This Year, Thanks to the Coronavirus Pandemic
Rates are subject to change. All information provided here is accurate as of the publish date.