The High Cost of Being A Comic-Con Superfan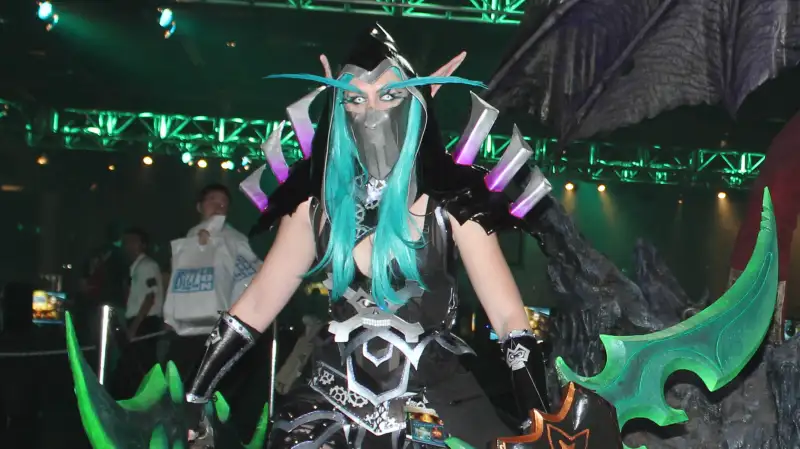 On Thursday, the San Diego Comic-Con kicked off its 2015 edition. The annual four-day event has grown beyond comics into a geek-culture mecca, attracting fans of everything from superheroes and video games to mainstream network programming.
Of the thousands who descend every year on the San Diego convention center (at $45 a pop per session), most are just looking to meet other enthusiasts and see the latest on their favorite characters. But there's a large number of fans who want to take their experience a little bit further—from liking a character to becoming it. They're called cosplayers, enthusiasts who make costumes of their favorite fictional avatars. With costs that can run into the thousands of dollars, these costumes are an artistic and financial testament to the wearer's love of a particular game or show.
Jessica Al-Khalifah is one of these superfans. She and a friend had gotten into the online role-playing game World of Warcraft and in the process grew attached their virtual avatars. Playing the game was fun, she thought, but what if they could actually be their in-game characters, if just for a day or two?
Lucky for Jessica, there was convention coming up nearby. "We decided we should make some outfits and see what it's all like," she says. "It turned out we weren't so bad at it."
"Not bad" is an understatement. Jessica's creation, a Warcraft Night Elf outfit, took four months of on-and-off labor to assemble and involved learning a whole new trade in the process. "I just wanted to make it look really cool, so I said, 'You know, I think I'll learn how to leather work,' " she recalls. "I hurt my hand a million times."
The finished product featured ornate leather-and-metal armor, as well as two gigantic painted scythes, and cost roughly $600 by the time she was done. The result was good enough to win her an award at the 2012 San-Diego Comic-Con, but it wasn't even her most elaborate creation. Another costume, based around the Legend of the Seeker television show, included a leather bodysuit and fiberglass weapon that was electrically engineered to glow. The final materials bill for that one: $1,200.
That kind of price is especially common amongst contest winning outfits. Jen King, owner of Space Cadets Collection Collection, a Texas-based collectibles store, also won a an award at the San-Diego Comic-Con with a Galaxy Quest themed group costume. Jen's Sarris (the giant green alien) attire cost $500 alone, and her whole group spent more than $4,000. This year, she flew back to Comic-Con to chase another title, this time with her husband and son in tow.
Luckily for enthusiasts, not all costumes need to break the bank. Lynn Chan and Sarah Bloom have been dressing up as their favorite characters for years, and tend to spend around $200 per outfit. If you're careful about picking your subject, Lynn says costumes can be made for as low as $30 (sewing machine not included). But like any hobby, the costs do add up over time. When asked how much she had spent over her seven years of cosplay, Sarah couldn't put a figure on it. "Oh god, I don't even know," she laughed. "Probably three to four grand?"
It's a lot of money, but in the end, each designer says the effort is worth it for the feeling of accomplishment that comes with finishing a great costume. Jessica still remembers how she felt when she won the 2012 contest. "Oh my gosh, that was awesome. It was so surreal," she says. "All my hard work paid off."
Read next: These Are the 5 Richest Superheroes