This Map Shows the Average Commute Time in Every State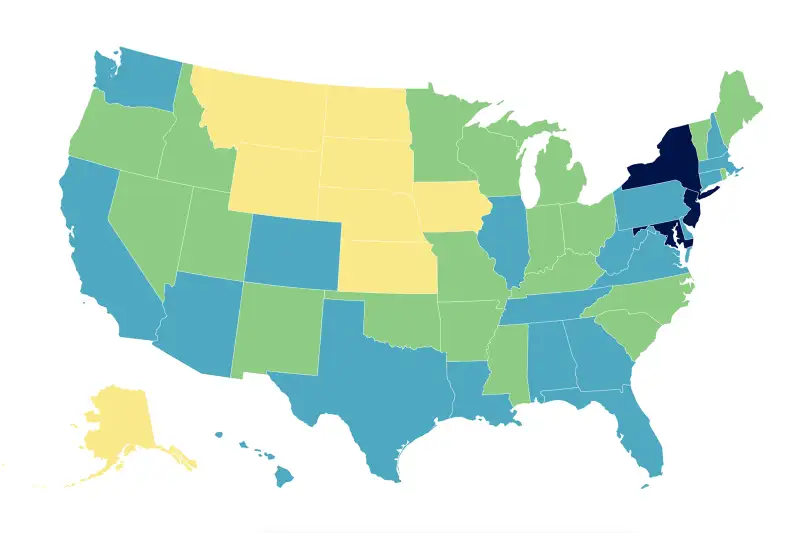 Americans associate city living with convenience. But when it comes to commuting the opposite is true.
According to census data, workers in the nation's most urban states — particularly up and down the densely populated Northeast corridor — face some of the longest commutes in the nation. In some cases, their daily treks are nearly twice as long as workers in the most rural U.S. areas.
New Yorkers, who love to tout their city's reputation for hustle, take the longest time of all getting into the office. The average New Yorker's morning commute is about 33 minutes. Nearly one in five New Yorkers spends more than an hour on the road. Workers in Maryland (32 minutes), New Jersey (31 minutes) and Washington, D.C. (30 minutes) aren't far behind.
By contrast, North and South Dakotans cruise to their desks in just 17 minutes, on average.
An interesting note that the data suggests: Longer commutes are associated with places that have long-standing public transportation systems. So, whether you drive or take a subway or train, chances are you're still facing a slog. In other words, even with thousands of workers taking trains and buses, it's still not enough to alleviate heavy traffic in the most congested areas.
Nationally, Americans spend an average of about 26 minutes getting to work each day. More than eight in 10 drive and about 9% spends an hour or more on the road.