How the Pandemic Is Persuading Millennials to Leave the City and Make Living in the Suburbs ... Cool?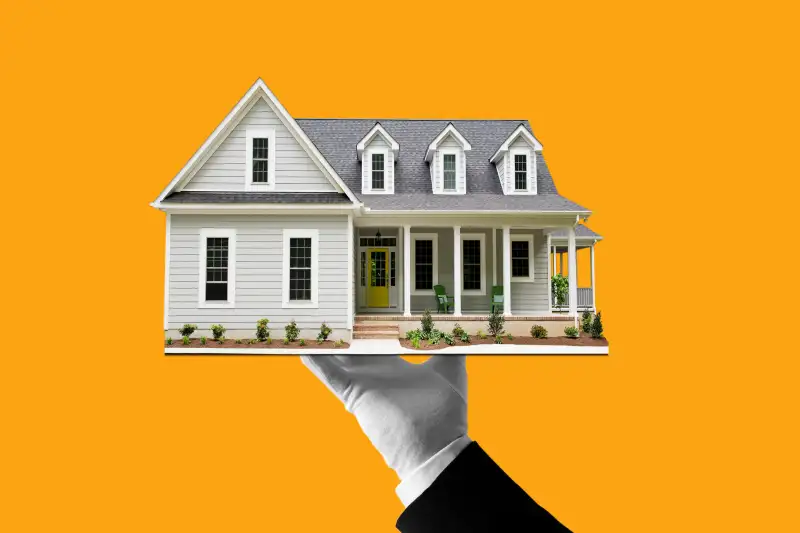 City living treated Dylan Gray well. For two years, Gray, 26, rented an apartment in downtown Indianapolis with bars, restaurants, and his office all in walking distance. But when the coronavirus pandemic required him to start working remotely, Gray set his sights on buying a home in Broad Ripple, a neighborhood with a suburban feel located six miles north of downtown.
"Once my ability to walk to work was no longer a factor, it made sense for me to buy a house, especially given how low rates are right now," says Gray, a business analyst at Salesforce. He purchased a 3-bedroom detached house for $230,000 last month, using a 30-year fixed-rate mortgage with a 3.3% interest rate.
Before the pandemic, many Americans relished the perks of living in a big city. According to a 2016 Census Bureau report, about eight in 10 Americans lived in urban areas. But COVID-19 has some urbanites reevaluating where they want to live—and the type of homes the want to live in. During the second quarter of this year, 51% of property views by urban residents of America's 100 largest metros went to suburban properties, an all-time high since Realtor.com began tracking metro level search data in 2017.
"All this extra time that people are spending at home has made buyers really prioritize having more space, and you can get that in the suburbs," says Danielle Hale, Realtor.com's chief economist. "The suburbs are attractive to a lot of people because, in general, the price per square foot is lower."
Now largely in their 30s, Millennials, in particular, are fueling the exodus from America's cities, with the pandemic speeding up their plans to move out of the city. (Nationally, Millennials make up the largest share of homebuyers.)
Here are four reasons for the renewed interest in the 'burbs.
Changing attitudes about commutes
Credit analyst Kailyn Hart was living in a 1,300-square-foot apartment in bustling Mid-City, Los Angeles with her fiancé, Dominic Wilson, and their 1-year-old son when the pandemic forced her to begin working from home. Being able to work remotely gave Hart—who had been watching mortgage rates for a good buying opportunity since 2017 —the kick she needed to purchase a 4-bedroom, 2,300 square-foot house with a backyard in Fontana, Calif, a 47-mile drive from L.A. "My boss told me that I'll at least be working remote until December, and after that I may only be going into the office just once or twice a week," says Hart, 32.
She's not alone. According to a recent Monster poll, in order to maintain social distancing, more than a third of employers will reduce the number of employees they have in the office at one time, with 18% allowing employees to work from home more than before the pandemic or indefinitely. That may explain why a Realtor.com survey conducted in June found that 9% of active homebuyers said they would be willing to commute over an hour, up from 3% in March.
A need for more space
Another reason Hart moved out of the city: "Since we are not so close to our neighbors we feel safer, in a way, from catching the [coronavirus]," she says. "We were hearing ambulances all the time when we lived in the city, and it made it so hard to get our child to go to sleep."
"We've seen a surge of buyers who want to leave downtown for the suburbs," says Nicole Fabiano-Oertel, a real estate agent at Compass in Chicago. "The most common reason is they want more space, whether that's indoor space or outdoor space, or both."
Indeed, the median size of a home in the suburbs is 1,800 square feet—7% larger than the average home in a city of 1,678 square feet, according to the National Association of Home Builders. That extra living space will be useful for parents if schools stay virtual this fall or those who decide to homeschool their children regardless this fall. (A recent OnePoll survey of 2,000 parents of school-aged children found that four in five are considering homeschooling their kids this school year.)
Why pay city prices, when you can't live the city life?
Corey Jones, a real estate agent with Better Real Estate in Plainfield, N.J., says affordability is a driving factor for a lot of urban residents who are decamping to the suburbs. "What we're hearing from clients more and more now is: why rent and pay city prices when you're working from home?"
"Right now if you move 25 miles east of downtown L.A., you can get the same size house and lot for about half the price," says Julie McDonough, a real estate agent at AmeriSell Advantage Properties in Southern California.
But the gap between the suburbs and the city may be shrinking.
Historically, homes appreciate faster in cities, but according to a new Zillow study, right now sale prices are flat in urban areas, while prices are going up in the suburbs—albeit at a slower rate than earlier in 2020. the suburbs. Pre-coronavirus, the suburban median sale price was up 6.4% year-over-year and urban the median sale price was up 9.3%. But by the end of June, price growth had fallen to 3.3% and 0%, respectively. (The national median sale price growth slowed to roughly 2% year over year.) San Francisco and Manhattan—urban powerhouses for home price growth before the pandemic—saw home values drop 4.2% and 4.9% year-over-year, respectively.
Another selling point: usually the cost of living in the suburbs is lower, since commodities such as groceries and gas are less expensive. Furthermore, a 2017 Zillow survey found that nationally, families spend an average of $9,073 more per year to cover basic housing and child care costs in the city than in the suburbs.
Good public schools
Generally, public school systems in the suburbs outperform schools in urban areas with respect to test scores, graduation rates, and college placement. Suburban schools also usually have more outdoor space for sports and other recreation. And, a number of parents who send their kids to expensive urban private schools have expressed that they're less willing to keep paying if the schools go remote this year.
One caveat: Public schools in the suburbs are typically less diverse than city schools.
A few drawbacks of buying in the 'burbs
Purchasing a home in the suburbs has its perks, but there are some disadvantages that urbanites may not have considered.
People who live in the suburbs spend more time driving, since public transportation is often harder to access—and more time behind the wheel has been associated with higher odds of sleep deprivation, obesity, and psychological distress. Also, many Americans are feeling more inclined to drive right now than take mass transport, to reduce their potential exposure to germs and COVID-19.
Suburban homebuyers tend to buy larger homes, which require more maintenance and bring higher utility bills.
Buying a house with a backyard? Lawn care costs can add up—on average, professional lawn mowing costs between $30 and $80 per visit, according to HomeAdvisor.
Property tax rates in the suburbs are frequently higher. For example, homeowners in the Washington D.C. have the lowest property taxes in comparison to its four adjacent counties, according to the D.C. Fiscal Policy Institute.
Homes in the suburbs are more likely to be part of a homeowner's association, which means HOA fees and potentially restrictions on what homeowners can do with their house and landscaping.
Often, homebuyers in the suburbs must make lifestyle sacrifices if they purchase a home that's not within walking distance of restaurants and nightlife. But many suburban communities are taking steps to offer richer cultural experiences. "The area I moved to has a lot of bars and shops and restaurants, so my lifestyle hasn't really changed," Gray says.
More from Money:
House Hunters Now Need Pre-Approval Letters to Walk in the Door. What the Trend Means for Buyers, Sellers and Agents
Bidding Wars Are Back. Here's How to Win Your Dream Home
Fall Homebuying Outlook: Everything You Need to Know About Prices, Supply and Mortgage Rates
A Wild Market Means More Home Appraisals are Coming in Low. Here's What to do if a Bad Appraisal Threatens Your Deal