A Detailed Guide to Every State Extending Unemployment Benefits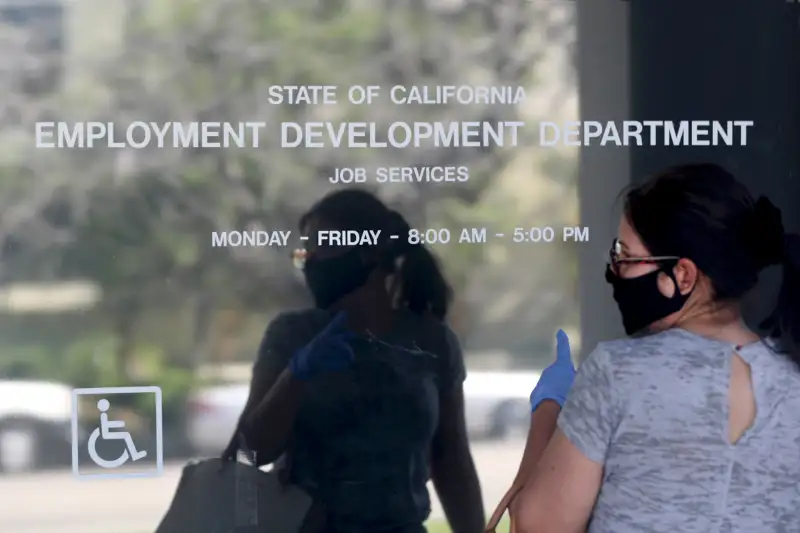 As the coronavirus pandemic continues to cause layoffs across the country, nearly every state has introduced extended benefits for unemployed residents.
Tens of millions of Americans are still out of work—1.3 million new people joined the unemployment roll in the week ending July 11 alone, according to the Labor Department—and the extra $600 a week they've been getting from the CARES Act is expected to expire at the end of the month.
Unemployment benefits typically last up to 26 weeks, according to the Center on Budget and Policy Priorities (CBPP). But under the CARES Act, states are providing at least 13 weeks of additional federally funded benefits to people who exhaust their typical state benefits. In states with "high unemployment," those benefits are extended even further — another 13 to 20 weeks, according to the CBPP. Workers who don't qualify for traditional unemployment benefits can get benefits through the Pandemic Unemployment Assistance (PUA).
Here are the number of weeks available via regular unemployment insurance and extended benefits in each state (not including the 13 weeks that were added under the CARES Act).
*Note: Money updated this story to reflect that, as of July 21, extended benefits have kicked in for 49 states (all but South Dakota), the District of Columbia and Puerto Rico due to high levels of unemployment nationwide
Alabama
Regular Unemployment Insurance: 14 weeks
Extended Benefits Available: 7 weeks
Alaska
Regular Unemployment Insurance: 26 weeks
Extended Benefits Available: 20 weeks
Arizona
Regular Unemployment Insurance: 26 weeks
Extended Benefits Available: 13 weeks
Arkansas
Regular Unemployment Insurance: 20 weeks
Extended Benefits Available: 10 weeks
California
Regular Unemployment Insurance: 26 weeks
Extended Benefits Available: 20 weeks
Colorado
Regular Unemployment Insurance: 26 weeks
Extended Benefits Available: 13 weeks
Connecticut
Regular Unemployment Insurance: 26 weeks
Extended Benefits Available: 13 weeks
Delaware
Regular Unemployment Insurance: 26 weeks
Extended Benefits Available: 13 weeks
District of Columbia
Regular Unemployment Insurance: 26 weeks
Extended Benefits Available: 13 weeks
Florida
Regular Unemployment Insurance: 12 weeks
Extended Benefits Available: 6 weeks
Georgia
Regular Unemployment Insurance: 26 weeks
Extended Benefits Available: 20 weeks
Hawaii
Regular Unemployment Insurance: 26 weeks
Extended Benefits Available: 13 weeks
Idaho
Regular Unemployment Insurance: 26 weeks
Extended Benefits Available: 13 weeks
Illinois
Regular Unemployment Insurance: 26 weeks
Extended Benefits Available: 20 weeks
Indiana
Regular Unemployment Insurance: 26 weeks
Extended Benefits Available: 13 weeks
Iowa
Regular Unemployment Insurance: 26 weeks
Extended Benefits Available: 13 weeks
Kansas
Regular Unemployment Insurance: 26 weeks
Extended Benefits Available: 20 weeks
Kentucky
Regular Unemployment Insurance: 26 weeks
Extended Benefits Available: 20 weeks
Louisiana
Regular Unemployment Insurance: 26 weeks
Extended Benefits Available: 13 weeks
Maine
Regular Unemployment Insurance: 26 weeks
Extended Benefits Available: 13 weeks
Maryland
Regular Unemployment Insurance: 26 weeks
Extended Benefits Available: 13 weeks
Massachusetts
Regular Unemployment Insurance: 26 weeks
Extended Benefits Available: 13 weeks
Michigan
Regular Unemployment Insurance: 26 weeks
Extended Benefits Available: 13 weeks
Minnesota
Regular Unemployment Insurance: 26 weeks
Extended Benefits Available: 13 weeks
Mississippi
Regular Unemployment Insurance: 26 weeks
Extended Benefits Available: 13 weeks
Missouri
Regular Unemployment Insurance: 20 weeks
Extended Benefits Available: 10 weeks
Montana
Regular Unemployment Insurance: 28 weeks
Extended Benefits Available: 13 weeks
Nebraska
Regular Unemployment Insurance: 26 weeks
Extended Benefits Available: 13 weeks
Nevada
Regular Unemployment Insurance: 26 weeks
Extended Benefits Available: 13 weeks
New Hampshire
Regular Unemployment Insurance: 26 weeks
Extended Benefits Available: 20 weeks
New Jersey
Regular Unemployment Insurance: 26 weeks
Extended Benefits Available: 20 weeks
New Mexico
Regular Unemployment Insurance: 26 weeks
Extended Benefits Available: 13 weeks
New York
Regular Unemployment Insurance: 26 weeks
Extended Benefits Available: 20 weeks
North Carolina
Regular Unemployment Insurance: 12 weeks
Extended Benefits Available: 9.6 weeks
North Dakota
Regular Unemployment Insurance: 26 weeks
Extended Benefits Available: 13 weeks
Ohio
Regular Unemployment Insurance: 26 weeks
Extended Benefits Available: 20 weeks
Oklahoma
Regular Unemployment Insurance: 26 weeks
Extended Benefits Available: 13 weeks
Oregon
Regular Unemployment Insurance: 26 weeks
Extended Benefits Available: 20 weeks
Pennsylvania
Regular Unemployment Insurance: 26 weeks
Extended Benefits Available: 13 weeks
Puerto Rico
Regular Unemployment Insurance: 26 weeks
Extended Benefits Available: 13 weeks
Rhode Island
Regular Unemployment Insurance: 26 weeks
Extended Benefits Available: 20 weeks
South Carolina
Regular Unemployment Insurance: 20 weeks
Extended Benefits Available: 16 weeks
South Dakota
Regular Unemployment Insurance: 26 weeks
Extended Benefits Available: 0 weeks
Tennessee
Regular Unemployment Insurance: 26 weeks
Extended Benefits Available: 13 weeks
Texas
Regular Unemployment Insurance: 26 weeks
Extended Benefits Available: 20 weeks
Utah
Regular Unemployment Insurance: 26 weeks
Extended Benefits Available: 13 weeks
Vermont
Regular Unemployment Insurance: 26 weeks
Extended Benefits Available: 20 weeks
Virginia
Regular Unemployment Insurance: 26 weeks
Extended Benefits Available: 13 weeks
Washington
Regular Unemployment Insurance: 26 weeks
Extended Benefits Available: 20 weeks
West Virginia
Regular Unemployment Insurance: 26 weeks
Extended Benefits Available: 13 weeks
Wisconsin
Regular Unemployment Insurance: 26 weeks
Extended Benefits Available: 13 weeks
Wyoming
Regular Unemployment Insurance: 26 weeks
Extended Benefits Available: 13 weeks
More from Money:
A State-by-State Guide to Getting Pandemic Unemployment Assistance Benefits
Some Americans Are Getting Bonuses to Give Up Unemployment Benefits and Return to Work
Here Are Every State's Unemployment Rules for Work Search and Waiting Periods