Transform Your Closet For as Little as $150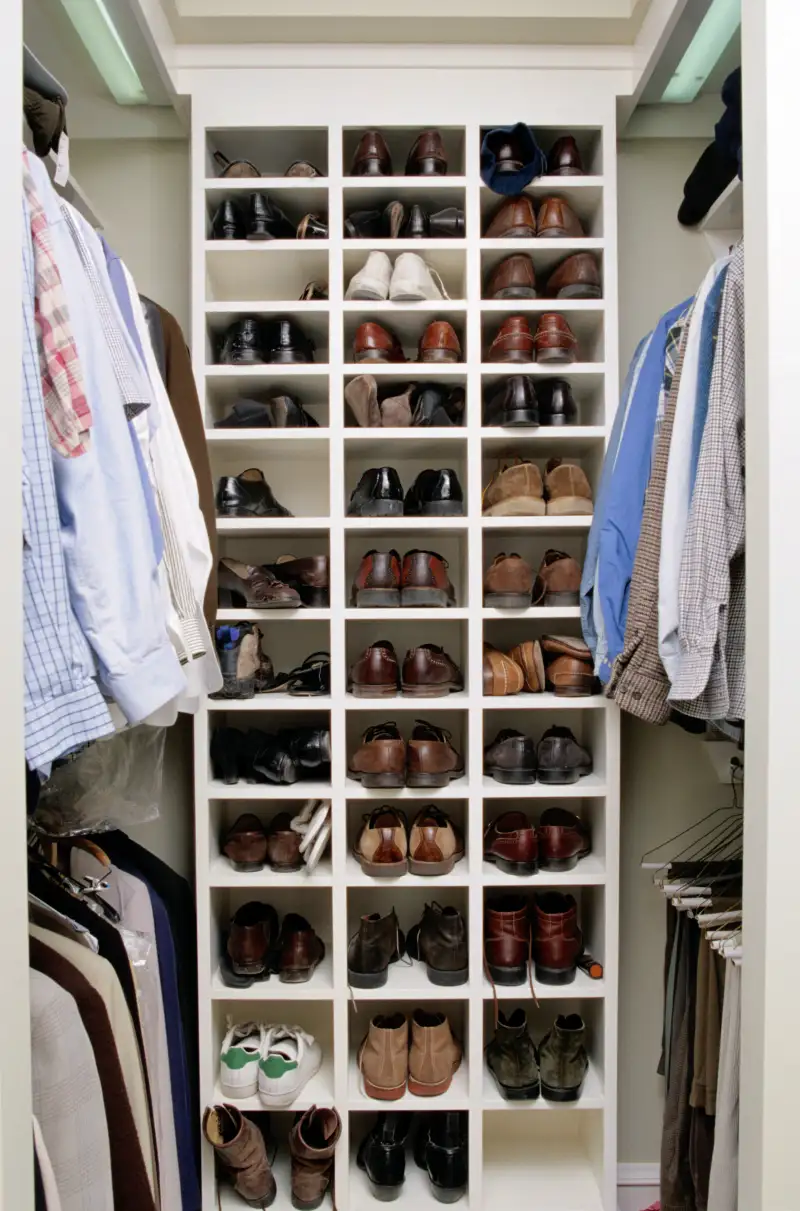 Jules Frazier—Getty Images
Walk through a big box home store these days and you'll probably feel a tinge of closet envy. Right next to the gorgeous kitchens and bathroom models today you'll likely encounter display closets showcasing numerous arrays of shelves, drawers and rods, not to mention hangers, baskets, bins and other gizmos to keep shelves tidy and shoes organized. Every sweater and pair of pumps can be retrieved within seconds in these modern closets.
So what is your best option to bring your closet up to par? Should you buy the materials and create a more functional space yourself, or hire one of the many professionals now available to tackle the job for you?
Take a look at these complete closet projects to get inspiration as well a sense of costs. Then consider these factors.
Do-It-Yourself
Best for: If you have a level, a cordless drill, and a tape measure, most homeowners with basic skills can handle a small closet remodel project. Buying a pre-made DIY closet system, which can include rods, shelves and drawers, from a home retailer is the simplest option. You'd be surprised at how much more you can fit into a typical five by two feet space by simply, say, putting in dual rods and adding another shelf. Updating your closet doors with a fresh coat of paint or new doors can also be a fairly easy task.
Cost: Taking on the project yourself means you can escape paying labor costs, which can total as much as the parts. When estimating your DIY cost factor in all of the materials, furniture and customized items, as well as any tools or equipment, you may need to complete the work.
You'll pay anywhere from $150 for a basic set-up including a rod and adjustable metal shelving to more than $1000 for a space with customized features, like vinyl-coated wire systems or wood veneers and painted finishes. Organizing kits including drawer cubbies and shoe dividers can be found for around $350 and higher. Want new bifold doors? Standard models cost anywhere from $45 to $300.
Hire a Pro
Best for: Let the professional closet remodelers handle your project if you aren't sure whether, say, a walk-in or drop closet is best for the room, or you want to customize your storage space for your tie or shoe collection. A pro should also be brought in if you are looking at moving or adding walls or installing electrical systems. A contractor can address permits, lighting, and ventilation needs, a few things you may overlook when doing it yourself. For example, if your remodel involves altering your structure, or adding electrical or plumbing for a washer and dryer, you may need to obtain a permit before the work begins. A professional closet remodeler or contractor familiar with the permit process can handle it for you. The pro may also be able to suggest ways to make the most of the existing space without having to do major construction, thereby saving you time and money.
Bonus: the contractor or designer can work with you to set a schedule that adjusts around your personal life, and can complete the project in less time than if you attempt to squeeze in an hour here and there on nights and weekends.
Cost: Professional closet remodelers usually charge per project but some charge an hourly rate, typically between $50 and $150 an hour, depending on the job and the pro. You may find that some designers require a deposit, which is generally a percentage of the project.
The total tab for a larger space, such as a walk-in closet, can run between $1,200 to $3,000 or more for both materials and labor. This may not include any structural work such as moving walls, adding lighting or installing new doors. Ask several contractors for in-home estimates. And make a trip to Salvation Army or Goodwill- with anything you or your spouse hasn't donned in the last year or two- before the overhaul begins. One thing all model closets seem to have in common is few items.
More from Porch:
6 Ways To Keep Your Closet Remodel Within Budget
What You Need To Know Before Buying A Historic Home
Anne Reagan is the editor-in-chief of home improvement website Porch.com.