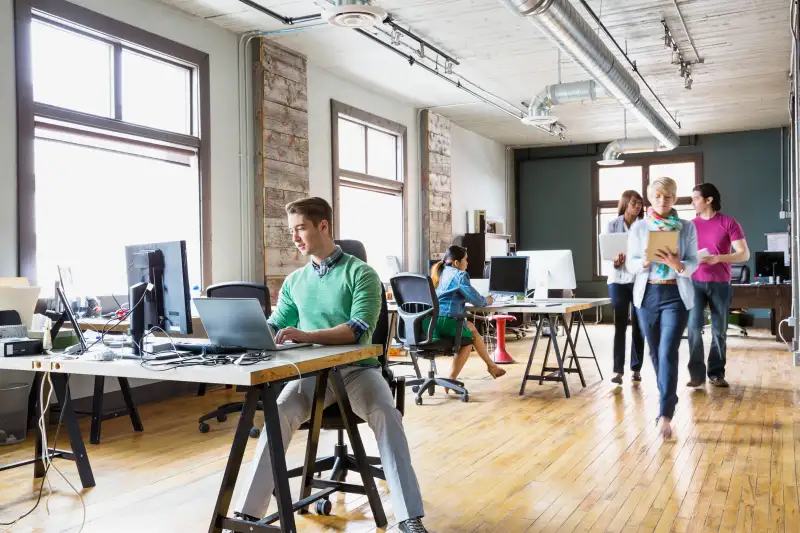 Coworking spaces – where freelancers, entrepreneurs, and other independent workers pay a fee to share a workspace and benefit from working in the presence of one another – are hot. More than 160,000 people worldwide are members of over 3,000 coworking spaces, according to a recent report by DeskMag.com and Emergent Research, up from just 20,000 workers in 500 spaces in 2010.
My colleagues Gretchen Spreitzer and Lyndon Garrett and I set out to understand what draws people to coworking and what accounts for its success. We surveyed members from over 40 coworking spaces around the United States, analyzed the websites of over 100 U.S. coworking spaces, visited a handful of spaces in major U.S. cities, and spent several months as participant observers in one local coworking community in Ann Arbor, Michigan.
Given the coolness factor of coworking spaces – especially those that attract members with hip design and high levels of service – we figured that their design had something to do with the success of the phenomenon. But we wondered what other factors drove the success of the coworking model. Several interesting insights emerged.
Coworking fosters personal growth and community building
In his recent book, The Purpose Economy, social entrepreneur Aaron Hurst writes how coworking spaces are a powerful tool for cultivating community among a new class of workers who are driven to organize their professional lives around continuous personal growth, meaningful relationships, and the service of something greater than themselves.
One of the aims of the coworking movement is to provide people with a safe space where they can be themselves at work. But it also encourages members to explore shared interests with one another and collaborative opportunities that go beyond daily work routines. Grind, for example, a New York-based coworking space that participated in our study, offers tips to its members on how to move beyond their natural comfort zone and meet fellow members.
We also found learning to be a necessary component of what makes coworking a successful model. Member education is an explicit part of the mission of many coworking spaces. We saw spaces supporting member education, member support networks, and access to professional development opportunities and mentorship. Many spaces also host social events like happy hours, networking events, and guest lectures in order to reinforce learning and community building.
The most successful build "just right" communities
That is, just right in that they involve newcomers as much or as little as they want, without any pressure.
Unlike a traditional shared rental office where people largely want a quiet professional space to work without being bothered by others, many coworking spaces curate an experience that allows potential members to try the space and meet other members to see if there is a fit.
But unlike a traditional work organization that does this through the hiring process, coworking has low switching costs for members and doesn't actually commit them to any aspect of the work experience that is meaningless to them. The result is that coworking gives a non-overbearing sense of belonging to those who want to be part of the community.
Coworking isn't just for start-ups and freelancers
Although the earliest coworking communities were organized to provide an alternative to coffee shops or working at home to freelancers and entrepreneurs, we learned that coworking spaces are reaching diverse segments of the workforce. We found some spaces catering to writers and artists by emphasizing affordability and an atmosphere of creativity, for example. Others, including some of the most welcoming communities in our sample, attract women entrepreneurs.
But coworking also helps people keep good jobs with conventional employers in cases when, for example, they are forced to move for a spouse's job change. In fact, 21% of U.S. sites explicitly market to remote workers, and one-third of our survey respondents were employed full-time by some other company. On average, these individuals are spending 65% of their time working from a coworking space.
"We have seen individuals who come in to avoid the commute to their traditional office space," says Michael Kenny, managing partner of San Diego-based Co-Merge, a space that participated in our study. At Co-Merge, users from Accenture, Groupon, and Citrix are using the space on a regular basis. Co-Merge also has members who remotely work full-time for companies in other major cities such as Baltimore, Chicago, and Washington.
It's the authentic sense of community where intrinsically motivated people who experience a sense of purpose in their work and thrive together that substantiates the coworking movement. Given these qualities, we expect to see a growing number of flexible workers try coworking -- and a growing number of employers embracing coworking as a tool to help their increasingly mobile and flexible workforce to do their best work.
Peter A. Bacevice (@Bacevice) is a researcher with the Center for Positive Organizations (@PositiveOrg) at the University of Michigan's Ross School of Business (@MichiganRoss) and senior design strategist with the New York office of HLW International (@HLWIntl). Gretchen Spreitzer is the Keith E. and Valerie J. Alessi Professor of Business Administration and Professor of Management and Organizations at the University of Michigan's Ross School of Business. Lyndon Garrett is a doctoral candidate at the University of Michigan Ross School of Business.