Rejection Rates for Credit Cards, Auto Loans and More Hit Historically High Levels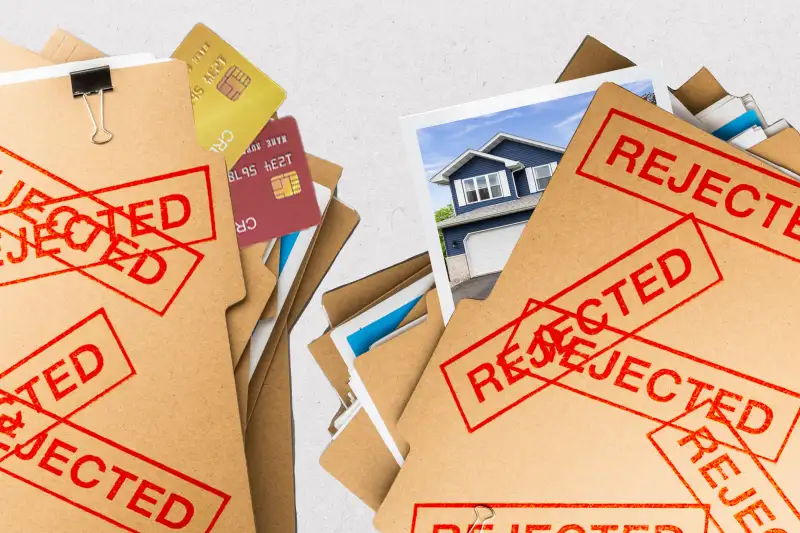 It's not just you: Getting a loan is significantly harder now than it used to be.
Over the 12 months ending in June, 21.8% of people who applied for credit were rejected, according to data released this week by the Federal Reserve Bank of New York. In other words, more than 1 in 5 people who submitted an application for a credit card, mortgage, auto loan or another type of credit were turned down. That's the highest rejection rate in five years, according to the NY Fed.
Just four months ago, the rejection rate was 17.3%. The NY Fed said the increase in rejections was true across all age groups but more pronounced for potential borrowers with credit scores less than 680 (typically at the bottom of the range lenders consider "good").
Compared to the NY Fed's February report, rejection rates increased across every category for the 12 months ended in June.
Auto loans: 14.2% (an increase of 5.1 percentage points)
Credit cards: 21.5% (an increase of 2.8 percentage points)
Credit card limit increases: 30.7% (an increase of 0.9 percentage points)
Mortgages: 13.2% (an increase of 3.2 percentage points)
Mortgage refinance: 20.8% (an increase of 4.5 percentage points)
Why is it harder to get a loan right now?
The new data reflects conditions that experts often describe as a "credit crunch," which happens when loans become harder to access and more expensive due to economic factors.
The Federal Reserve has been raising interest rates consistently over the past year in an attempt to rein in inflation, which peaked last summer. Higher interest rates make it more expensive for banks to borrow money from each other (and those costs get passed on to consumers, too).
At the same time, after the failures of Silicon Valley Bank and Signature Bank in March, financial institutions have become worried about having enough cash on hand to handle a unexpected rush of withdrawals.
With less cash available for loans — and decreased appetite for risk — banks often get pickier when it comes to giving out credit. They might require borrowers to have higher credit scores or require them to accept a higher interest rate on a loan, for example, or they might decrease borrowing limits on credit cards.
Back in April, survey data from the Fed showed that this process was already underway. About a quarter of banks said they were less willing to offer consumer installment loans (like auto loans) compared to the beginning of the year, and nearly a third of banks said their standards for approving credit card applications had tightened.
More from Money:
A 'Credit Crunch' Is Looming. Here's How It Could Affect Your Wallet
How to Buy a House With Bad Credit
The Older You Get, the Less Likely You'll Be Approved for a Mortgage: Study
Rates are subject to change. All information provided here is accurate as of the publish date.