Remodeling Your Deck: When to DIY, When to Hire a Pro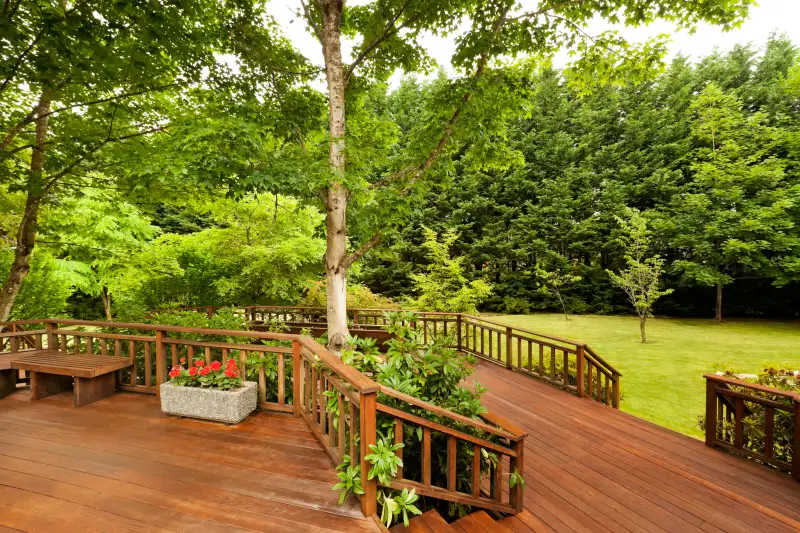 Chuck Schmidt—Getty Images
Remodeling your wood deck can be a great way to rejuvenate your outdoor living space and update your home's whole look. Instructions for tackling your own deck remodel without the help of professionals are readily available. But why go DIY? Labor constitutes 50%-60% of typical project costs, so remodeling your deck yourself can certainly save money in the short term. However, depending upon your exact deck needs, attempting to remodel your deck yourself could cost you more than you think it will. Before you attempt a DIY deck remodel, consider all of the factors.
Understand your deck remodel plan
First, think about your needs and wants. Does your deck require a full remodel, an addition or just a bit of maintenance? Would you like to update your deck's look to keep up with changing styles? Or do you love your deck as it is, but just want it to look new again?
Understanding your deck remodel plan is the first step in knowing whether it's a better choice to go DIY or to leave your project to a professional. Check out projects in your neighborhood on Porch to get inspired and see what's feasible within your budget. Having a very clear understanding of the scope of the project will enable you to decide who should do the work.
Prepare for a time commitment
A deck remodel may sound like a fun weekend project, but even a simple-looking wood deck can be deceptively complex.Homedecks.com estimates that just a 12 x 24 foot elevated deck with a staircase and railing will take an experienced professional and a laborer one to three weeks to build.
A qualified deck-building professional has the experience necessary to remodel a deck using the correct materials and building it to code. A pro will provide you with a project timeline, and will have access to the resources necessary to keep things on schedule. In addition, a pro will have experience in handling project hiccups, such as uncovering dry rot or discovering sinking deck footing, without letting the timeline get too far off track. If common problems like these arise, having a professional on the job could mean the difference between having finished deck in time for summer and having a money pit that gets stalled until the following year.
Deck remodel permits
If your remodel constitutes anything more major than a simple sanding and refinishing, you may need a construction permit to do it legally. Obtaining a permit involves calling your local building department or municipal offices to learn which permit or permits your project will require. Then you'll need to fill out your permit applications and submit them to the building department, along with a copy of your construction plans, a property survey, and a filing fee. You'll need to accomplish all of this before you begin your project. You could do this yourself and struggle over that learning curve, or you can leave it to a pro who's already well familiar with the process.
Superficial flaws vs. underlying issues
If your deck is solidly built but the surfaces are dull, weathered, or dirty, then a pressure-washing and refinishing treatment could transform your deck's look, making it feel like new without a pricey remodel. These procedures can be undertaken by a homeowner and can generally be completed over a weekend. Check your local home improvement store for renting or purchasing equipment and supplies (such as pressure washers, power sanders, varnishes, oils, and application tools) that you'll need to finish your project.
However, if your deck is showing signs of wear like wobbly stairs, soft wood or separating planks, there's a possibility that it's also become structurally unsound. In fact, the existing deck structure may not have been legally constructed to begin with. To fully assess the structural integrity of the deck, hire a professional. A licensed deck building professional will be able to quickly identify problems such as rot, improper construction, or a sinking foundation, so that you can target your efforts and avoid wasting money on a deck remodel that fails to correct major structural problems.
Safety is a must with deck remodels
Hiring a pro to do your deck remodel can help you avoid or fix many common DIY deck-building problems that will make even a new deck unsafe, such as improperly spaced railings or insufficient drainage systems. Even a deck that was originally constructed by a pro should be professionally screened every year for safety and code requirements. Rain, sun, wind, and other environmental stressors can take their toll on even a well-made deck and cause serious problems. This could lead to anything from a sagging platform to a full collapse. In fact, data collected from the Consumer Products Safety Commission shows that thousands of injuries occur every year which result from wooden deck failures.
Check out NADRA.org for deck safety tips, including a helpful Check Your Deck consumer checklist. Then use Porch to find a professional who can ensure that your deck remodel will meet you and your family's needs for decades to come.
Anne Reagan is the editor-in-chief of home improvement website Porch.com.