Discover Just Gave You Another Reason to Consider Switching to an Online Bank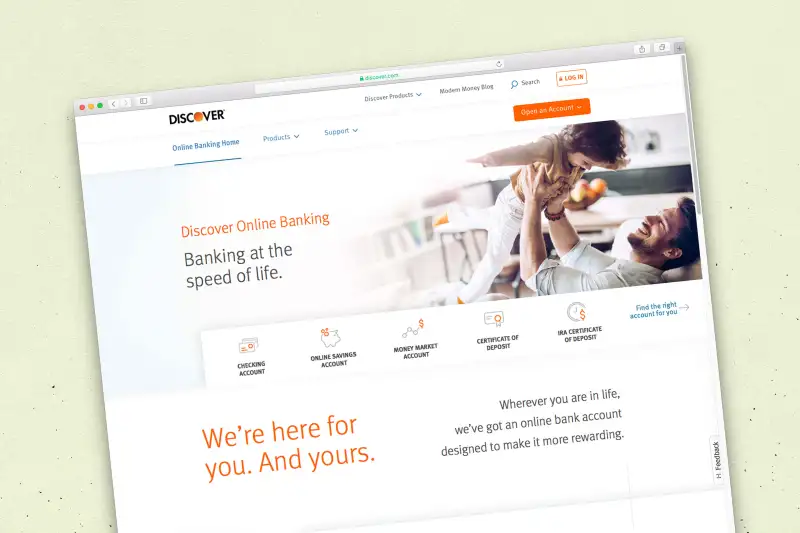 You may associate the Discover brand with credit cards, but Discover Financial Services also has a line of online banking products: Checking, savings, money market and CD accounts. On Monday, Discover unveiled a big change that might make you consider switching to an online bank for the first time: It eliminated fees on overdrafts, insufficient funds, excessive withdrawals, minimum balances and stop-payment requests.
The company noted in a release that it already offers accounts with no fees for monthly maintenance, checkbook orders or replacement debit cards, and it offers a network of 60,000 fee-free ATMs across the country where customers can access their cash for free.
Why Choose an Online Bank?
We've written before about the perks and drawbacks of working with an online-only bank. According to the American Bankers Association, almost 75% of Americans already use computers or mobile devices to do most of their banking, from online bill pay to mobile deposit capture.
For people who don't need to visit a branch often, making the leap to wholly online banking often can be a more convenient option.
The biggest perk is that, because they lack the overhead costs of their brick-and-mortar counterparts, online banks can offer interest rates that are much higher. For instance, Discover's online savings account offers a 2.1% annual percentage yield (APY). Its checking account gives customers 1% cash back on up to $3,000 in debit transactions per month (excluding a few categories of transactions like Venmo and Apple Pay Cash).
To put that in context, Ally, our pick for Best Online Bank for 2018, currently offers 2.2% APY on its online savings accounts. You can compare its terms to the new Discover terms here.
Could No-Fee Banking Be Coming Back?
Of course, even the best bank perks and rewards don't matter if you're stuck paying high fees to use the account. Years ago, free banking — especially free checking — was the norm, but now it's become the exception rather than the rule. Only about three in 10 banks today offer free checking. Banks also can make it tough for people, especially those who live paycheck-to-paycheck, to avoid fees with minimum balance thresholds, direct deposit requirements or other frustrating hoops customers have to jump through.
According to a recent survey by MoneyRates.com, the average monthly maintenance fee alone is $13.58 — which adds up to a not-insignificant $162.96 each year. The average fee is even a bit higher for brick-and-mortar bank accounts at $13.93 per month.
Online banks are fiercely competitive: We've noted before how when one raises interest rates or lowers fees, their competitors will often follow suit to avoid losing customers. So this big move from Discover has the potential to bring about a sea change in online banking fees — and that's very good news for people who want their bank to make them money rather than costing them money.