Donald Trump Never Apologizes. Here's Why That's a Bad Idea for Your Career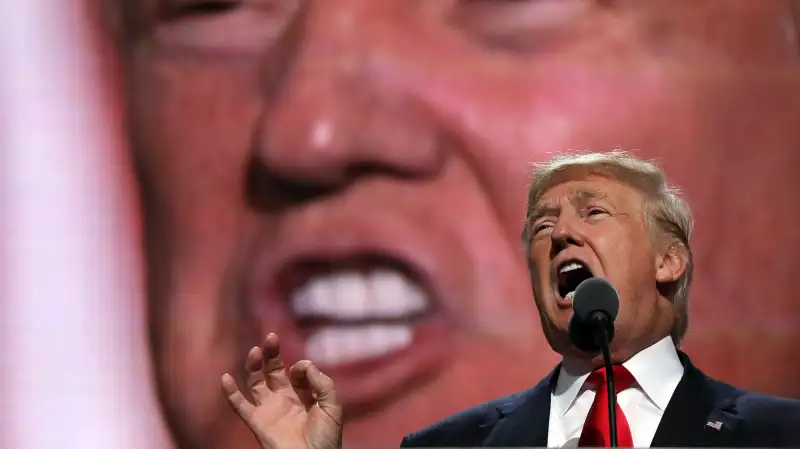 Donald Trump's chief appeal to many supporters is that he "tells it like it is." The "it," though, is landing the real estate scion in a world of trouble. His actions serve as a good lesson in what not to do in the workplace.
In the past week the GOP standard-bearer has caused turmoil in his own workplace, the presidential race. He engaged in a bizarre and contentious exchange with the parents of a fallen Muslim American soldier, and refused to endorse the reelection of two Republican heavyweights: Sen. John McCain, who ran for president in 2008, and House Speaker Paul Ryan. The party establishment, predictably, is furious.
Trump, true to his hyper-masculine style, has refused to back down. In an interview on ABC's This Week, Trump intimated that the mother of Humayun Khan, the slain soldier, wasn't permitted to speak at the Democratic National Convention because of her religion. He also took to Twitter to confront the soldier's father, Khizr Khan.
Trump told a Virginia news station that he did not regret his confrontation with the Gold Star parents, and if history is any guide, he will not back down from his comments attacking Ryan and McCain. Both disagreed with Trump's response to the Khans.
Projecting supreme confidence and certainty, never admitting weakness, never saying you're sorry — these are all trademarks of Trump's year-long candidacy. This unabashed bravado is surely what propelled him to capture the GOP nomination in the first place, besting 16 rivals, many of whom had more experience and campaign expertise.
Given his success, you might ask yourself if adopting the "never apologize" mantra could work for you. Would your career prospects improve if you hid vulnerability at all costs? Here's what you need to know.
Be Humble
"Humility is one of the things most managers look for in an employee," says Tom Gimbel, chief executive of LaSalle Network. "Are you easy to manage?"
You want to be someone who demonstrates an ability to apologize for mistakes, says Gimbel, especially if you're working your way up the ladder. Not being able to take accountability for mistakes, which are inevitable, will most like result in "job suicide." After all, someone who takes all the credit when something goes right, will bear all the blame when projects fail.
The key is to demonstrate the kind of emotional intelligence in the workplace that you do in your real life. Besides owning up to mistakes, you want to show that you're the type of person who listens to the needs and concerns of others, has the strength to learn from mishaps, and respect your coworkers' competence to do their jobs.
These rules of the road are important for managers, too.
All over the world, employees are more innovative, are more likely to put in extra work, and bond better with coworkers when their bosses make them feel more included, according to a 2014 study. One of the critical factors in creating inclusion is humility.
But Not Too Humble
While a Trump-like stance on workplace culture is most likely a negative, you don't want to be a pushover, either. Apologies, after all, are complicated to do.
"We think we want apologies from those who have harmed us," writes Jeffrey Pfeffer, a professor of organizational behavior at Stanford University, at Fortune. "Yet we instinctively respect strength, confidence, and assurance. And throughout, our ability to forecast our true reactions to situations is imperfect."
For workers, a constant stream of apologizing can become cloying and actually devalue sincere apologies. If you find yourself incessantly babbling "I'm sorry," you need to be particularly vigilant. For instance, stop apologizing when someone holds the door open, as Money wrote, try saying "thank you" instead.
Managers, though, also need to be cognizant of how their words affect subordinates.
"The higher up you are in your career, while it's positive to have humility, you want to also display a 'we can get this done come hell or high water' mentality," says Gimbel.
People want to be inspired and led, so managers need to make sure they still display confidence even when acknowledging past mistakes.
The particulars of your workplace culture will guide the balance you strike. But whatever you end up doing, Trump's example is most likely one to be avoided.