Beer, Plane Tickets and iPhones Are All About to Get More Expensive. Here's Why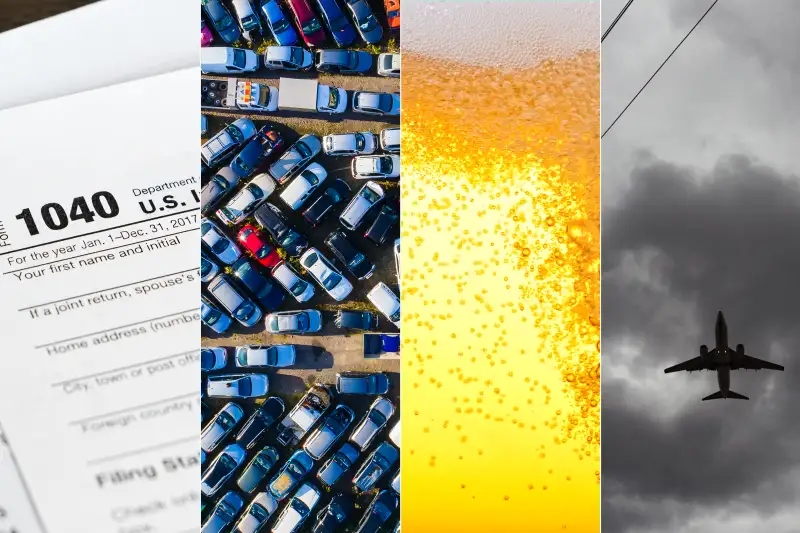 Beer, iPhones and plane tickets are all likely to get more expensive in the next few months thanks to President Donald Trump.
Trump's announcement that he's slapping steel and aluminum tariffs on Canada, Mexico, and the European Union on Friday has major big-picture implications for the U.S. economy and global trade. But, in the short term, it's going to hit Americans right in the pocket book, economists told Money.
"There's no question this is a hit to consumers," said Lawrence White, an economics professor at New York University's Stern School of Business. "Sooner or later prices will reflect those increased costs of steel and aluminum."
A tariff is a tax on foreign goods and Trump's 25% tariff on imported steel and 10% tariff on imported aluminum will mean a big cost increase on raw materials that are used to make everything from cars to houses to keychains. Companies are likely to pass on their higher costs to consumers, experts say.
And no matter what, American companies will still need to import steel and aluminum. The U.S. produced 785,000 metric tons of aluminum and imported 5 million tons last year. America only has the capacity to produce 1.8 million metric tons a year, according to a U.S. Commerce Department report. Steel is less lop-sided but the U.S. still didn't have the capacity to make all the steel the country needed. Even if the U.S. was able to produce larger amounts of both metals, tariffs push up the cost of domestically produced materials, as well – making it a lose-lose situation for consumers and businesses, said White.
Trump and his allies argue that America's trading partners – especially China – are taking advantage of the U.S. and that the tariffs will cause American companies to make more steel and aluminum here, creating jobs and boosting the economy.
Experts warn that any gains the steel industry makes will be off-set by much bigger losses in other industries.
"It's clearly going to have a negative impact on all the users of steel throughout the economy," said Emily J. Blanchard, an associate professor of business administration at Dartmouth University's Tuck School of Business. "For every one job in the U.S. steel industry that could be protected by this tariff, there are about 80 jobs in manufacturing industries that use steel. If companies in those industries have to absorb greater costs incurred by the tariffs, they may respond by reducing employment or wages."
With the tariffs also comes the risk of a trade war with America's biggest allies. Canada, Mexico and the EU have promised to impose their own tariffs on U.S. goods in response to Trump's announcement. And America is already locked in an escalating trade dispute with China – as both countries announce new penalties on a variety of goods aimed at hitting each other other hardest.
Investors lose out, too. When Trump initially announced the tariffs on March 1, the stocks of major automakers and other manufacturing industries dropped the same day. The Dow sank 200 points on Thursday when Trump confirmed that the steel and aluminum tariffs would hit Canada, Mexico and the EU.
Here are just a few of the things that are likely to get more expensive because of Trump's new tariffs, according to experts who spoke to Money:
Cars
The U.S. auto industry will be hit hard by more expensive steel, as carmakers rely heavily on it. Almost 2,000 pounds of steel is used to make every new car. The U.S. produced 11 million cars in 2017.
New houses (and construction in general)
If you're building a new house or renovating an existing one, you can expect it be more expensive as the cost of raw materials goes up. The same goes for all construction and infrastructure projects.
Your taxes
State and local tax increases could also trickle down to consumers. Plans to rebuild infrastructure like highway systems and bridges all rely heavily on steel, and there's likely some public works project connected to your life – whether it's a local school, library or improvements to street drainage systems – that utilizes steel.
Plane tickets
Steel is also used by airplane manufacturers, ship builders and city subway systems. The new tariffs mean you can expect to pay more for flights on your next vacation. That's in addition to the rising cost of fuel.
Beer
You'll likely be paying more to drink beer and soda made by companies like Pepsi or Budweiser. These industries rely heavily on aluminum cans, which means prices are likely to rise.
Appliances
Big ticket items made from steel like washing machines and refrigerators will cost more, too, thanks to the tariffs.
iPhones
While the steel and aluminum tariffs may not directly affect iPhone production, iPhones are made and assembled in multiple countries. Chief among them is China, which will soon be subject to even more tariffs — duties on another $50 billion worth of goods there were just announced. Apple produces some MacBooks in the U.S., but the number manufactured here is likely not significant enough to result in a serious impact from the steel and aluminum tariffs.