The Dow Is Lagging Behind the Stock Market This Week. Here's the Strange Reason Why
Money is not a client of any investment adviser featured on this page. The information provided on this page is for educational purposes only and is not intended as investment advice. Money does not offer advisory services.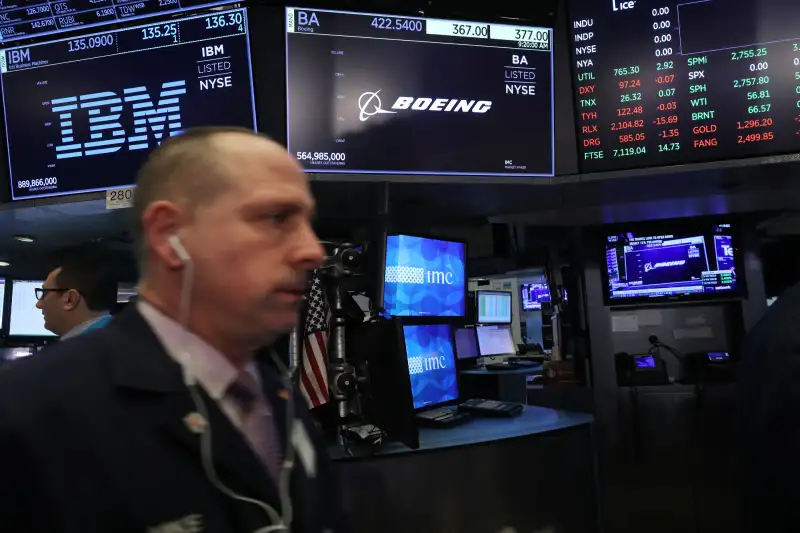 Spencer Platt—Getty Images
The Dow has had a rough two days—but the stock market's doing just fine.
That may seem confusing, but there's a simple, if strange, explanation.
Over the past two days, the Dow Jones Industrial Average is up 0.4%. By contrast the Standard & Poor's 500, which represents the largest 500 U.S. stocks, has gained 1.8%—roughly four times as much. That represents the largest performance gap between the two benchmarks in nearly five years, according a report by MarketWatch.
So what's going on?
One part of the answer has to do with Boeing. The aircraft maker's shares plunged 11% from $422.54 on Friday to $375.41 at Tuesday's close, after airlines around the world grounded Boeing 737 Max 8 aircraft following a pair of tragic crashes in Ethiopia and Indonesia. (Boeing shares were up slightly to $377.20 in early trading Wednesday.)
A second part of the answer has to do with the Dow Jones Industrial Average itself. While the Dow, first calculated in 1896, is often referred to as a shorthand for the whole stock market, in fact it represents just a tiny slice: 30 blue-chip stocks, such as American Express, Apple, and Boeing. That's less than one-tenth the number of stocks in the S&P 500 and one-one hundredth the number in the Russell 3000, which was also up 1.8% in the past two days.
Unlike other indexes, the Dow is also weighted by its components' stock prices, not their market values. That means Boeing, with shares that trade northward of $400, is the Dow's largest component, making up more than 10% of the index, despite the fact that its $213-billion market value is far below those of some other Dow components' like Exxon Mobil with a market value $341 billion (but a share price only about $80) and Apple with a market value of $854 billion (but a share price of just $182).
Of course, a stock's share price is a pretty arbitrary economic measure, since companies can and routinely do adjust share prices up or down by "splitting" shares, which halves their stock's price, or "reverse splitting" shares, which doubles it.
What accounts for the Dow's unusual weighting system? It's merely an artifact of his history. Market watchers in the late 19th century lacked the computing power necessary to quickly tabulate market values in real time. It was much easier to tally up each stock's share price at the end of the day and, essentially, divide by the number of stocks in the index.
In recent years, critics have complained that this 125-year-old method is outdated and gives a distorted picture of method action. They're right, but maybe missing the bigger picture. The Dow's 125-year history is also the reason it remains such a valuable market yardstick.