Easter Is Around the Corner. Here Are the Best Deals on Easter Baskets, Candy, and More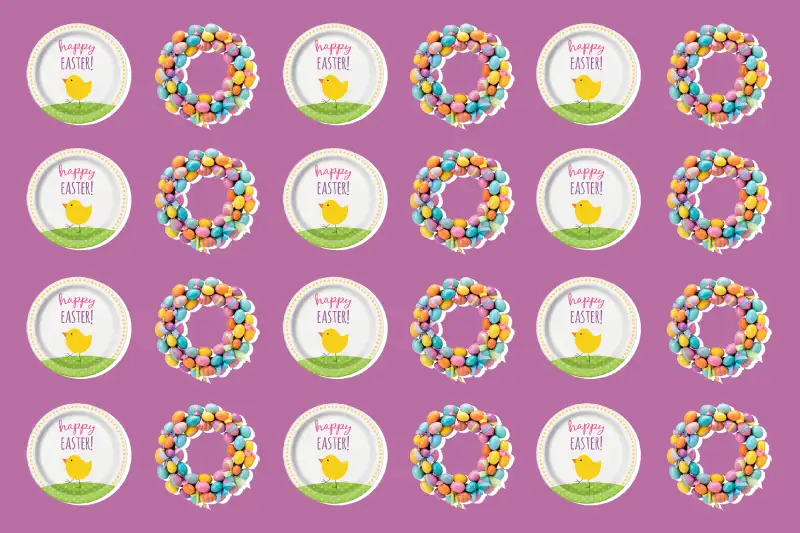 (products) Courtesy of Walmart
Happy Easter! Yes, Easter is still a few weeks off. But it can be one of those holidays that sneaks up on you, since it doesn't happen on the same day every year. In fact, you might even be wondering: when is Easter this year?
Easter 2019 falls on Sunday, April 21 — so you still have a fair amount of time to buy Easter egg decorating kits and all of the other festive accoutrements for a Happy Easter.
We browsed online for good Easter deals right now, and found some particularly cheap prices at Walmart, Amazon, and Target. Here are the sweetest options for Easter candy, plus Easter baskets, Easter eggs, decorations, and more.
Easter Eggs: Coloring Kits and Dyes
As far as we're concerned, this PAAS Easter egg-dyeing kit is the classic, the O.G. of egg-dyeing, with the color tablets that dissolve in vinegar and included clear wax crayon so you can draw designs on your Easter eggs before dipping them. The basic egg-coloring kit is on sale at Amazon for $6.49, and a slightly different version from Target is only $3.
But if you want to get super-artistic with lots of bold colors, this kit of 12 dyes has you covered, for about $18 at Walmart or Amazon. They dyes are all edible, so you can use whatever is left over for decorating cakes, cupcakes and other goodies.
If you want to color Easter eggs in neon, check out this four-color kit that's anything but pastel.
Best Easter Candy
Easter candy is a genre unto itself, and this is the time of year when we can stockpile our seasonal treats for the next year's hoarding: Marshmallow Peeps, Cadbury creme eggs and caramel eggs, Cadbury mini eggs (which we're pretty sure are what M&Ms want to be when they grow up), jelly beans and, of course, all the chocolate Easter bunnies you can imagine.
If you're not hosting Easter dinner and want to bring a fun Easter gift to where you're celebrating, this jar of pastel M&Ms or cute Lindt chocolate carrots are a nice touch to bring along with your side dish or bottle of wine.
Fun Easter Decorations
If you are hosting, grab some reasonably-priced Easter decorations. Take note that if you're trying to stock up on Easter decorations and other supplies, Target is offering 10% off on most Easter purchases right now when you spend $25 or more.
Walmart has plenty of low prices on Easter decorations too. You don't need to break out the good tablecloth and napkins; we've got you covered with this cheery seasonal tableware collection.
This shiny tinsel Easter egg is very festive too, and this pastel egg wreath would look great on a big front door.
What about Easter egg hunt supplies? If there's an Easter egg hunt after everybody's tucked into their lamb or ham, this set of eight yard signs will add a cute touch for little hunters.
Great Easter Basket Ideas
We're of two minds about Easter baskets. The old-fashioned, wooden baskets will always seem special, but if you're giving away Easter baskets to a crowd, this five-piece set of bright-colored baskets with extra-long handles is an acceptable substitute.
If you've really got a big crew at your Easter party, this set of a dozen plastic baskets in assorted colors is one of the best bargains we've seen (just over a buck a basket!). Order your Easter grass for filling the baskets now, because this is one of those items you can't really substitute if your local stores are all out of stock.
Likewise, grab regular and jumbo plastic eggs to tuck candy or tiny toys inside.
If you're looking for stuff that's not straight sugar to fill an Easter basket, dole out little toys from collections like this cute 20-piece squishable menagerie or this dozen emoji Easter eggs.
And please don't cave and get your kids a real bunny for Easter, no matter how much they beg. This super-floofy Melissa and Doug stuffed bunny is definitely an acceptable consolation prize (and you'll never need to clean a cage!) Or, since the tune is stuck in your head anyway, you can surprise them with a plush Baby Shark — yes, of course it sings — in their Easter basket.
We've included affiliate links into this article. Click here to learn what those are.