27 Smart Ways to Save Money on Family Vacations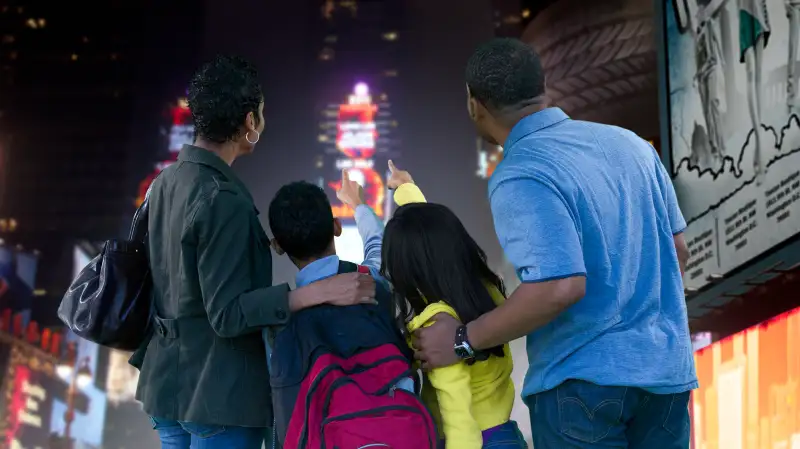 Jon Feingersh—Getty Images
Travel may not be your household's biggest expense (homes and cars typically take that honor), but odds are it's the expense you care the most about. That's because, with all the planning and anticipation, family vacations are an investment of emotion as much as money. And they should be: We parents have but a handful of chances to create meaningful vacation memories for our kids, thanks to our crazy schedules and the ever-narrowing window when our kids will actually want to travel with us.
And if that wasn't motivation enough, research now suggests that spending money on experiences, as opposed to things, is a more reliable route to our long-term happiness. Which means a lot more may be riding on the success of your family's vacation than just the number of Likes on your kids' Instagram accounts.
With that in mind, we gathered 27 tips and strategies that let you get the most family vacation experience for your dollar. Some of these ideas let you get more experience; others give you better experiences. But all add up to money well spent.
Plan Smart and Save
1) Time your trip.
As in real estate, the way to save big money on travel often comes down to three things: Timing, timing, and timing. When everyone else is zigging, you can generally save big by zagging. Try to fly during less desirable times, for example, such as midweek, late at night, or early in the morning. (With the airfare savings, consider spending the night at an airport hotel, which makes those crack-of-dawn flights with kids almost bearable.) When booking online, take advantage of the feature on many sites called flexible-travel-date search, which lets you compare fares for dates a few days on either side of your target. My favorite tactic: shaving a couple days off a weeklong trip and returning on a less busy weekday. For a recent non-stop flight from Boston to Los Angeles, the round-trip fare dropped from $988 to $658 just by shifting the return from Saturday to Thursday.
2) Think about shoulders.
If you can't visit popular destinations during off-season (or it just doesn't make sense to), consider visiting during what travel folks call shoulder season, the time between peak and off-peak. For Walt Disney World, for example, the shoulders are May and September, when crowds are rumored to be thin. I know—that's when the kids are in school. But in terms of a quality experience, even a four-day weekend then could be more fun than a full week in high season.
Read next: A Month-by-Month Guide to the Best Places to Travel in 2016
3) Rent a house.
For families, the rise of online home-rental services has been nothing less than a gift from the travel gods. I say this as someone who has spent too many vacations trying to share hotel rooms (and worse, double beds) with my children. Renting a house through sites such as VRBO.com, homeaway.com, or airbnb gets you far more space for your dollar (on average, 1850 square feet versus 325 for a hotel room, according to HomeAway.com). With an average nightly price of $217, the savings can be considerable for larger families that would otherwise have to book multiple hotel rooms. Plus, you'll save more by cooking your own meals (see below), and avoid any parking costs.
4) Even better, share a house.
For even bigger bang for your house-rental buck, consider vacationing with relatives or friends. The per-family cost of sharing a larger rental house is generally lower and you often get more house for your money. We rented a spectacular Palm Springs house with another family of four for less than the nightly price of three hotel rooms, and we got our own private pool and gourmet kitchen to boot. We saved even more by sharing the cost of groceries, and had a blast making meals together. Bonus: Kids vacationing with friends tend to have more fun and are better behaved. (Same with some adults!)
5) Let your kids earn their own miles.
Melissa Kurman, a contributing editor at Frommer's who blogs about travel at theplaygoundblog.com, recommends taking advantage of frequent flyer programs by signing up your kids for their own accounts. She got her now 12-year-old son his first frequent-flyer account when he was just 3. "One day I looked down and he had 25,000 miles, and we got a free trip," she says. They've since earned enough for two other flights from their New Jersey home to the West Coast.
6) Tap the power of tech.
If you love combining tech and travel, download money saving apps like gasbuddy (for nearby gas), roadtrippers (for sites along a route), yelp (for local restaurants), and hotels.com (for last minute rooms). For finding restaurants on the go, I've come to rely on Tripadvisor's app and its "Near me now" feature. I'm also a huge fan of using Google maps to store key locations (hotels, rental car centers, restaurants, etc.). I save them in my phone as I'm planning the trip so I don't have to worry about finding them later amid the bustle of traveling. And it's worth a reminder: Using Facebook (or even a group email), you can quickly gather suggestions from friends about favorite hotels, restaurants, or attractions in an area you are about to visit, thus increasing your odds that what you do spend money on will be worth it.
7) Don't just phone home.
If you are heading out of the country (or out of your phone's service area), avoid telephone roaming charges by using web-based services like Skype and Viber. These free apps allow you to send texts and make calls whenever you are on a wifi network, which, increasingly, can be almost wherever you are.
8) Dig around for deals.
Use GroupOn or Living Social to find discounts and deals for the city you'll be visiting. (Look under Groupon's Things to Do and Living Social's Events and Activities). You'll find offers like GroupOn's recent deal on a Boston trolley tour and harbor cruise for two ($35 instead of $76). Similarly, check out the website of your destination's local newspaper and look for deals and discounts, often gathered in a special area of the site (search for "deals"). Local fliers and maps also often carry discount coupons for popular tourist attractions and activities (such as renting bikes in San Francisco.)
9) Let your phone help you plan.
Sign up for email notification tools that alert you to deals. Sites such as Kayak, Airfarewatchdog.com, and TravelZoo will send you emails about deals on airfare and hotels. Others, such as Groupon, will send alerts on deals in the area you are planning to visit.
10) But don't overlook human contact.
Before booking a hotel room through any third-party sites online, call the hotel directly to see if they have discounted rooms. Ask them about AAA rates and any other discounts or specials. See if they will match the online price. Ask about their cancellation policy (a key factor for us illness-prone families), which may be more favorable than what the third-party sites offer.
11) Get tickets in advance for less.
Check to see if the attractions you are planning to visit—theme parks, museums, and so on—sell discounted tickets in advance online. (Factor in the benefit of not having to wait in a ticket line, if that might also be an issue.) Also, see if your company has an employee discount program or if there are reduced rates for members of groups such as AAA. And do the math to determine if purchasing a local discount card, such as a CityPass, makes sense for your list of attractions.
12) You may already be a winner!
If you are a member of a science or children's museum, you may be able to get free admission to similar museums around the country. Check out the Passport Program page at the website of the Association of Science and Technology Centers to see if any museums on your itinerary are members. Similarly, you may be able to use your local aquarium or zoo membership to get discounts at other zoos and aquariums. Check with your zoo to see what benefits are included. Many attractions offer discounts for educators, if that happens to be your profession. And many art museums waive admission certain days each month (at Boston's Museum of Fine Arts, for example, admission is free Wednesday's after 4 pm, and on Martin Luther King Jr. Day, the Monday of Memorial Day, and Monday, October 10, 2016). Check online to see if your trip falls on those days, and plan accordingly.
13) Check out some free entertainment.
If you are heading on a long road trip, visit your local library to stock up on DVDs and audio books for the car. And once you arrive at your destination, explore the local library there as well, specifically the bulletin boards where local events are promoted. There may be some free or low-cost events of interest. For more free entertainment, download some podcasts on family-friendly topics (and there are many, from Sesame Street to Harry Potter).
14) Bag the trip altogether.
Remember: For kids especially, vacation does not have to mean travel. With the right mindset and a little creativity, the staycation can be a more affordable and less stressful alternative. But do it right: Set aside a portion of the money you would have spent on airfare and hotels and splurge on local attractions and day trips you might never have experienced otherwise. My family did this for a week one summer, creating itineraries and budgets for each day, voting on attractions we wanted to visit, and creating lists of new restaurants we wanted to try. We discovered many places we might never have known about, and we were glad we did.
15) Pack with a strategy.
By now, every air traveler knows to pack smart to avoid extra baggage fees. But even road-tripping families can benefit from packing strategically. If you are making stops along the way, rather than drag everyone's bags out of the car, consider packing a smaller bag with just what your family needs for the overnight. Everything else can stay right where it is, saving the time and hassle of repacking the car the next morning.
Saving on Food
16) Stay where you can cook.
If you could not follow tip #3 and rent a house, there are still ways to cut back on the cost and logistical stress of eating every family meal in a restaurant. The key is having some food storage and preparation options wherever you are. Extended stay hotels like Homewood suites or Residence Inn have basic kitchens that do the trick for families. At other hotels, ask when you are booking if the room has a refrigerator that you can use (or if there is space for a few items in the mini-bar fridge). If not, ask about getting a loaner unit.
17) Take food to go.
At the same time, as we all know, eating at restaurants is part of the magic of family vacations. The trouble is, those tabs for three meals a day can quickly add up. As a frugal compromise, shoot for eating out just one restaurant meal a day (and consider making it lunch), relying on grocery store food and simple picnics for the other meals. If you have room in the car, bring a cooler and keep it packed with favorite foods. If space is tight, we like to pack a collapsible cloth cooler and keep it stocked with fruit, snack foods, and any leftovers we've accumulated along the way.
18) Dine at the grocery store buffet.
On a recent trip to a sports tournament in Ohio, we used online mapping tools to select a hotel near a large Whole Foods, knowing we'd need to pick up a range of foods for the kids and eat a number of meals on the go. The store's various hot buffets and salad bars turned out to be a better value for breakfasts and lunches than nearby chain restaurants, and the variety of offerings meant that everyone in the family could get just what they wanted. Any comparable grocery store with prepared foods would be equally handy, so scout out your options before you book. Bonus: Eating at a grocery store can take far less time than sitting down in a restaurant, if you happen to be running a bit late.
19) I'll drink to that.
Keep bar tabs down by buying your own beer, wine, and liquor for pre-dinner cocktails. You'll also be helping resolve this country's embarrassing surplus of hotel ice, caused by all those hotel machines constantly churning out cubes. Your in-room fridge will come in handy for keeping beer and wine cold (you did ask for one, right?).
20) Use local delivery options.
If you don't have a car but still could use groceries, consider ordering them online from a local supermarket and having the store deliver to your rental or hotel. Delivery charges for PeaPod's grocery delivery service, for example, are under $10 for a $60 order. Factoring in the savings of time and effort, it may well be worth it.
Get the most out of souvenirs
21) Go for authentic.
For some kids, the vacation is all about the souvenirs. To help make the relentless shopping experience more memorable for all, let them search where they are likely to find the unusual: at outdoor markets and sidewalk fairs. You'll often find items representative of the locale, and get a story to tell along with your souvenir. On a trip to Venice, California, years ago, my son picked up a $10 painting done by a Rastafarian street artists that still hangs in his room, reminding us of that day at the beach—and to pursue the path of "One Love."
22) Or go for collectibles.
Let souvenir shopping teach kids some bigger lessons by framing the activity as collecting. For many kids, of course, the pack-rat instinct needs no encouragement, but by making it a process requiring judgment and their own collector's expertise, a once purely commercial activity can become educational. The objects of their desire need not be expensive: free tourist maps, flattened pennies from those touristy machines, local team baseball hats, cheap key rings, and so on. Once home, be sure to properly catalog and display the new acquisitions, as that is where the learning comes in. Even adults can shop this way. One of my wife's favorite souvenirs is a reusable shopping bag bearing the logo of a market in Boulder, Colorado. It reminds us of that vacation every time we pull it from our collection, which we display in a heap in the back of the car.
23) Reward good behavior.
Get double duty out of the kids' souvenir money. A number of families travel with a jar of coins and hand out payments to reward good behavior, courtesy to others, going to bed on time, and so on. Whatever the kids earn, they can then spend on souvenirs.
24) Teach basic budgeting.
Alternatively, other families set a daily souvenir allowance that the kids can spend that day or save to get something more expensive later. Having to make the difficult decision—spend today or save for tomorrow?—teaches valuable lessons as well.
Keep rental car costs in check
25) Think hard about car rentals.
If you are visiting an area with good Uber or Lyft coverage (or available zip cars), it could be less expensive to use those services rather than pay the daily rate for a rental car combined with the nightly rate to park it. And if you are unfamiliar with the area, you get the added benefit of letting someone else drive you around.
26) Watch out for high airport rates.
If you are thinking of renting at an airport location in a major city, be sure to compare the rates against those at the rental firm's nearby local branches. As a result of various fees and taxes, the airport rates are generally higher, so much so that it may be worth the inconvenience to go local. I recently rented a car from Enterprise from their South Inglewood location, less than 4 miles from LAX, for $215 for a week. The rate for the same car at the airport: $594. We'll have to take a cab to get to the local branch and, since it closes early, drop the car at LAX for another $25 when we are done. But what the heck—I still saved $354.
27) Be smart about insurance.
If you own a car and are renting in the U.S. or Canada, your current insurance coverage extends to your rentals. However, your insurance may not cover certain fees that the rental company might charge in the event of an accident, and you may see a surcharge on your car insurance if you choose to file a claim. "Sometimes I recommend that clients consider purchasing the coverage if it is not too expensive," says my agent, Barry McMorrow of H. R. Hatch Insurance in Boston. Because you are driving an unfamiliar car in unfamiliar surroundings, "the chances of having an accident are much higher," he notes. He also recommends that you check with your credit card company's customer service department, as many cards offer coverage if you pay for the rental with their card and decline the rental insurance.
Jonathan Adolph, the former editor of FamilyFun magazine, is a freelance writer in Amherst, Mass.